WAEC SET TO INTRODUCE CBT FOR WASSCE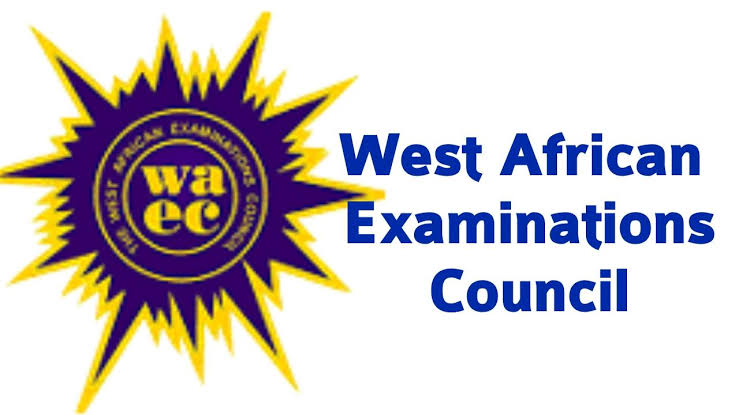 The West African Examinations Council says plans to introduce the Computer Based Test mode in the administration of its examinations are at an advanced stage.
The Head of National Office, Mr Patrick Areghan, gave the hint in an interview with the News Agency of Nigeria on Saturday in Lagos.
Areghan was speaking against the backdrop of notable achievements and advancements of the council under his watch, as he prepared to bow out of office on Oct. 1.
He would be bowing out after completing his three-year tenure.
Areghan said that introducing the CBT mode of administrating some of the council's examinations had been part of his vision for the body.
"We have already started something in terms of CBT examination. We have gone far with our planning and all of that, even in the sub-region, the registrar to the council is also doing something.
"But this is not as easy as some people will think. This is because we ask ourselves, how do we conduct CBT for practicals and essay papers?
"We can only readily do that in the case of objective questions. But so many people will not see it from that angle. They argue that some others are doing it, so why can't WAEC do the same?
"Now, no one even talks about energy;  how many schools are exposed to computer literacy? How many have computer facilities and how many have electricity to run these things?
"Even where you have all these things on the ground, how do you handle the issue of theory and practical papers? So, these are the issues, but that is what I want the council to do very shortly.
"We should be able to conduct CBT examinations, even if it means starting with the objective questions," he said.
The outgoing WAEC boss noted that already, the council had concluded introducing the administration of its examination using the CBT platform under his watch, in no distant time, starting with the objective questions and later theory and practicals.
"But you can still be sure that not all schools will be ready. Maybe we can have a segregated market. Those who cannot afford the CBT will go for the pencil and paper mode.
"So, I would like to see WAEC in that light," he said.
Areghan said aside from the introduction of the  CBT,  he would also like to see all the operations of the council fully digitalised shortly.
He noted that almost every section of the council had been digitalised under his watch.
I have almost digitalised everywhere now. Talk of certificate, checking of results verification of results and more.
"I will live to see more massive deployment of technology so that the vision of the council can change from just being a world-class examination body to a technology-driven examination body.
"I also want WAEC to be more visible on the international stage. I want to see, through the cooperation of the sub-region, how we can take WAEC overseas,  that is, how Nigerian children in the diaspora can sit for WASSCE overseas.
That, again, is what I want WAEC to do very shortly. That is one thing I wanted to do under my watch, but, again like I said, it needs the cooperation of the sub-region, not just Nigeria, to take WASSCE overseas.
"I also want to see its digital certificate that we have successfully launched in Nigeria replicated in the entire sub-region, so that any candidate that has taken WASSCE,  can be in any part of the world to access the digital certificate; that is a legacy.
For instance, if your certificate gets missing, soaked, destroyed by fire and so on, with one touch on the bottom, it appears.
"For me, this is a great legacy," the WAEC boss stated.
He also stated that the council's Digital Security Printing Press is another milestone achievement under his watch.
According to him, after 71 years of the council's existence,  the introduction of the digital security printing press is a worthy legacy.
This is alongside other internal ones, such as the Staff Bus scheme, meant to cushion the effect of high transportation fares, occasioned by the fuel subsidy removal, he said.
"We are going to do more to motivate staff. I am counting on my successor to follow suit, being a very committed and intelligent person. It is my prayer that he achieves more than me," he stated.
Speaking on his greatest achievement, Areghan highlighted the successful conduct of examinations, release of results within stipulated time and printing and release of certificates to deserving candidates as key.
"That is my greatest achievement. That is because when you work in the council and you fail to conduct any examination, no matter the other levels of achievements, you have failed.
So, I give God all the glory that I have been able to conduct all the examinations, even in the COVID-19 years, from 2020 to 2023," the outgoing council boss told NAN.
OLUSEGUN AGAGU UNIVERSITY OF SCIENCE AND TECHNOLOGY, OKITIPUPA DISCLAIMER NOTICE ON FAKE POST REGARDING NURSING PROGRAMME
The attention of the Management of Olusegun Agagu University of Science and Technology, Okitipupa, has been drawn to a fraudulent and fake post in the social media requesting admission seekers into the Nursing programme of the University to pay the sum of ten thousand Naira (N10,000.00) to an Opay Account for admission form.
The Management hereby informs admission seekers, their parents, guardians and the general public, that the information should be disregarded for it is fake, it does not emanate from the University neither does it emanate from the Office of the Registrar.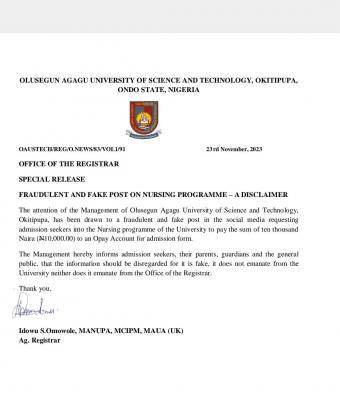 Thank you.
EMMANUEL ALAYANDE UNIVERSITY OF EDUCATION GETS NUC APPROVAL FOR 50 FULL-TIME COURSES, 2023/2024
The Emmanuel Alayande University of Education has received NUCs approval for 50 of its full time programmes. This was contained in a letter signed by the Executive Secretary of NUC.
The letter reads, "The Vice-Chancellor is please invited to recall that a resource verification visit was carried out by panels of experts to the proposed academic programme in Emmanuel Alayande University of Education Oyo State with a view to assessing the human and material resources available for its establishment.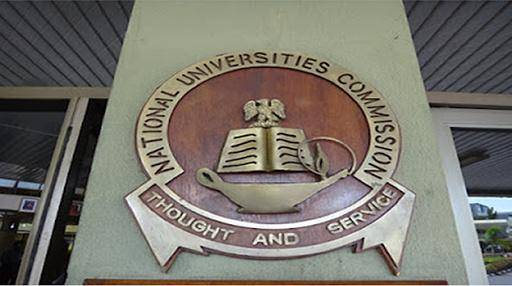 I am directed to inform the Vice-Chancellor that the Ag. Executive Secretary has considered and approved the establishment of the full-time mode of the following undergraduate programmes, to be run in the Main Campus of the University with effect from 2023/2024 academic session:
1. B.Sc. (Ed) Biology Education
2. B.Sc. Biology
3. B.Sc. (Ed) Integrated Science
4. B.Sc. (Ed) Chemistry Education
5. B.Sc. Chemistry
6. B.Sc. (Ed) Mathematics Education
7. B.Sc. (Ed) Computer Science Education
8. B.Sc. Computer Science
9. B.Sc. (Ed)Physics Education
10. B.Sc. (Ed) Health Education
11. B.Sc. (Ed) Human Kinetics/Physical Education
12. B.Sc. (Ed) Economics Education
13. B.Sc. Economics
14. B.Sc. (Ed) Environmental Education
15. B.Sc. (Ed) Geography Education
16. B.Sc. (Ed) Educational Management
17. B.Ed. Educational Technology
18. B.Tech (Ed) Building Technology Education
19. B. Tech (Ed) Metal Work Technology Education
20. B.Tech (Ed) Automobile Technology Education
21. B.Tech (Ed) Woodwork Technology Education
22. B.Tech (Ed) Electrical/Electronics Education
23. B.A. Ed. History and International Studies
24. B.A. (Ed) English/Literature in English
25. B.A. English Language and Literary Studies
26. B.LIS. Library and Information Science
27. B.A. (Ed) French
28. B.A. (Ed)Yoruba
29. B.A. (Ed) Hausa
30. B.Sc. (Ed) Political Science Education
31. B.Sc. Political Science
32. B.Sc. (Ed) Social Work
33. B.Sc. (Ed) Social Studies and Civic Education
34. B.Sc. (Ed) Special Education
35. B.Ed. Guidance and Counselling
36. B.Ed. Adult and Continuing Education
37. B.Ed. Early Childhood Education
38. B.Ed. Primary Education
39. B.A. (Ed) Arabic Education
40. B.A. (Ed) Christian Religious Studies
41. B.A. (Ed) Islamic Studies
42. B.A. (Ed) Creative Arts Education
43. B.A. (Ed) Music
44. B.A. (Ed) Fine and Applied Arts
45. B.A. (Ed)Theatre Arts
46. B.Sc. (Ed) Agricultural Science Education
47. B.Sc. (Ed) Home Economics Education
48. B.Sc. (Ed) Business Education
49. B.Sc. (Ed) Entrepreneurship Education
50. B.Sc. Accounting
I am to add that the approval does not cover the part-time mode of delivery of the programmes.
The programmes shall bear only the approved title and nomenclature and any change will require the approval of the Commission. The University is enjoined to provide adequate human and material resources for the development and growth of the approved programmes.
Please, accept the assurances of the Ag. Executive Secretary's highest regards."
UYO CITY POLYTECHNIC NOTICE TO STUDENTS
This is to inform all the students of Uyo City Polytechnic that the management has issue some important notice. Please note the following as decided by the management:
1. Mid-semester examination: There shall be a week-long mid-semester examination across all the Departments in the school.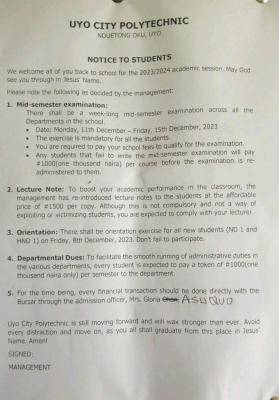 Date: Monday, 11th December – Friday, 15th December, 2023
The exercise is mandatory for all the students.
You are required to pay your school fees to qualify for the examination.
Any students that fail to write the mid-semester examination will pay #1000(one thousand naira) per course before the examination is re- administered to them.
2.Lecture Note: To boost your academic performance in the classroom, the management has re-introduced lecture notes to the students at the affordable price of #1500 per copy. Although this is not compulsory and not a way of exploiting or victimizing students, you are expected to comply with your lecturer.
3. Orientation: There shall be orientation exercise for all new students (ND 1 and HND 1) on Friday, 8th December, 2023. Don't fail to participate.
4. Departmental Dues: To facilitate the smooth running of administrative duties in the various departments, every student is expected to pay a token of #1000(one thousand naira only) per semester to the department.
5. For the time being, every financial transaction should be done directly with the Bursar through the admission officer, Mrs. Gloria eken ASU QUO
Uyo City Polytechnic is still moving forward and will wax stronger than ever. Avoid every distraction and move on, as you all shall graduate from this place in Jesus' Name. Amen!