"I no wan hear anything again o" – Esther Nwachukwu reacts as Chacha Eke and hubby, Austin lock lips in new video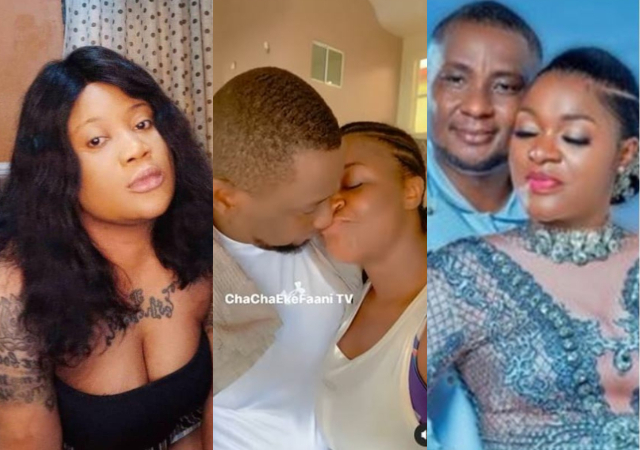 Nollywood actress, Esther Nwachukwu responded to a video of Chacha Eke and her husband, Austin Faani, getting cozy.
It's no secret that Chacha Eke and her husband have experienced many ups and downs throughout their marriage, but they have persevered despite all of the obstacles.
In a recent development, Austin Faani posted a video of himself and his wife working out on his Instagram page.
The couple locked lips at one point in the video, which caused internet users to drool and gush in the comments section.
Esther Nwachukwu, in response to the video, wrote in the comment section that she didn't want to hear any more bad news.
"I no want hear anythin again ooo 😂," she wrote.
Chacha Eke finally removes her husband's name days after seeking for help
Actress Chacha Eke has removed her husband's name and memories from her social media page a few days after seeking help on social media,
This is coming days after the actress took to Instagram to seek help changing her verified name on Instagram.
Fans who responded urged her to make a formal complaint directly to Instagram, stating why she wanted to make the changes and presenting necessary documents to assert that she was the one.
The mother of four dropped a few photos on her Instagram this morning, and fans are going wild over her beauty.
The pictures that came without caption got celebrities including Eve Esin, Laura Ikeji, Luchy Donalds, Ugochi Favour, Ejine Okoroafor, Jane Obi, Mercy Aigbe and other fans of the actress.
Chacha Eke had deleted the photos and memories regarding her estranged husband, Austin Faani, from her social media page.
She has also replaced her name with a crown emoji on Instagram. However, her username still carries her husband's name.
Nigerian man living abroad returns home, transforms friend's dilapidated living conditions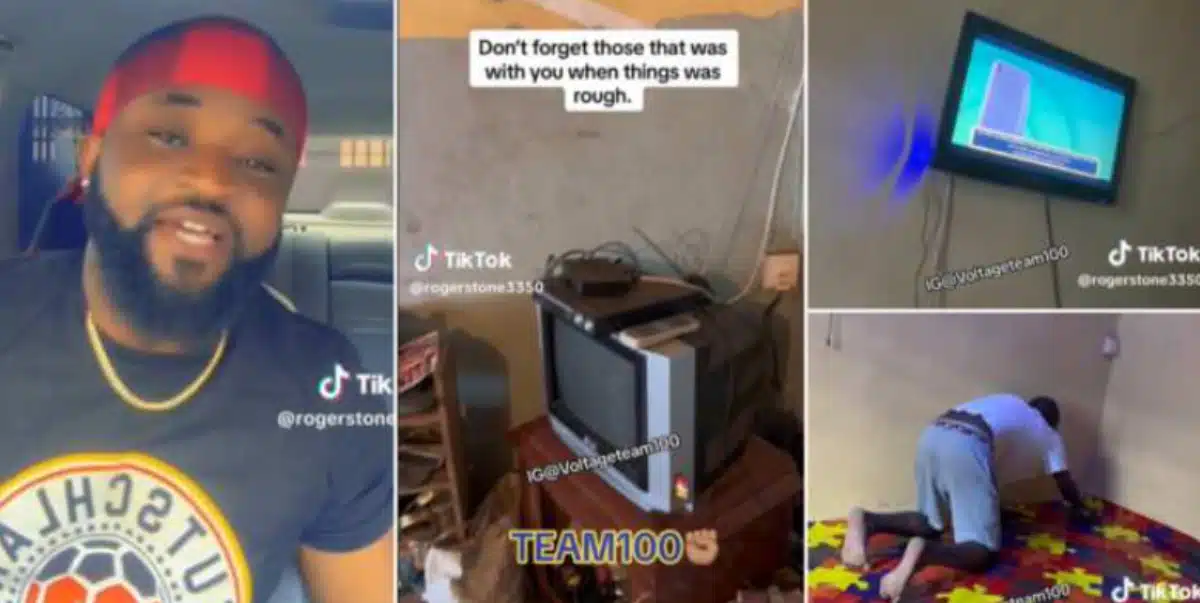 A young Nigerian man living abroad has gone above and beyond to improve the living conditions of his friend and his family.
Roger Stone, known on social media as @rogerstone3350, was shocked and deeply moved by the dire state of his friend's living situation upon his return to Nigeria.
After receiving a distressing phone call from his friend, whose identity remains undisclosed, Roger Stone decided to document the appalling conditions in a video.
The footage showed a cramped and dilapidated apartment where his friend's family was struggling to make ends meet. Determined to make a difference, Roger Stone took it upon himself to initiate a transformation that would improve his friend's life.
Filming the entire process, Roger Stone can be seen emptying the apartment of its meager belongings and embarking on a renovation project. He repainted the walls, providing a fresh and uplifting atmosphere for his friend's family.
Additionally, he purchased a new mattress, ensuring a comfortable sleeping arrangement, and provided new flooring to replace the worn-out surfaces.
Moved by his friend's plight, Roger Stone expressed his commitment to do even more to uplift his friend's living conditions
@NjikeNjike said; "I scattered my friend house rebuild it within 3month to do his mother burial. you did well."
@Elha_ayirebi said; "God richly bless you.
@Richie said; "Bro you really tried you good friend."
@lady koi koi said; "U are doing well, may God bless you richly."
@Sandy's Home Essentials said; "God bless you, you really did well."
@brisl_service_company said; "You did well….God will never forget you."
@yankybf said; "Bro abeg arrange better money for him to start better business."
@joyimade739 said; "God bless you for doing this may God send you help and helpers when you need help in Jesus mighty name amen."
17-year-old Nigerian boy defies UTME failure, makes N14.5m from comic books he writes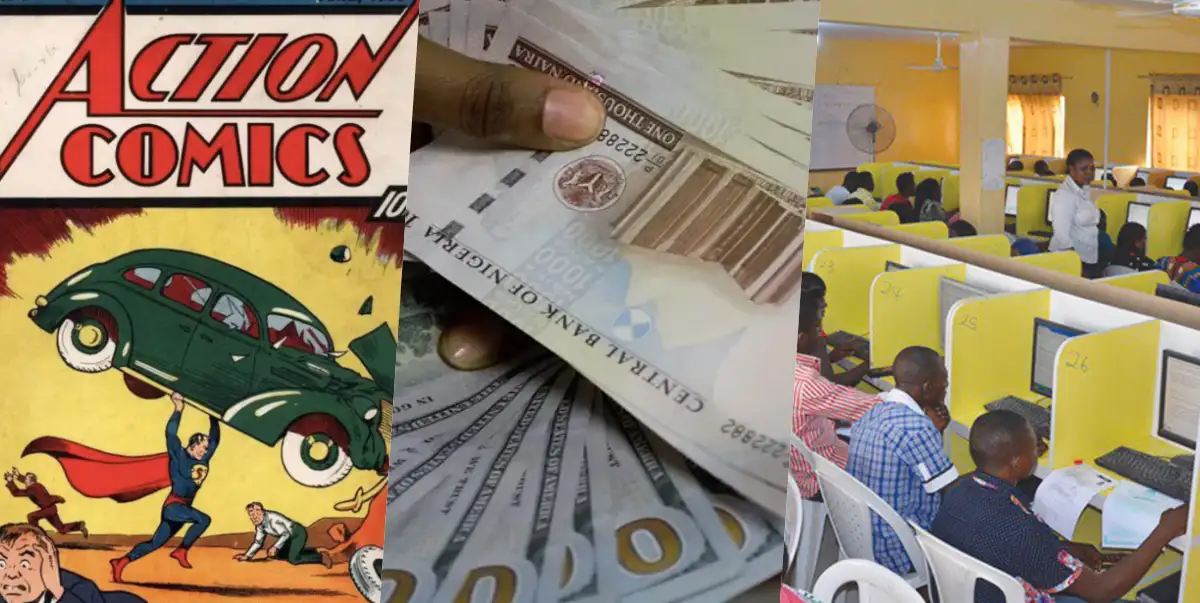 A Nigerian boy who faced disappointment after failing Unified Tertiary Matriculation Examinations (UTME) twice has found immense success by tapping into his talent as a comic book writer.
The inspiring story, which went viral on Twitter thanks to user Dev Tobs, sheds light on the young boy's journey to financial prosperity and academic pursuits.
According to the Twitter thread, the unnamed boy attempted the UTME twice but did not achieve the desired results.
However, his family recognized his gift for writing and encouraged him to explore it further.
In a fortuitous twist, his brother, a close friend of Dev Tobs and a software engineer, advised him to publish his comic books on popular platforms like Amazon, Etsy, and others.
The boy channeled his efforts into his newfound passion and began publishing his comic books on the online platforms. The response was overwhelming, with readers appreciating his creative storytelling and unique artistic style.
As a result, his comic books started gaining significant traction and popularity, leading to substantial financial success.
The Twitter thread revealed that the talented writer amassed an astonishing sum of N14.5 million (approximately $19,000) within a span of two years.
Overwhelmed by his success, the boy made a life-changing decision to pursue his dreams further by relocating to Canada to pursue a bachelor's degree.
"He wrote JAMB twice with no major headway, but his folks noticed he had a flair for writing, hence his brother who's my close pal, also a software Engineer, advised he starts hoisting the comic books he writes on this Amazon thingy, Etsy and one other one." He has made so much money from it.
"Yes, you didn't misread, he made $19k (N14.5 million). Two years down the line today, I got news he's moved up to Canada for his bachelor's and I couldn't stop but feel happier."
Netizens Reactions…
@thefavourigwe said; "The Amazon thingy is called Amazon KDP and yes people make a whole lot of money uploading comics, novels, activity books (coloring, puzzles) etc… Different kinds of books basically."
@ebenofere commented; "This is beautiful. You can make anything out of yourself if you really want it. Where there is a will, there is a way."
See below;
In 2021, I met this 17 year old Nigerian lad that had made $19,000. Yes , you didn't misread, $19k 😭.

He wrote JAMB twice with no major headway but His folks noticed he had flair for writing, hence his brother who's my close pal, also a software Engineer advised he starts…

— Dev.tobs🇳🇬🇺🇸|MDsc. EMCDs. (@DevTobs) July 8, 2023
"E no balance"-Netizens react as Bobrisky shows off new shape days after surgery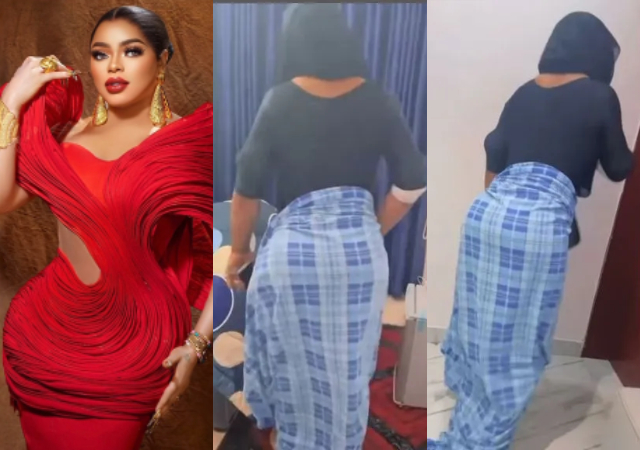 Idris Okuneye Olanrewaju, better known online as Bobrisky, is a well-known transgender in Nigeria who recently stirred up controversy by displaying her newly acquired backside.
After calling for prayers as he underwent surgery for yet another BBL to accentuate his hips and bum, Bobrisky, the self-described "Mummy of Lagos," has become one of the topics of discussion online.
A few days ago, Bobrisky announced that his BBL surgery had been successful and, consequently, exposed it to the public, noting that he had received several bruises.
He wrote;
" Got myself a new bum, 😍 I pray all my bruises clear ASAP"
To show that he is still in pain from the BBL surgery, Bobrisky shared a new video of himself at the clinic being tied in a wrapper and limping while working.
Check out the video below to see how the internet reacts to crossdresser Bobrisky showing off her newly developed backside following a successful second BBL procedure;
smarty.lee: Dem no suppose arrest this man so burst dat he yansh wit pin. How man go dey do yansh 😢.
shinejohanna_: Our problem in Nigeria is letter B Buhari, Bobrisky, Blessing CEO, Boko Haram, BBnNaija, Bet9ja, Bestie & Bola T 🤦🏼‍♀️😂😂.
paulagram__: Nigerians problem start with letter "B" 😂Bob Risky , BetNaija, Bola Tinubu , blessing CEO , BBL , Bumbum , Boko Haram , BBNaija, Daniel Regha, Portable , Uche ,
storm001__: Do you guys still remember that he's still a man ?
adenugayetundewalimot: It's well, it's how this man is always misleading young youths 😔.
awele231: Wetin be dis 😂😂 senior man dey waka like lady wey just come out for labour room 🤣🤣 I don die.
_toby_loba: At this rate Bob fit go win Miss Nigeria o😂😂.