STRIKE LOOMS IN UNIVERSITIES, POLY'S AND COLLEGE'S,AS NLC WRITES TO ASUU,ASUP, OTHER'S TO WITHDRAW SERVICE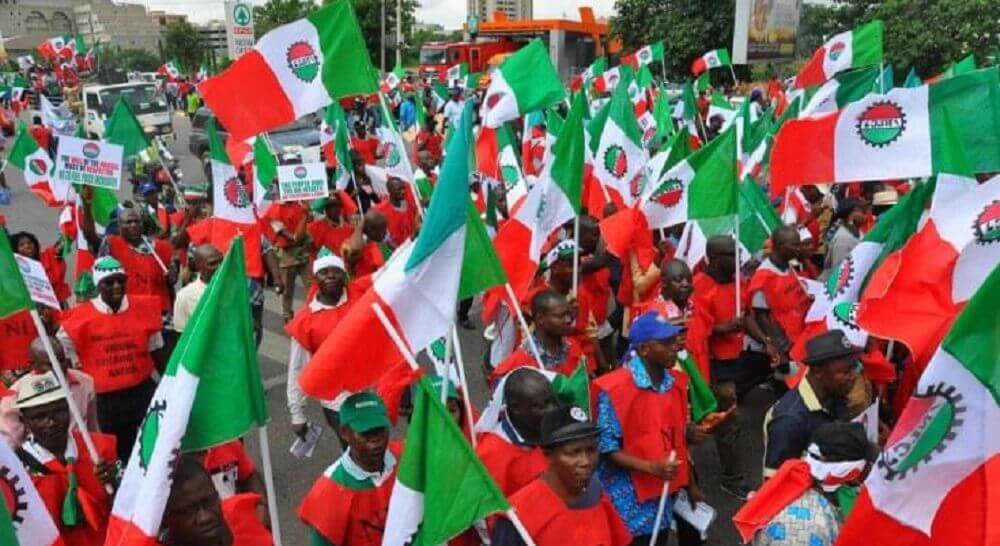 The Organised Labour comprising of the Nigeria Labour Congress and the Trade Union Congress have written their affiliates such as the Academic Staff Union of Universities, National Union of Electricity Employees, Nigeria Union of Teachers, Judiciary Staff Union of Nigeria, Academic Staff Union of Polytechnics among others ahead of the planned nationwide strike scheduled to begin midnight, November 14,2023.
The letter to the affiliates was jointly signed by the National Zecretary of the NLC, Emmanuel Ugboaja and the Secretary General of the Trade Union Congress, Nuhu Toro.
The letter read, "In furtherance to the decision of the Joint National Executive Council of NLC and TUC, all workers in Nigeria are hereby directed to withdraw their services effective 12midnight today, November 13, 2023.
"Consequently, all affiliates and state councils of NLC/TUC are directed to issue circulars for maximum compliance and these circulars be made available to the National Secretariats or posted to the NEC and WC Whatsapp platforms.
"While we shall update you with developments as they unfold, do remain assured of our commitment to Nigerian workers and people."
CHUKWUEMEKA ODUMEGWU OJUKWU UNIVERSITY (COOU) APPOINTS PROF. KATE OMENUGHA AS ACTING VICE CHANCELLOR
Anambra State Governor, Professor Chukwuma Charles Soludo, CFR, has approved the appointment of Professor Kate Azuka OMENUGHA as Acting Vice-Chancellor, Chukwuemeka Odumegwu Ojukwu University (COOU). 
Professor Omenugha as an acting Vice-Chancellor replaces Professor Greg C. Nwakoby following the expiration of his tenure as Vice-Chancellor of COOU.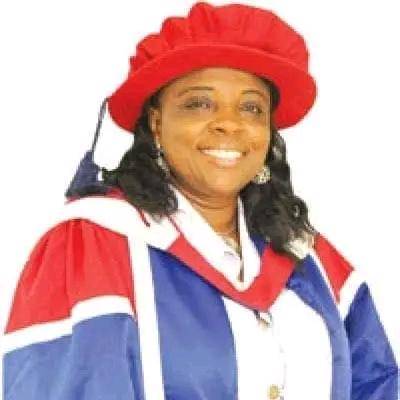 Congratulations, Prof! 
DELTA STATE UNIVERSITY OF OF SCIENCE AND TECHNOLOGY (DSUST) ISSUE GUIDELINES FOR REGISTRATION OF NEW STUDENTS
The Management of Delta State University of of Science and Technology (DSUST) wishes to issue the guidelines for successful and and hitch free registration of new students as follows;
1. Obtain Registration Materials from the University Bookshop
2. Proceed to the University Health Centre for medical test
3. Complete all forms and proceed to your Department for screening/clearance (No use of carbon papers while filling the forms)
4. Proceed to the Faculty for further directives.
Above is for the information of all new students of the University. Thank you!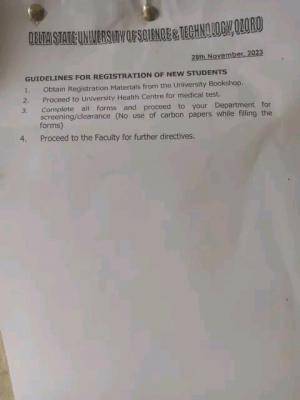 UNIVERSITY OF ILORIN (UNILORIN) RELEASES AMENDED APPROVED UNDERGRADUATE CHARGES FOR 2022/2023 SESSION
The Management of University of Ilorin (UNILORIN) in concern for the welfare of students and their parents has announced the new school charges for the the session.
The full amended approved undergraduate charges for students, 2022/2023 session can be accessed on the school's Facebook page via this link: UNILORIN Amended School fees schedule