"Hold your Boyfriends Tight", SS3 Graduate Advises Ladies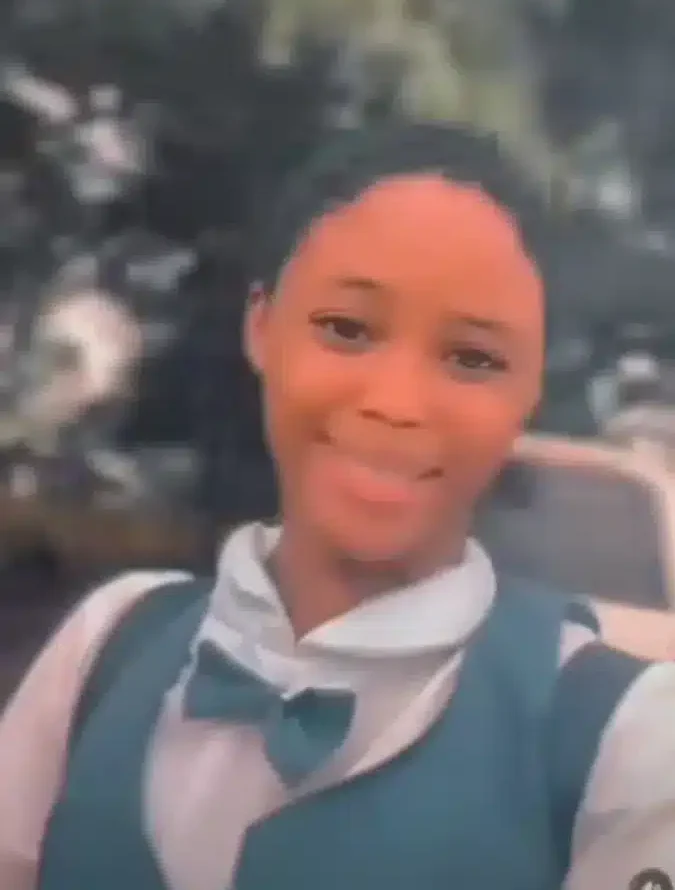 A fresh Senior Secondary graduate has sent out a stern warning to ladies as she tells them to hold their boyfriends well.
The young graduate has shared a video on her social media page advising the older ladies to hold their boyfriends well because she is done with school and in the market.
According to her, she is now in the dating market and has also learned the skills of snatching boyfriends and husbands from their ladies.
The video shared by the young graduate has attracted a lot of reactions from social media users.
Seun wrote; "They learn this rubbish from social media. It's now cool for kids in secondary school to say stuff like this. It's a short distance from saying to doing."
Blossom wrote; "Boyfriend wey pesin suppose hide from secondary school pikin no be boyfriend"
Fatima wrote; "I hope this video gets to her parents so that they can beat her very well.
Why MohBad Was Quickly Buried – Father
Joseph Aloba, the father of Mohbad, has explained why he quickly buried his son who passed away at the age of 27 on September 12, with the burial taking place the following day.
In a recent interview shared by Temilola Sobola (@TemilolaSobola) via Instagram on Tuesday, Aloba said that in Yoruba culture, it is "customary not to keep a deceased person's body for long if both parents are alive".
He said if Mohbad had passed away at an older age, he might have considered putting him in a mortuary.
He also said the land where the singer was laid to rest was his sole property, adding that he had given it to him to build a church.
"In Yoruba land, his corpse is not the kind to be kept when both of his parents are still alive," he said.
"Assuming he died at an older age, we might have considered putting his body in the mortuary and taking it at a later date. That same night we took him away from there and buried him where we did.
"That land where Mohbad was buried is his only land, that is the only land I know him to have owned.
"Truly he gave me the land to build my church because we had both agreed to build the church there and since that's the only land I knew him to have."
On September 14, Aloba revealed that Mohbad had passed away after receiving an injection administered by an auxiliary nurse.
He also urged the public not to blame Naira Marley, Mohbad's former label boss, for his son's death.
Mohbad, a former record label signee of Marlian Music owned by Naira Marley, left the label in February 2022.
The management of Mohbad, on Monday, announced a candlelight procession and tribute night for the late artiste Thursday (tomorrow) while the Lagos State Governor, on Wednesday, invited the Department of Security Services to join the probe of late singer, Ilerioluwa Aloba, popularly known as Mohbad.
Babajide Sanwo-Olu, the governor of Lagos, has involved the Department of State Services (DSS) in the ongoing investigation into Mohbad's death.
The police earlier mentioned the possibility of exhuming Mohbad's corpse.
The post Why MohBad Was Quickly Buried – Father appeared first on Jomog.
Police Inaugurate Special Investigation Team To Unravel Cause Of Mohbad's Death
The Lagos State Police Command has inaugurated a 13-man special investigation team to probe the mysterious death of Nigerian singer, Ilerioluwa Aloba, popularly known as Mohbad.
Mohbad died on Tuesday amid suspicious circumstances that have sparked off widespread controversies, especially in the social media.
He was said to have been frustrated by his former record label, Marlian Records, and his life threatened by one Samlarry and others.
Subsequently, the Inspector-General of Police, Kayode Egbetokun, ordered the Lagos State Commissioner of Police, Idowu Owohunwa, to investigate the death.
The command in a report on Monday said a panel had been constituted to unravel the case and give an interim report in two weeks.
"Following the death of one Ileri Oluwa Oladimeji AKA Mohbad. 'M' Aged 27yrs which occurred in the month of September 12th 2023, and in the overriding public interest, the Command has set up a special investigative team to unravel the circumstances surrounding the death of the victim, identify witnesses, culprits if any and any person that will be helpful to the investigative process and deploy processes and other technological tools to aid the investigative course in line with the relevant provisions of the Nigeria," the report read.
The panel is to carry out discreet investigation which covers exhumation, autopsy/toxicology/histology, scene visit, hospital/medical report, records of suspects/witnesses statements.
The team members are stated below:
1. DET. ACP SAHEED KASSIM – Head
2. DET. CSP CRIS ONYEISI
3. DET. SP MASTA ALH. BUNU
4. DET. SP IBRAHIM A. YUSUF
5. DET. DSP AHMED ABDULLAHI
6. DET. ASP ODERINDE GALFAR
7. DET. ASP ALABI BOLANLE
8. DET. ASP MOHAMMED YUSU
9. DET. INSPR. ADESIDA ADEFISAYO
10.DET. INSPR. AMEH MICHAEL
10.DET. INSPR. OISA ROSELINE
12.DET. INSPR. MAYOWA OWOEYE
13.DET. INSPR. BABATUNDE VICTOR
LEGAL TEAM
1. SP CARDOSO YETUNDE ESQ – OC Legal
2. DSP UMAR BELLO ESQ – Legal Officer
3. ASP AUGUSTINE NWABUISI ESQ – Legal Officer
FORENSIC TEAM
1 DET. CSP AYITU AKPAMA – Team Leader
2 DET. INSPR ELIZABETH OLOKODE – Member
3 DET. INSPR QUEEN AGOFURE – Member 
While speaking to newsmen at the launch of the panel, the state Commissioner of Police, Idowu Owohunwa, flanked by Mohbad's family members, called on the general public to volunteer information to aid in the investigation.
He said all facts including videos will be used during the investigation and that the investigation will not be narrowed to specific names. He said the command will pick on whoever the investigation deems fit. He also added that the command can pick up anyone wherever they are in the world.
"Do not forget, we have unique access with INTERPOL. Everybody linked to it (the death of Mohbad) will be identified and they will be brought to establish their level of involvement," Lagos State Commissioner, Idowu Owohunwa said on Monday.
The panel is expected to give their report within two weeks.
The post Police Inaugurate Special Investigation Team To Unravel Cause Of Mohbad's Death appeared first on Jomog.
Mohbad's Spirit Won't Let Me Rest, Bella Shmurda Calls For Naira Marley's Arrest
Bella Shmurda, a close friend of late singer Mohbad, has vowed to seek justice over the death of the former Marlian signee.
In statement posted on his X account, Shmurda, a musician, declared that there would be no rest for those who made Mohbad live in fear while alive.
He also called on the police to arrest Marlian Record CEO, Naira Marley, and another of his associates, Sam Larry.
Shmurda wrote: "In the past few days have tried my best not to carry phone nd type anything.
"But Mohbad spirit won't let me rest knowing I'm the only one make his spirit calm, by making those of them who make him live in fear and almost with nothing to feed on never also get rest.
"And he don start. Yes, I mean wahaLa just wan start like this. I NO GO GREE. And I mean it Samlarry and whole Marlians music must be arrested. Make all of us Dey police and if the Nigerian police are too weak as body to fish these people out, we (will) do it street, legal or illegal.
"Any which way like this war don start. If they all ran out the country which shows that they're actually guilt of whatever crime were said to have committed by them and they all know they should never come back nd they should ban from entering the country for life."
"Pounds for pounds, flesh for flesh. Whether u be aiye oo,eiye oo,or sealords whatever it may be this boy sang for make us happy, jubilate, think, rejoice supported even while is in pains nd living in fear now it's our time to do our part for him I want everyone with one voice let get him justice all hands on deck #justice for Mohbad fish dem out legal or illegal."
The post Mohbad's Spirit Won't Let Me Rest, Bella Shmurda Calls For Naira Marley's Arrest appeared first on Jomog.