No Harm Was Wished On Him – Naira Marley Finally Speaks On Mohbad's Death
Nigerian singer and rapper, Naira Marley, has spoken for the first time since Mohbad died on Tuesday.
Mohbad passed away under controversial circumstances and was buried on Wednesday in Ikorodu, Lagos State.
In a statement posted on his Instagram on Friday, Naira Marley said he is "heartbroken" by Mohbad's death, adding that he will "be truly missed".
The Marlian Record label boss admitted that although they had "disagreements, no harm whatsoever was wished on Mohbad".
Naira Marley also condoled with Mohbad's family, while demanding a thorough investigation into the 27-year-old's death.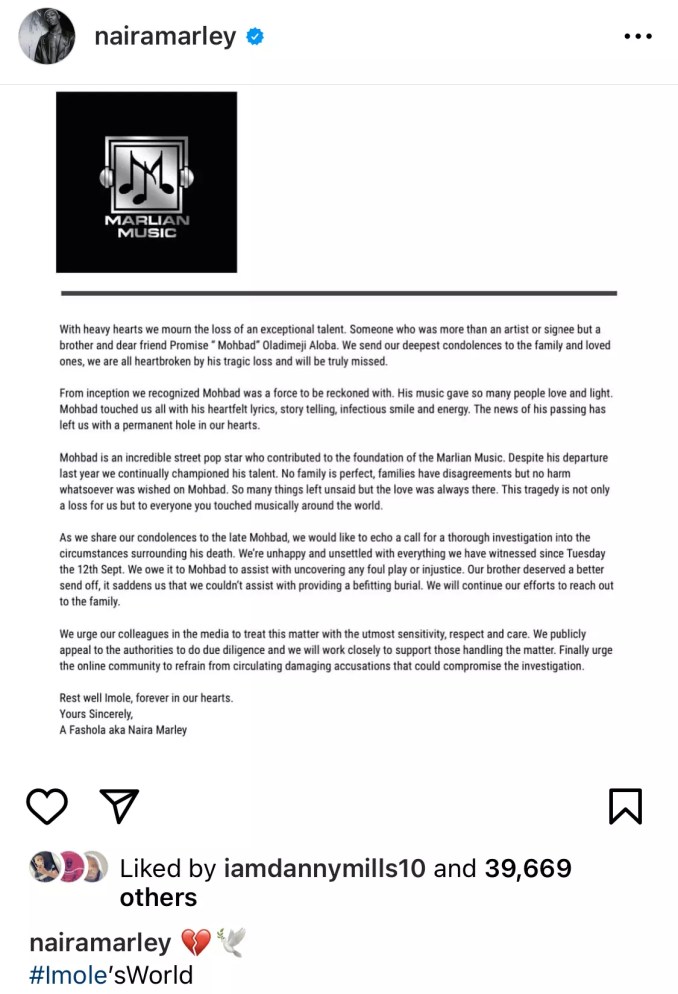 The post No Harm Was Wished On Him – Naira Marley Finally Speaks On Mohbad's Death appeared first on Jomog.
Contradicting Video Evidence Of Sam Larry In Nigeria On August 26th Emerges
Since Sam Larry return to Nigeria, the entertainment world has been buzzing with questions and speculations. Contrary to his press release that he had not been in Nigeria since August 20th, video evidence has emerged that appears to contradict Sam Larry's claim this.
This has raised eyebrows and casting doubt on his earlier statements.
Recall that in the wake of the artist's untimely death, a viral video surfaced, seemingly implicating Sam Larry in a physical altercation with Mohbad.
This disturbing footage led to Sam Larry being the first suspect linked to the tragic passing of Mohbad.
In an attempt to clear his name and address the mounting allegations, Sam Larry had issued a press release. In this statement, he revealed that he had left Nigeria on August 20th, effectively distancing himself from any involvement in Mohbad's death.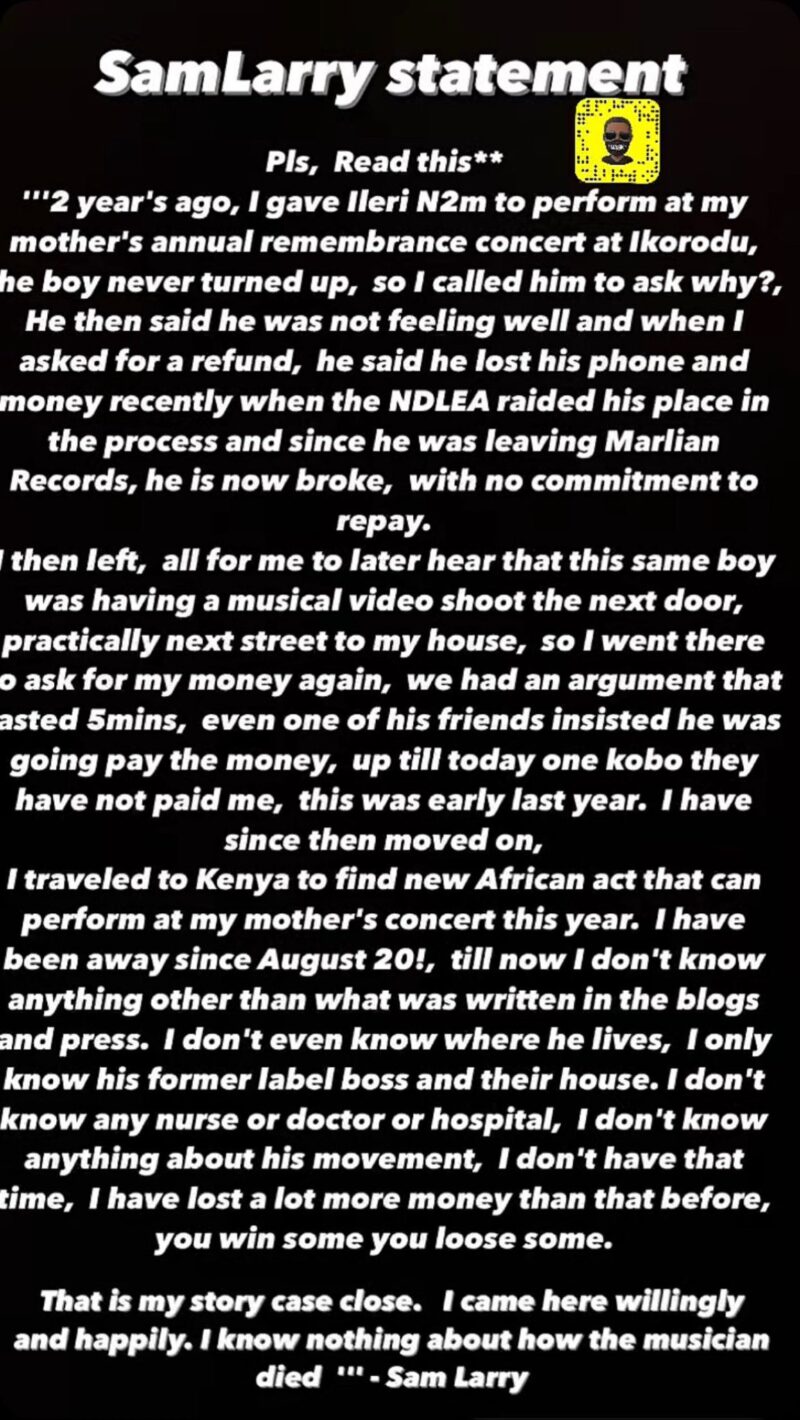 He vehemently denied any wrongdoing, stating that he had no part in the unfortunate events surrounding the young artist's passing.
However, things got interesting this afternoon when a piece of evidence emerged in the form of a party flyer. Popular public personality, iamdre, had shared this flyer on social media, tagging the Nigerian police force for attention. It was a promotional flyer for Zinolesky beach party and it was dated August 26th.
This event took place just days after Sam Larry claimed to have left Nigeria on August 20th. The flyer seemed to challenge Sam Larry's timeline and raised questions about the accuracy of his statements regarding his whereabouts.
Watch Video Below:
This new video evidence has left both fans and the media in a state of confusion arousing even more suspicion.
Netizens can't help but wonder if Sam Larry was truly out of Nigeria on August 20th, as he had stated. If he was, why did he feel he need to lie? These questions linger in the air, waiting for answers that could reshape the course of the ongoing investigation.
The post Contradicting Video Evidence Of Sam Larry In Nigeria On August 26th Emerges appeared first on Jomog.
"Fashion Is Pain" Toyin Abraham Admits After Struggling To Breathe In Red Corset Dress
Actress Toyin Abraham has finally admitted that wearing a corset dress was a struggle for her, after facing heavy online mocking for her choice of outfit at the movie premiere of her senior colleague, Funke Akindele, on Wednesday, September 27th.
In a captured video, Toyin Abraham was seen struggling to breathe while posing for the camera and interacting with colleagues, due to the tight-fitting nature of the corset dress.
A corset is a "stiff supporting so constricting undergarment for the waist, worn chiefly by women to shape the figure and hide their big tummy.
It is a support garment commonly worn to hold and train the torso into a desired shape, traditionally a smaller waist or larger bottom, for aesthetic or medical purposes (either for the duration of wearing it or with a more lasting effect), or to support the breasts.
Sadly after Toyin Abraham rocked her corset dress, she struggled to breathe in it.
After receiving mockery online and calls for her to fire her stylist, Toyin Abraham responded by sharing new photos of herself along with hilarious hashtags that read "I can't breathe well, you all say Fashion is pain, this corset wants to kill me."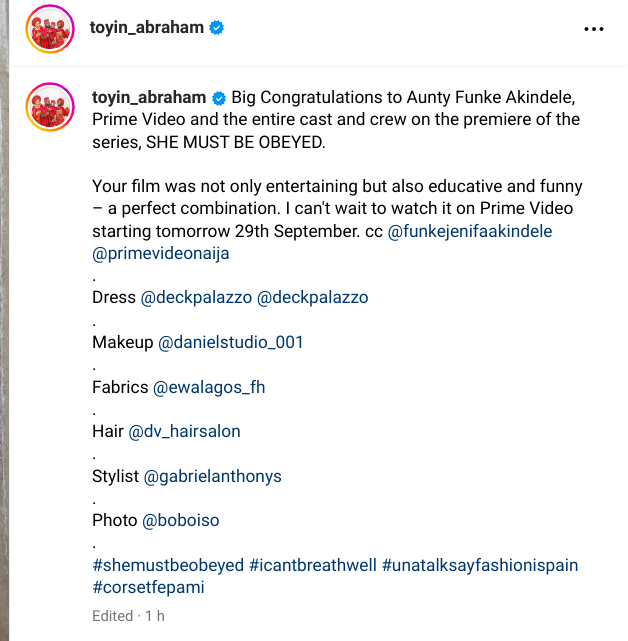 Congratulating Funke Akindele on the movie premiere, Toyin Abraham said, "Big congratulations to Aunty Funke Akindele, Prime Video, and the entire cast and crew on the premiere of the series, SHE MUST BE OBEYED.
Your film was not only entertaining but also educative and funny – a perfect combination. I can't wait to watch it on Prime Video starting tomorrow, September 29th."
The post "Fashion Is Pain" Toyin Abraham Admits After Struggling To Breathe In Red Corset Dress appeared first on Jomog.
Why MohBad Was Quickly Buried – Father
Joseph Aloba, the father of Mohbad, has explained why he quickly buried his son who passed away at the age of 27 on September 12, with the burial taking place the following day.
In a recent interview shared by Temilola Sobola (@TemilolaSobola) via Instagram on Tuesday, Aloba said that in Yoruba culture, it is "customary not to keep a deceased person's body for long if both parents are alive".
He said if Mohbad had passed away at an older age, he might have considered putting him in a mortuary.
He also said the land where the singer was laid to rest was his sole property, adding that he had given it to him to build a church.
"In Yoruba land, his corpse is not the kind to be kept when both of his parents are still alive," he said.
"Assuming he died at an older age, we might have considered putting his body in the mortuary and taking it at a later date. That same night we took him away from there and buried him where we did.
"That land where Mohbad was buried is his only land, that is the only land I know him to have owned.
"Truly he gave me the land to build my church because we had both agreed to build the church there and since that's the only land I knew him to have."
On September 14, Aloba revealed that Mohbad had passed away after receiving an injection administered by an auxiliary nurse.
He also urged the public not to blame Naira Marley, Mohbad's former label boss, for his son's death.
Mohbad, a former record label signee of Marlian Music owned by Naira Marley, left the label in February 2022.
The management of Mohbad, on Monday, announced a candlelight procession and tribute night for the late artiste Thursday (tomorrow) while the Lagos State Governor, on Wednesday, invited the Department of Security Services to join the probe of late singer, Ilerioluwa Aloba, popularly known as Mohbad.
Babajide Sanwo-Olu, the governor of Lagos, has involved the Department of State Services (DSS) in the ongoing investigation into Mohbad's death.
The police earlier mentioned the possibility of exhuming Mohbad's corpse.
The post Why MohBad Was Quickly Buried – Father appeared first on Jomog.