EDO STATE UNIVERSITY RELEASES APPROVED SCHOOL FEES FOR 2023/2024 ACADEMIC SESSION
The Edo State University school fees schedule for the 2023/2024 session is out. The school fees schedule shows a break down of fees and charges payable by the newly admitted students of Edo State University Iyamho for the 2023/2024 academic session.
All newly admitted students are to check the breakdown of fees below and proceed with the procedure also stated below to pay the required fees. This Fees applies to Fresh Student only. Old Students fees remain the same except accommodation.
Click to View Fees for Undergraduate Courses at a Glance 2023/2024 Academic Session
*MBBS Students are expected to pay an additional sum of ₦1,000,000 for Clinicals from 300 Level. (International Students $2,083)
* Nursing and Medical Laboratory Science students are expected to pay an additional sum of ₦700,000 for Clinicals from 300 Level. (International Students $1,250)
PAYMENT OF FEES
• An acceptance fee of ₦70,000 is applicable for all undergraduate programmes and a ₦25,000 fees for Edo Health Insurance Scheme (Edo HIS) Per Session.
• A minimum first instalment of 60% for ALL Courses must be paid before clearance while the balance must be paid in the first week of the second semester.
• Payment of school fees is strictly online. Visit https://www.edouniversity.edu.ng
There is a Learning Management System (LMS) fee of:
₦40,000 for Students
₦30,000 for Parents (optional)
ACCOMMODATION IS COMPULSORY
Accommodation fees ranges from ₦110,000 to ₦250,000 and it is compulsory for all students. (International Students from $500 to $1000)
EDO SATE UNIVERSITY UZAIRUE HALLS OF RESIDENCE INFORMATION
Edo State University Uzairue has variety of rooms and living options in each of the halls of residence. The halls are within the campus hence accommodations are available for fresh and returning students each academic session. The halls of residence are equipped with security services and the room/living options provide students, with similar interest, the facilities that support their lifestyle choices. The fees of the accommodations vary because they are of different types and classes which may include; 10, 8 or 6 spring single/double bunk beds, mattresses, lightings and water, Wi-Fi, water heating systems in bathrooms and with cooking or no cooking spaces. Shuttle buses are available at affordable prices to transport students from their various Halls of Residence.
Note: Allocations of rooms and bed spaces are automated on the basis of when payments are received and it is usually on first come, first serve basis.
DESCRIPTION OF CATEGORIES OF EDO STATE UNIVERSITY HALLS OF RESIDENCE
Regular lodge has two payment categories (₦ 150,000 (Down bunk)/110,000 (Up bunk)per session): This room type has double bunk beds that accommodate either four, six, eight, or ten students (depending on the size of the room and the hall) and has no kitchen (students are not allowed to make their meals in it). The rooms are en-suites with bathroom and toilet spaces as well as wardrobes. Students who pay ₦ 150,000 will be allocated down bunk bed spaces while those who paid ₦ 110,000 will be allocated up bunk bed spaces.
Premium lodge (₦200,000 per session): This room type has single beds that accommodate five or six students but with no cooking space (students are not allowed to make their meals in it). The room type is en-suite and it is with bathroom and toilet space as well as wardrobe.
PremiumVilla lodge (₦250,000 per session): This room type has single beds that accommodate five or six students and it is en-suite with a kitchen (student are allowed to prepare their own meals in it), bathroom and toilet space as well as wardrobe.
Use of Electrical Gadget in the halls of residence
Students who desires to make use of the under listed electrical appliances must be resident in either the premium/ premium villa lodge and will pay the additional corresponding fees per month
Note:
· Electric iron is permitted in all hostels but must be used carefully
· Students' rooms shall be inspected twice every month however, any designated official can inspect a student room at any point as the Student Affairs Unit may direct.
· Students will be held liable for replacement of any carelessly/willfully damaged university facility in the halls of residence
· Stipulated penalties for misconduct in the halls of residence as well as the penalties for the replacement of damaged properties and other information are contained in the Student Handbook of information.
Thank you
Student Affairs Unit
EID-UL-MAWLID: FG DECLARES WEDNESDAY PUBLIC HOLIDAY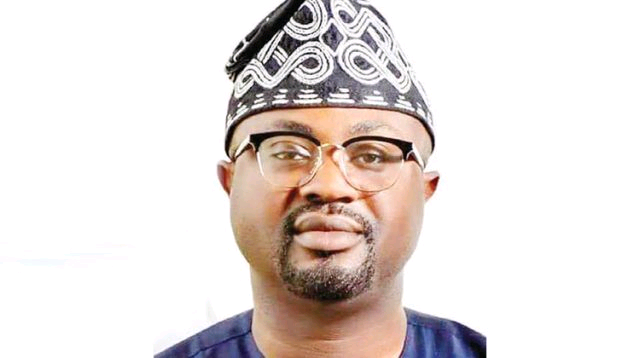 The Federal Government has declared Wednesday, September 27, 2023, as a public holiday.
This is to mark the Eid-ul-Mawlid celebration and the birth of the Holy Prophet Muhammad.
The announcement was made in a statement on Monday by the Permanent Secretary, Ministry of Interior, Oluwatoyin Akinlade.
She noted that the Minister of Interior, Dr. Olubunmi Tunji-Ojo, urged Nigerians to be tolerant.
The statement partly read, "The Minister congratulates all Muslim faithful both home and in the diaspora for witnessing this year's occasion.
"His admonition to Nigerians is to imbibe the spirit of love, patience, tolerance and
perseverance which are deep spiritual virtues that the Holy Prophet Muhammad (Peace be upon him) exemplified.
"Tunji-Ojo also urged Nigerians, especially our youths, to embrace the virtues of hard work and peaceful disposition toward fellow humans, irrespective of faith, ideology, social class, and ethnicity, and join hands with President Bola Tinubu's administration in its effort to build a progressive and enviable Nation that all citizens will be proud of."
DELTA STATE UNIVERSITY, OGWASHIUKU RELEASES HND FIRST BATCH ADMISSION LIST FOR THE 2023/2024 ACADEMIC SESSION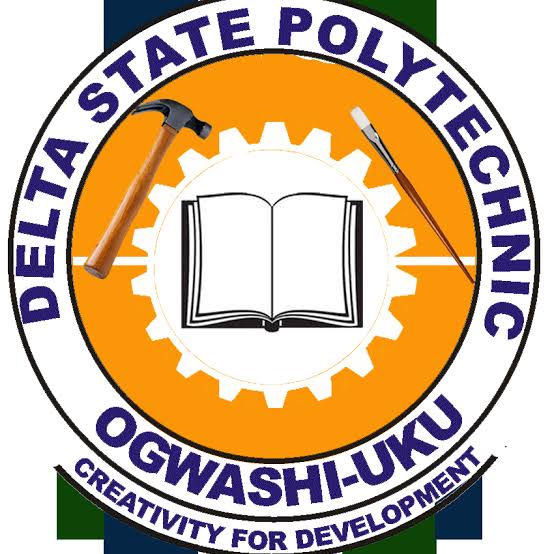 This is to inform prospective Full-Time HND Students of Delta State Polytechnic Ogwashiuku that the management has released the first Batch Higher National Diploma Admission List for 2023/2024 session.
The list of admitted candidates has been released and made available on the school notice board. Candidates can check their names on the school's notice board.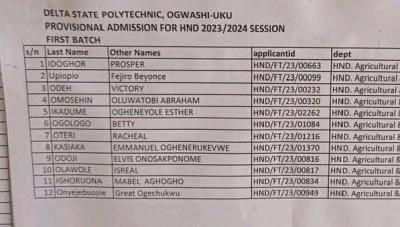 ZAMFARA STATE UNIVERSITY, TALATA RELEASES APPROVED ADMISSION CUT OFF MARK FOR 2023/2024 ACADEMIC SESSION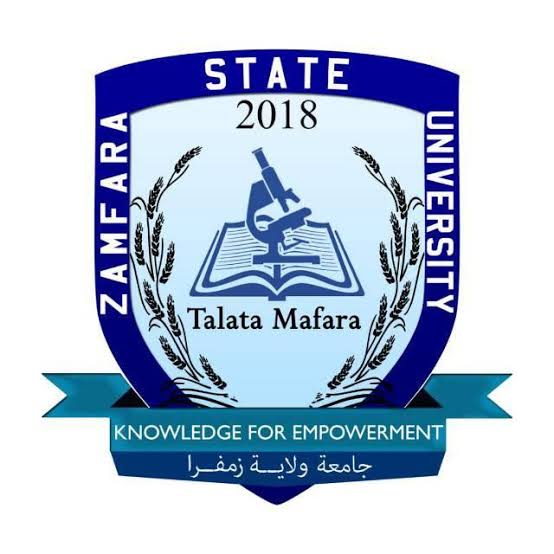 This is to inform the general public that the management of Zamfara State University has released the approved Cut-off points for 2023/2024 admission exercise.
The cut-off marks have been provided below; Candidates are to check the cut-off marks for the various coutrses below;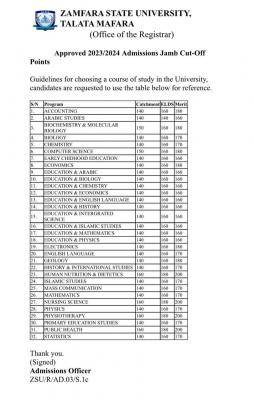 S/N Programme – Catchment – ELDS – Merit
1. Accounting. 140. 160. 180
2. Arabic Studies. 140. 140. 160
3. Biochemistry. 150. 160. 180
4. Biology. 140. 160. 170
5. Chemistry. 140. 160. 170
6. Computer Science. 150. 160. 180
7. Early Childhood Edu 140. 160. 180
8. Economics. 140. 160. 160
9. EDU Arabic. 140. 160. 160
10. EDU Biology 140. 160. 160
11. EDU Chemistry. 140. 160. 160
12. EDU Economics. 140. 160. 160
13. EDU English Lan. 140. 160. 160
14. EDU Intergrated Sci. 140. 160. 160
15. EDU History. 140. 160. 160
16. EDU Islamic Studies. 140. 160. 160
17. EDU Mathematics. 140. 160. 180
18. EDU Physics. 140. 160. 170
19. Electronics. 140. 160. 180
20. English Language. 140. 160. 170
21. Geology. 140. 160. 180
22. History & Inter Studies. 140. 160. 170
23. Human Nutrition & Die. 160. 180. 200
24. Islamic Studies. 140 160. 170
25. Mass Communication. 140 160. 170
26. Mathematics. 140. 160. 170
27. Nursing Science. 160. 180. 200
28. Physics. 140 160. 170
29. Physiotherapy. 160. 180. 200
30. Primary Education 140. 160. 170
31. Public Health. 160 180. 120
32. Statistics. 140. 160. 170