Your Investments Are Safe In Nigeria, Tinubu Tells Saudi Investors
President Bola Tinubu has assured potential Saudi Arabian investors of the safety of their investment in Nigeria.
The president stated this at the first Saudi-Africa Summit in Riyadh, Saudi Arabia, on Friday.
Tinubu said that Nigeria was ready for business while assuring investors of some of the world's highest returns on investment.
He said that Nigeria was desirous of enhancing collaboration with the Kingdom of Saudi Arabia on combating terrorist organizations such as Boko Haram, ISWAP, and other violent extremist groups.
The president said these groups had for long being terrorizing the Lake Chad and Sahel regions of Africa.
"Nigeria and Saudi Arabia have always enjoyed a special relationship at both the bilateral and multilateral levels. Within the past six decades, our bilateral cooperation, which was initially hajj-centric, has witnessed diversification to cover a number of areas of common interest.
"It is delightful to note the presence in this great Kingdom of a large number of our compatriots and professionals, including highly-skilled medical practitioners and professional football players.
"(We are both) members of several international organisations including the UN, the Organization of Petroleum Exporting Countries, the International Energy Forum, the G77, the Islamic Development Bank, the Digital Cooperation Organization among others.
"Our two nations have effectively used these and other platforms to enhance close interaction and coordination. I am confident that our joint positive disposition within these platforms will continue to be demonstrated as we seek to advance our mutual interests.
"Nigeria, like the Kingdom, is diversifying her economy away from oil dependence to promote sustainable development. My administration has undertaken bold economic reforms by removing wasteful subsidies on petroleum and the merging of our foreign exchange market, among other incentives aimed at improving the ease of doing business in Nigeria.
"I also wish to assure all potential Saudi investors of the safety of their investments based on the sanctity of the rule of law and good returns on their investments in the largest economy in Africa. In this regard, the benefit attached to the early inauguration of the Nigeria-Saudi Business Council can not be over-emphasized," the President said.
Tinubu thanked the Kingdom for the various humanitarian interventions in Nigeria through the King Salman Humanitarian Aid and Relief Centre.
Speaking on climate change and how it affects Africa, Tinubu said it has led to an expedited rate of desertification and incessant flooding in Nigeria and many other African countries.
He commended the efforts of the Kingdom for its various initiatives to fight the effects of climate change, adding that Nigeria was also working on a number of initiatives to fight the effects of climate change and energy poverty.
"Recently, we launched a data-driven Energy Transition Plan which sets forth a clear carbon reduction policy and targets net-zero emissions by the year 2060 while also setting out our plans for industrialization using new energy systems and universal access to modern energy services.
"Mr. Chairman, let me also take this opportunity to reiterate Nigeria's full support for the Kingdom's bids to host the 2030 World Expo in Riyadh and the 2034 FIFA Senior Men's World Cup, the latter of which is now all but guaranteed to succeed," the President said.
On the situation in the Middle East, particularly in Palestine, the President reiterated Nigeria's call for an immediate ceasefire and the pursuit of a peaceful resolution to the conflict.
NAN
The post Your Investments Are Safe In Nigeria, Tinubu Tells Saudi Investors appeared first on Jomog.
OLABISI ONABANJO UNIVERSITY (OOU) RELEASES FIRST BATCH UTME ADMISSION LIST FOR THE 2023/2024 ACADEMIC SESSION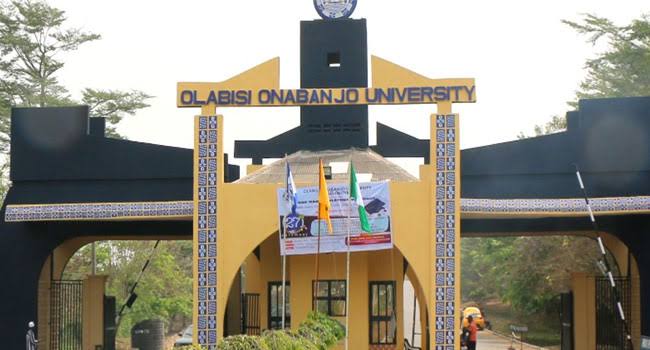 The Management of the Olabisi Onabanjo University has released the 2023/2024 First Batch (UME) Admissions List All Candidates who applied to the University should please log in to the University Portal : https://portal.oouagoiwoye.edu.ng/admission/login.php
 to check their Admission Status.
Successful Candidates are advised to please adhere strictly to the information displayed on their Portals and take further action immediately. Candidates offered Admission who do not comply with the Instructions on their Portals by Thursday, 23rd November, 2023 will be deemed as having forfeited the Offer.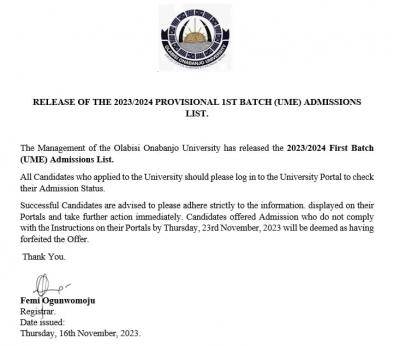 Candidates are also to proceed to JAMB CAPS and accept their admission offer.
PRESIDENT TINUBU CANCELS 40% IGR DEDUCTION FROM NIGERIAN UNIVERSITIES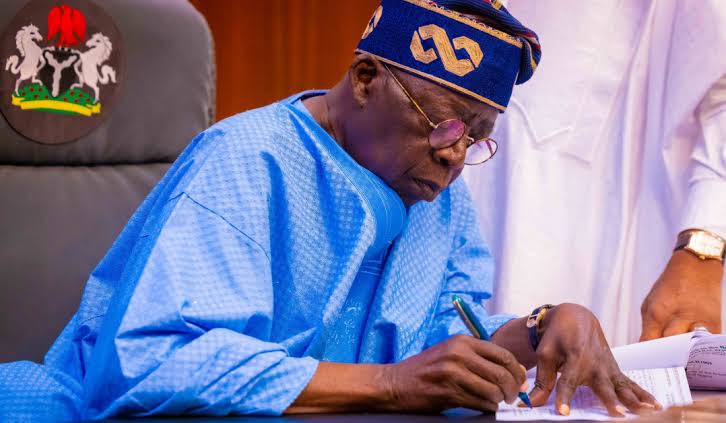 President Bola Tinubu has cancelled the controversial deduction of 40 per cent of Internally Generated Revenues from federal universities across the country.
The President who was represented by the Minister of Education, Tahir Mamman, spoke on Friday at the 75th Founder's Day ceremony of the University of Ibadan and described the policy implementation as "ill-timed".
He also maintained that it was not the best time for such a policy since our universities are struggling.
In his speech as a Visitor to the university, Tinubu pledged his commitment to the reform of the nation's education sector as the bedrock for national development.
He said, "The 40 per cent IGR automatic deduction policy stands cancelled. This is not the best time for such a policy since our universities are struggling."
FEDERAL UNIVERSITY OF TRANSPORTATION, DUARA ROLL OUT 2023/2024 ADMISSION LIST ON JAMB CAPS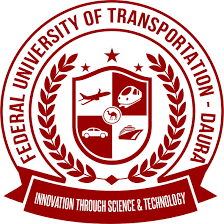 Federal University of Transportation, Daura Admission list for the 2023/2024 academic session has been released. This is to inform all candidates who participated in the 2023/2024 Admission Screening Exercise that they can proceed to check if their names are on the Provisional Admission list of successful candidates .
The list of admitted candidates have been uploaded online via JAMB CAPS. Candidates are to follow the procedure below to check;
How To Check the Admission Status on JAMB CAPS
•Visit:https://www.jamb.gov.ng/Efacility and login with your registered email address and password to access your dashboard
•Click on 'Check Admission Status,
•Click on 'Access my CAPS' Click on 'Admission Status' to see if you have been offered admission.
Candidates who have been offered admission are to proceed to click"ACCEPT" or "REJECT" to indicate acceptance or rejection of the admission offer. For those whose status is showing "Admission Still in Progress" or "Not Admitted", you are advised to keep checking as the status may change anytime soon. Congratulations to the admitted ones!!!