Saudi Pledges Investment In Nigeria`s Refineries, Support CBN Reforms
The Government of Saudi Arabia has pledged investment in the revamping of Nigeria's refineries.
It also indicates interest in providing financial support to sustain the government's determination of reforming the foreign exchange.
Saudi Crown Prince Mohammed bin Salman made these pledges at a bilateral meeting with President Bola Tinubu on the sidelines of the Saudi-Africa Summit in Riyadh.
Mr Muhammad Idris, Minister of Information and National Orientation, disclosed this in a statement on Thursday in Riyadh, Saudi Arabia.
He explained that to support the Central Bank's ongoing reforms of Nigeria's foreign exchange regime, the Saudi Government would make available a substantial deposit of foreign exchange to boost Nigeria's forex liquidity.
He said that Salman commended the economic reforms of Tinubu, expressing the commitment of the Saudi Government to supporting these reforms in order for Nigeria to reap the full benefits.
According to him, Saudi Arabia is very eager to see Nigeria thrive under Tinubu, and realize its full potential as the economic giant of Africa.
Salman also highlighted Agriculture and Renewable Energy as areas where Saudi Arabia would invest to help the country attain food and energy security.
The Crown Prince said that the investment in Nigeria`s refinery would be led by the Saudi state-owned oil company, Saudi Aramco.
He gave the assurance that the revamping of the refineries would be completed within a two- to three-year timeframe.
The Crown Prince also expressed appreciation to Nigeria for its active participation in and support for OPEC+.
Tinubu thanked the Saudi leader for the proposed investments, and pledged that Nigeria would ensure judicious management and oversight.
The two leaders vowed to work together over the next six months to develop a comprehensive road-map and blueprint to deliver on the agreed investments and outcomes.
Also, Tinubu and Salman spoke on the need to strengthen security cooperation to mitigate terrorism, illegal migration and other crises, not just in Nigeria, but across West Africa and the Sahel region.
The two leaders also discussed existing economic and socio-cultural cooperation between Nigeria and Saudi Arabia, and agreed to open new vistas in bilateral relations.
The bilateral meeting was attended by the Minister of Foreign Affairs, Amb. Yusuf Tuggar, Minister of Information and National Orientation, Mohammed Idris, Nigerian Ambassador to Saudi Arabia, Amb. Yahaya Lawal and the state Chief of Protocol, Amb. Adekunle Adeleke.
The post Saudi Pledges Investment In Nigeria`s Refineries, Support CBN Reforms appeared first on Jomog.
OLABISI ONABANJO UNIVERSITY (OOU) RELEASES FIRST BATCH UTME ADMISSION LIST FOR THE 2023/2024 ACADEMIC SESSION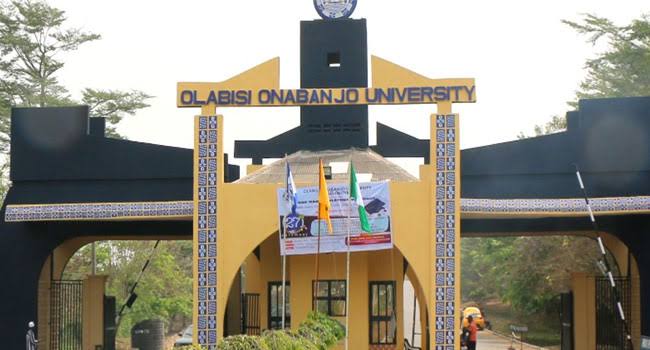 The Management of the Olabisi Onabanjo University has released the 2023/2024 First Batch (UME) Admissions List All Candidates who applied to the University should please log in to the University Portal : https://portal.oouagoiwoye.edu.ng/admission/login.php
 to check their Admission Status.
Successful Candidates are advised to please adhere strictly to the information displayed on their Portals and take further action immediately. Candidates offered Admission who do not comply with the Instructions on their Portals by Thursday, 23rd November, 2023 will be deemed as having forfeited the Offer.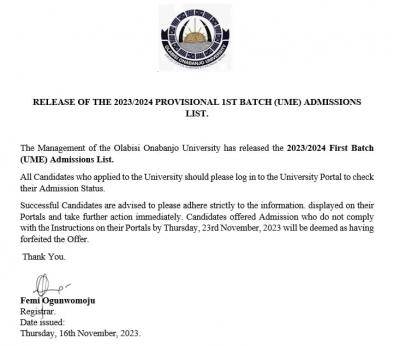 Candidates are also to proceed to JAMB CAPS and accept their admission offer.
PRESIDENT TINUBU CANCELS 40% IGR DEDUCTION FROM NIGERIAN UNIVERSITIES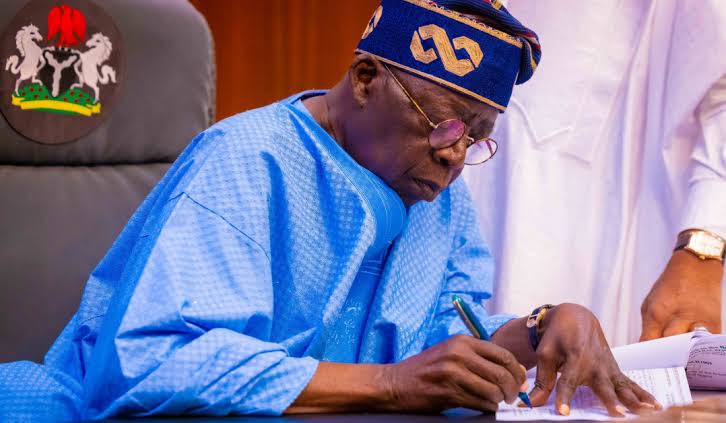 President Bola Tinubu has cancelled the controversial deduction of 40 per cent of Internally Generated Revenues from federal universities across the country.
The President who was represented by the Minister of Education, Tahir Mamman, spoke on Friday at the 75th Founder's Day ceremony of the University of Ibadan and described the policy implementation as "ill-timed".
He also maintained that it was not the best time for such a policy since our universities are struggling.
In his speech as a Visitor to the university, Tinubu pledged his commitment to the reform of the nation's education sector as the bedrock for national development.
He said, "The 40 per cent IGR automatic deduction policy stands cancelled. This is not the best time for such a policy since our universities are struggling."
FEDERAL UNIVERSITY OF TRANSPORTATION, DUARA ROLL OUT 2023/2024 ADMISSION LIST ON JAMB CAPS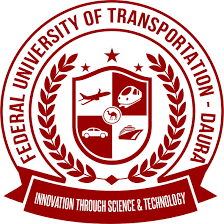 Federal University of Transportation, Daura Admission list for the 2023/2024 academic session has been released. This is to inform all candidates who participated in the 2023/2024 Admission Screening Exercise that they can proceed to check if their names are on the Provisional Admission list of successful candidates .
The list of admitted candidates have been uploaded online via JAMB CAPS. Candidates are to follow the procedure below to check;
How To Check the Admission Status on JAMB CAPS
•Visit:https://www.jamb.gov.ng/Efacility and login with your registered email address and password to access your dashboard
•Click on 'Check Admission Status,
•Click on 'Access my CAPS' Click on 'Admission Status' to see if you have been offered admission.
Candidates who have been offered admission are to proceed to click"ACCEPT" or "REJECT" to indicate acceptance or rejection of the admission offer. For those whose status is showing "Admission Still in Progress" or "Not Admitted", you are advised to keep checking as the status may change anytime soon. Congratulations to the admitted ones!!!