NATIONAL EXAMINATION COUNCIL (NECO) CLOSES GCE REGISTRATION SOON (DETAILS)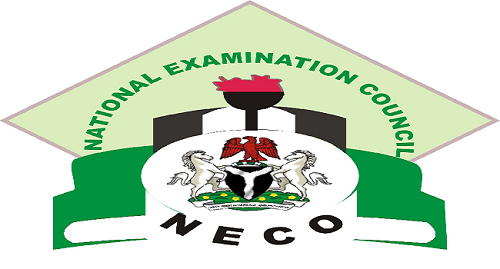 Prospective candidates who wish to register for the 2023 Senior School Certificate Examination (SSCE) External are hereby informed that registration for the examination has commenced. The registration is both offline and online.
Prospective candidates should visit the Council's website http://www.neco.gov.ng. SSCE External link and register at any time within the stipulated registration period. Candidates can create account, purchase registration quota and then proceed to any reputable Cybercafé for biometric and completion of registration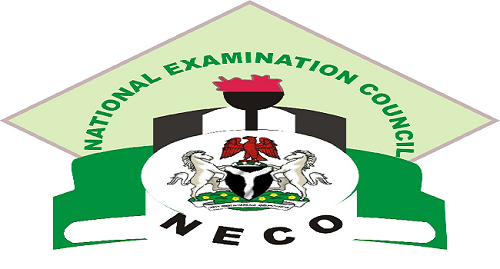 • Passport size photograph is required for the registration. The candidate's passport size photograph should NOT be more than SIX MONTHS old and must have white background System Camera can also be used to snap the passport size photograph at the point of registration as the case may be.
• BIOMETRIC FINGERPRINTS WILL BE CAPTURED DURING THE OFFLINE REGISTRATION OF EACH CANDIDATE.
• CANDIDATES SHOULD NOTE THAT THERE WILL BE BIOMETRIC VERIFICATION DURING THE CONDUCT OF THE EXAMINATION.
• CANDIDATES FOUND TO HAVE MISMATCHED FINGER PRINTS AT THE POINT OF VERIFICATION ARE DEEMED IMPERSONATORS AND WOULD BE SANCTIONED ACCORDING TO EXTANT LAWS.
2. REGISTRATION WEBSITE: http://www.neco.gov.ng
3. REGISTRATION FEE AND OTHER MATERIALS
The Registration Fee is Seventeen Thousand Eight Hundred Naira (N17,800.00) only Four-figure Table is Five Hundred Naira (N500.00) only per copy. Waterproof Certificate Jacket Folder is Two Thousand Naira (2,000) only per candidate. Note that Stamp Duty, Service and Remita charges apply.
4. MODE OF PAYMENT
Candidates or registration points (cyber cafes) are to visit http://www.neco.gov.ng and create an account using either their emails or phone numbers, activate the accounts and pay into the NECO TSA through five payment options.
ATM Card
Internet Banking
USSD
Wallet
Bank Branch
5. REGISTRATION PERIOD
i. The registration period begins on 11th September, 2023 and ends on 13th November, 2023 at 12:00 midnight.
ii. Late registration, i.e, registration done from 14th to 19th November, 2023 will attract payment of ADDITIONAL Two Thousand Naira (2,000) only.
iii. Walk-in registration is Twenty-eight Thousand Naira (N28,000.00) only per candidate.
6. ATTESTATION/PHOTO CARDS AND EXAMINATION TIME TABLE
On completion of the registration process, each candidate must obtain the following from the cybercafe
i. Timetable for the examination; and
ii. At least One (1) clear copy of the NECO Photo card, which would be used to admit the candidate into the Examination Hall. (Candidates should note that Passport size photographs on the Photo cards that are not clear will NOT be accepted in the Examination Hall).
→ The Referee's Attestation section of the Photo card should be SIGNED AND STAMPED by any of the following:
a) The Principal of a recognized Secondary School.
b) An Ordained Clergyman or a Chief Imam.
c) A Commissioned Officer of the Nigerian Armed Forces or the Police not below the rank of Captain or its equivalent.
d) A Senior Civil Servant not below GL. 14.
e) A Legal Practitioner of not less than Ten years' experience.
→ CANDIDATES ARE NO LONGER REQUIRED TO SUBMIT THEIR ATTESTATION/PHOTO CARDS AT NECO STATE OFFICE FOR STAMPING.
7. VISUALLY IMPAIRED CANDIDATES
Visually impaired candidates are to register like everyone. However, they are to indicate the nature of their disability when making entry of their bio-data in the offline application during registration.
8. EXAMINATION CENTRES
The Examination centres for each State have been grouped into Neighbourhoods. Candidates should select a Neighbourhood within the State where they intend to sit for the Examination and they will automatically be assigned a centre within the selected neighbourhood after uploading their registration data online.
9. AVAILABLE SUBJECTS FOR THE EXAMINATION
Subjects available are:
1. Agricultural Science
2. Arabic Language
3. Biology
4. Chemistry
5. Civic Education
6. Christian Religious Studies
7. Commerce
8. Data Processing
9. Economics
10. English Language
11. Financial Accounting
12. French
13. Further Mathematics
14. Geography
15. Government
16. Hausa
17. Health Education
18. History
19. Igbo
20. Islamic Studies
21. Literature-in-English
22. Mathematics
23. Marketing
24. Physical Education
25. Physics
26. Salesmanship
27. Store Keeping
28. Technical Drawing
29. Yoruba
Candidates should note that Nigerian Languages (Hansa, Igbo and Yoruba) include Literature component
10. GENERAL INFORMATION
i. The Registration fee, once paid, is non-refundable.
ii. WALK IN CANDIDATES can now register Six (6) hours to the Subject they intend to write.
iii. EXAMINATION CENTRE CANNOT BE EDITED after upload.
iv. Candidates or cybercafé operators should carefully follow the SSCE External link on http://www.neco.gov.ng for instructions on the registration procedure before embarking on the registration exercise.
v. The use of reputable cyber cafes is highly recommended as the Council will not be liable for registration errors committed by candidates. Candidates should ensure that they cross-check all entries made by cyber cafes on their behalf, in the offline application before allowing the data to be uploaded online. Note: there is only one chance for correction once the candidate's data is uploaded online.
vi. Candidates are entitled to ONE-TIME CORRECTION with a validity period of TWO WEEKS after upload.
Note that:
a. complete change of name will not be entertained.
b. ONLY ONE out of these two: NAME (either Surname, First name or middle name) OR PASSPORT can be corrected in addition to other registration data.
vii. Candidates should study the Rules & Regulations as well as the Syllabus before the Examination.
viii. Candidates should note that the photograph uploaded during the registration will be embossed on their Certificates.
ix. Candidates would be informed about the viability of their centres at least a day before the date of the Examination.
x. Smoking, bringing into the Examination Hall Electronic Communication Gadgets (Programmable Calculators, Mobile Phones, iPad, Tablets, Smart Wrist Watches/Glasses/Pens Etc) is strictly prohibited.
xi. Candidates should dress in mufti and no one will be allowed entry into the examination hall with arms
xii. Multiple registration is not allowed. Candidates who register more than once will have their entire results cancelled.
xiii. Please note that No candidate shall be allowed into the Examination Hall after the commencement of Examination.
OLUSEGUN AGAGU UNIVERSITY OF SCIENCE AND TECHNOLOGY, OKITIPUPA DISCLAIMER NOTICE ON FAKE POST REGARDING NURSING PROGRAMME
The attention of the Management of Olusegun Agagu University of Science and Technology, Okitipupa, has been drawn to a fraudulent and fake post in the social media requesting admission seekers into the Nursing programme of the University to pay the sum of ten thousand Naira (N10,000.00) to an Opay Account for admission form.
The Management hereby informs admission seekers, their parents, guardians and the general public, that the information should be disregarded for it is fake, it does not emanate from the University neither does it emanate from the Office of the Registrar.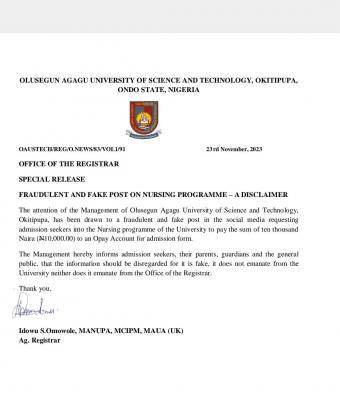 Thank you.
EMMANUEL ALAYANDE UNIVERSITY OF EDUCATION GETS NUC APPROVAL FOR 50 FULL-TIME COURSES, 2023/2024
The Emmanuel Alayande University of Education has received NUCs approval for 50 of its full time programmes. This was contained in a letter signed by the Executive Secretary of NUC.
The letter reads, "The Vice-Chancellor is please invited to recall that a resource verification visit was carried out by panels of experts to the proposed academic programme in Emmanuel Alayande University of Education Oyo State with a view to assessing the human and material resources available for its establishment.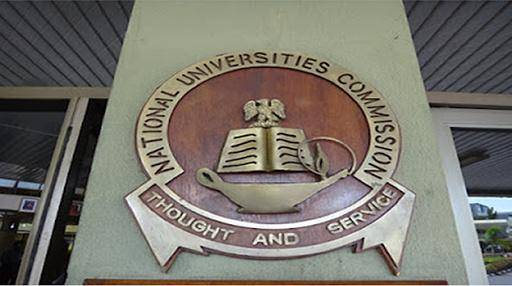 I am directed to inform the Vice-Chancellor that the Ag. Executive Secretary has considered and approved the establishment of the full-time mode of the following undergraduate programmes, to be run in the Main Campus of the University with effect from 2023/2024 academic session:
1. B.Sc. (Ed) Biology Education
2. B.Sc. Biology
3. B.Sc. (Ed) Integrated Science
4. B.Sc. (Ed) Chemistry Education
5. B.Sc. Chemistry
6. B.Sc. (Ed) Mathematics Education
7. B.Sc. (Ed) Computer Science Education
8. B.Sc. Computer Science
9. B.Sc. (Ed)Physics Education
10. B.Sc. (Ed) Health Education
11. B.Sc. (Ed) Human Kinetics/Physical Education
12. B.Sc. (Ed) Economics Education
13. B.Sc. Economics
14. B.Sc. (Ed) Environmental Education
15. B.Sc. (Ed) Geography Education
16. B.Sc. (Ed) Educational Management
17. B.Ed. Educational Technology
18. B.Tech (Ed) Building Technology Education
19. B. Tech (Ed) Metal Work Technology Education
20. B.Tech (Ed) Automobile Technology Education
21. B.Tech (Ed) Woodwork Technology Education
22. B.Tech (Ed) Electrical/Electronics Education
23. B.A. Ed. History and International Studies
24. B.A. (Ed) English/Literature in English
25. B.A. English Language and Literary Studies
26. B.LIS. Library and Information Science
27. B.A. (Ed) French
28. B.A. (Ed)Yoruba
29. B.A. (Ed) Hausa
30. B.Sc. (Ed) Political Science Education
31. B.Sc. Political Science
32. B.Sc. (Ed) Social Work
33. B.Sc. (Ed) Social Studies and Civic Education
34. B.Sc. (Ed) Special Education
35. B.Ed. Guidance and Counselling
36. B.Ed. Adult and Continuing Education
37. B.Ed. Early Childhood Education
38. B.Ed. Primary Education
39. B.A. (Ed) Arabic Education
40. B.A. (Ed) Christian Religious Studies
41. B.A. (Ed) Islamic Studies
42. B.A. (Ed) Creative Arts Education
43. B.A. (Ed) Music
44. B.A. (Ed) Fine and Applied Arts
45. B.A. (Ed)Theatre Arts
46. B.Sc. (Ed) Agricultural Science Education
47. B.Sc. (Ed) Home Economics Education
48. B.Sc. (Ed) Business Education
49. B.Sc. (Ed) Entrepreneurship Education
50. B.Sc. Accounting
I am to add that the approval does not cover the part-time mode of delivery of the programmes.
The programmes shall bear only the approved title and nomenclature and any change will require the approval of the Commission. The University is enjoined to provide adequate human and material resources for the development and growth of the approved programmes.
Please, accept the assurances of the Ag. Executive Secretary's highest regards."
UYO CITY POLYTECHNIC NOTICE TO STUDENTS
This is to inform all the students of Uyo City Polytechnic that the management has issue some important notice. Please note the following as decided by the management:
1. Mid-semester examination: There shall be a week-long mid-semester examination across all the Departments in the school.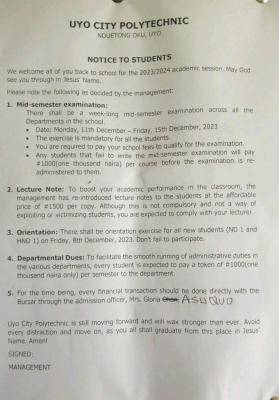 Date: Monday, 11th December – Friday, 15th December, 2023
The exercise is mandatory for all the students.
You are required to pay your school fees to qualify for the examination.
Any students that fail to write the mid-semester examination will pay #1000(one thousand naira) per course before the examination is re- administered to them.
2.Lecture Note: To boost your academic performance in the classroom, the management has re-introduced lecture notes to the students at the affordable price of #1500 per copy. Although this is not compulsory and not a way of exploiting or victimizing students, you are expected to comply with your lecturer.
3. Orientation: There shall be orientation exercise for all new students (ND 1 and HND 1) on Friday, 8th December, 2023. Don't fail to participate.
4. Departmental Dues: To facilitate the smooth running of administrative duties in the various departments, every student is expected to pay a token of #1000(one thousand naira only) per semester to the department.
5. For the time being, every financial transaction should be done directly with the Bursar through the admission officer, Mrs. Gloria eken ASU QUO
Uyo City Polytechnic is still moving forward and will wax stronger than ever. Avoid every distraction and move on, as you all shall graduate from this place in Jesus' Name. Amen!