As you are all aware the 2021/2022 academic session will officially end on Tuesday 16th May 2023. This is to inform all students resident in the university hostels that they are expected to vacate the school hostels on or before 4pm on 16th May 2023.
All concerned are to ensure that they take all their personal belongings out of the room and hostels premises.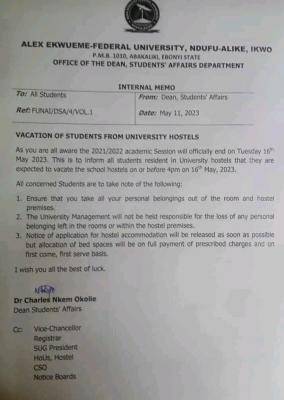 The University management will not be held responsible for the loss of any personal belongings left or the rooms or In the hostel premises
Notice of application for Hostel Accommodation will be released as soon as possible but allocation of bed spaces will be required full payment of prescribed charges and on first come first served basis.