FEDERAL POLYTECHNIC ILARO RELEASES 2023/2024 DEPARTMENTAL CUT OFF MARK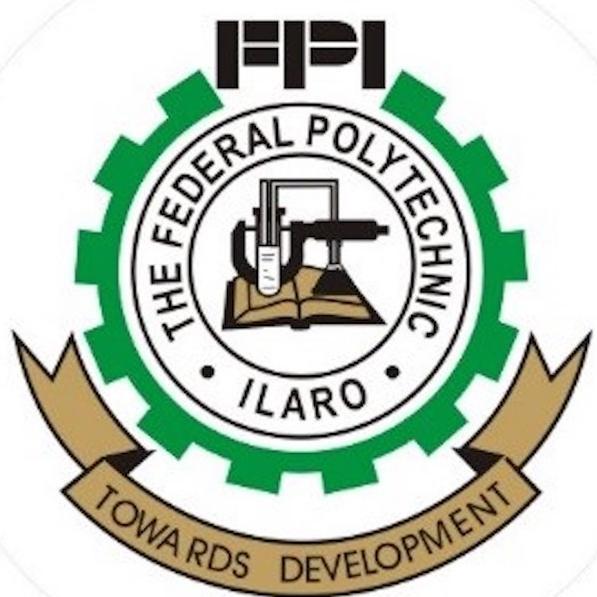 This is to inform prospective students of Federal Polytechnic, Ilaro that the management has released the Approved Departmental Cut Off mark for 2023/2024 Admission into Full-Time National Diploma programmes.
SCHOOL OF AGRICULTURAL TECHNOLOGY
AGRICULTURAL TECHNOLOGY – 170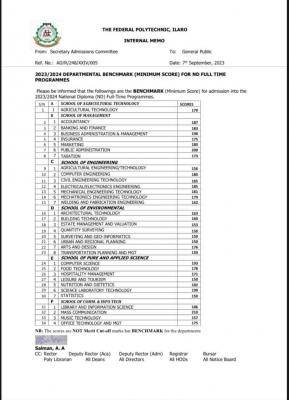 SCHOOL OF MANAGEMENT
ACCOUNTANCY – 187
BANKING AND FINANCE – 183
BUSINESS ADMINISTRATION & MANAGEMENT – 190
INSURANCE – 175
MARKETING – 180
TAXATION – 173
PUBLIC ADMINISTRATION – 200
SCHOOL OF ENGINEERING
AGRICULTURAL ENGINEERING/TECHNOLOGY – 156
COMPUTER ENGINEERING – 180
CIVIL ENGINEERING TECHNOLOGY – 185
ELECTRICAL/ELECTRONICS ENGINEERING – 185
MECHANICAL ENGINEERING TECHNOLOGY – 181
MECHATRONICS ENGINEERING TECHNOLOGY – 157
WELDING AND FABRICATION ENGINEERING – 179
SCHOOL OF ENVIRONMENTAL
ARCHITECTURAL TECHNOLOGY – 163
BUILDING TECHNOLOGY – 160
ESTATE MANAGEMENT AND VALUATION – 153
QUANTITY SURVEYING – 150
SURVEYING AND GEO-INFORMATICS – 150
URBAN AND REGIONAL PLANNING – 150
ARTS AND DESIGN – 176
TRANSPORTATION PLANNING AND MGT – 150
SCHOOL OF PURE AND APPLIED SCIENCE
COMPUTER SCIENCE – 193
FOOD TECHNOLOGY – 178
HOSPITALITY MANAGEMENT – 171
LEISURE AND TOURISM – 150
NUTRITION AND DIETETICS – 182
SCIENCE LABORATORY TECHNOLOGY – 190
STATISTICS – 150
SCHOOL OF COMM & INFO TECH
LIBRARY AND INFORMATION SCIENCE – 186
MASS COMMUNICATION – 210
MUSIC TECHNOLOGY – 157
OFFICE TECHNOLOGY AND MGT – 175
NB: The scores are NOT Merit Cut-off marks but BENCHMARK for the departments
BREAKINGS.1st Batch of Adustech…
BREAKINGS.
1st Batch of Adustech wudil 2022/2023 Admission list is out
.
Kindly visit https://kustwudil.edu.ng/admission_list to check ur admission
Good luck
The post appeared first on Nigerian Students.
UBA NATIONAL ESSAY COMPETITION, 2023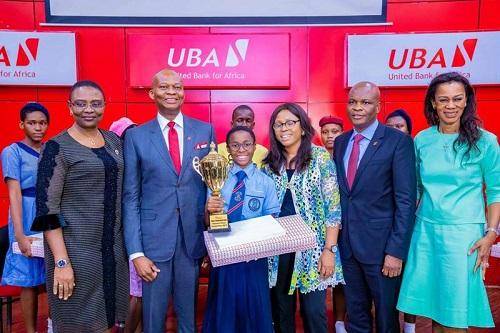 The National Essay Competition, targeted at senior secondary students in Nigeria, is organised annually, as part of UBA Foundation's education initiative which aims to promote the reading culture and encourage healthy and intellectual competition amongst secondary school students in Nigeria and across Africa.
Essay Topic: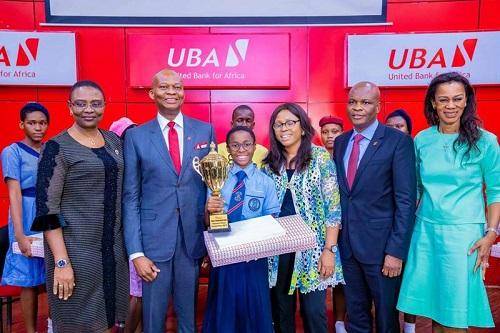 Will Artificial Intelligence (AI) take over Human Intelligence? What should students do to ensure AI doesn't override but enhance their ability to learn through research?
Eligible Countries
Nigeria
Selection Criteria and Eligibility
Must be in Senior Secondary school
Must submit a handwritten essay (750 words MAX)
Must submit a passport photograph
Must submit a scanned copy of a means of identification (birth certificate, National ID, or passport)
Awards:
The first prize for the UBA National Essay Competition is a N5 million educational grant to any African University of their choice, while the second and third prizes are N3 million and N2.5 million in educational grants to African Universities, respectively.
How to Apply
Applicant must submit their valid contact information (Name, Age, School, Address of school, Telephone Number, Residential Address, and Email Address).
Applicants must upload a scanned copy of their original birth certificates or international passport data page.
Applicants must upload a handwritten essay on the portal.
Application Deadline: Friday, October 20th, 2023
CLICK HERE TO APPLY
AKWA IBOM STATE POLYTECHNIC, IKOT ANNOUNCES DATE FOR 2023/2024 SCREENING EXERCISE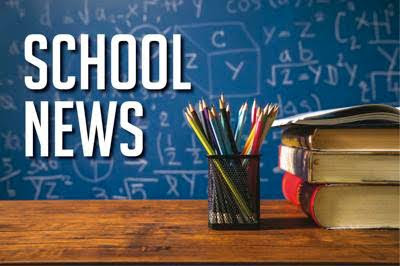 This to inform all Higher National Diploma (HND) and National Diploma (ND) full time candidates who registered for the 2023/2024 admissions in Akwa Ibom State Polytechnic, Ikot Osurua that the Departmental screening of eligible candidates is scheduled as follows;
Date: Tues 26th – Fri 29th September 2023
Time: 9am prompt each day
Venue: Candidates are to go to their respective departments
REQUIREMENTS FOR SCREENING
HND
1 ND statement of result
2 Acknowledgment slip of form purchase
3 WAEC / NECO statement of results
4 Letter of completion of industrial attachment
ND
1 JAMB online result print out
2 WAEC/ NECO statement of result
3 Acknowledgement slip of form purchase
NOTE: Original copies of credentials will be sighted in the process. Names of successful candidates will be published and candidates will be notified after the screening exercise. Please be guided .