"Fashion Is Pain" Toyin Abraham Admits After Struggling To Breathe In Red Corset Dress
Actress Toyin Abraham has finally admitted that wearing a corset dress was a struggle for her, after facing heavy online mocking for her choice of outfit at the movie premiere of her senior colleague, Funke Akindele, on Wednesday, September 27th.
In a captured video, Toyin Abraham was seen struggling to breathe while posing for the camera and interacting with colleagues, due to the tight-fitting nature of the corset dress.
A corset is a "stiff supporting so constricting undergarment for the waist, worn chiefly by women to shape the figure and hide their big tummy.
It is a support garment commonly worn to hold and train the torso into a desired shape, traditionally a smaller waist or larger bottom, for aesthetic or medical purposes (either for the duration of wearing it or with a more lasting effect), or to support the breasts.
Sadly after Toyin Abraham rocked her corset dress, she struggled to breathe in it.
After receiving mockery online and calls for her to fire her stylist, Toyin Abraham responded by sharing new photos of herself along with hilarious hashtags that read "I can't breathe well, you all say Fashion is pain, this corset wants to kill me."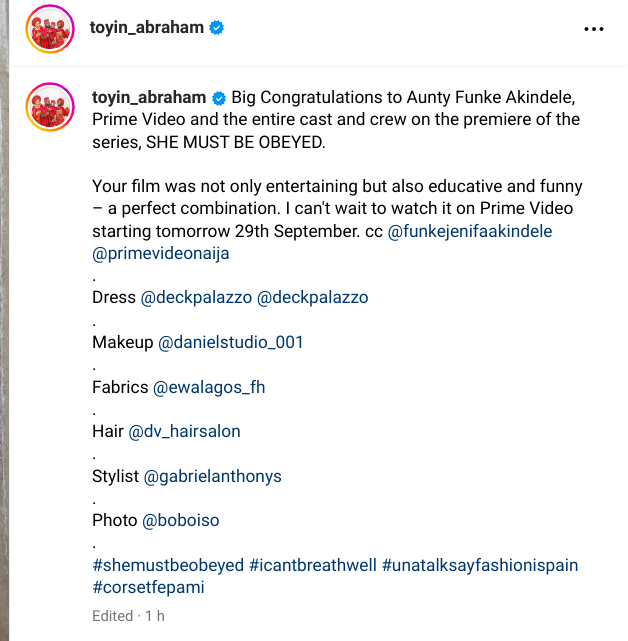 Congratulating Funke Akindele on the movie premiere, Toyin Abraham said, "Big congratulations to Aunty Funke Akindele, Prime Video, and the entire cast and crew on the premiere of the series, SHE MUST BE OBEYED.
Your film was not only entertaining but also educative and funny – a perfect combination. I can't wait to watch it on Prime Video starting tomorrow, September 29th."
The post "Fashion Is Pain" Toyin Abraham Admits After Struggling To Breathe In Red Corset Dress appeared first on Jomog.
Autopsy: Release Mohbad's Body For Burial, Bella Queries Police's Delay
Singer Bella Shmurda has called on the police to release the body of his deceased friend, Ilerioluwa Aloba aka Mohbad.
In a post shared on his X handle, Bella Shmurda said it has been two months since Mohbad died and his body was taken for an autopsy, and has since not been released.
He called on the police to release Mohbad's body for a befitting funeral to be held for him and also called for the result of the autopsy to be released.
He wrote;
''It's been over 2month moh died nd his body was taken in for autopsy but yet no result which is fine but pls release his body that boy need a befitting burial nd to go to rest finally naija police what's going on,we need an answer here where is the result? Where is his body?"
The post Autopsy: Release Mohbad's Body For Burial, Bella Queries Police's Delay appeared first on Jomog.
Iyabo Ojo, Kemi Olunloyo Fight Dirty Over MohBad
Actress Iyabo Ojo and self-styled journalist Kemi Olunloyo are at each other's throat over late singer MohBad.
Olunloyo, daughter of former Oyo Governor Victor Olunloyo, blasted the actress accusing her of acting as her Public Relations Officer to the late Mohbad's wife.
She asked if she would allow her son, Festus marry a woman like Wunmi.
Praying for God to punish the actress, she describer the movie star as a pathetic liar, a failed actress, a TikTok skit maker and a divorcee.
Reacting, Iyabo Ojo said Kemi Olunloyo's son disowned her, which is why she has no boundaries when talking about people's children.
"Aunty Kem Kem, my darling sister, your own matter is moi moi now na tiktok I go take you do, you are a clown, I can never take you serious walai……. Na DJ YK, go help us, remix all our videos later, your own son disowned you that's why you have no boundaries talking about other people's children even to the extent of changing their sexuality or wishing them dead, you're what this picture represents a funny witch so why will I take you seriously," she said.
The post Iyabo Ojo, Kemi Olunloyo Fight Dirty Over MohBad appeared first on Jomog.
Video: Made Kuti Ties The Knot With Partner, Inedoye
Afrobeat singer and son of legendary Femi Kuti, Made has tied the knot with his partner, Inedoye. The couple got married on Wednesday, November 1 2023, in a white wedding ceremony in Lagos, Nigeria.
The wedding was a private affair, with only close family and friends in attendance. In a video shared on social media, Made Kuti is seen reciting his vows to Inedoye.
He promises to love her unconditionally and to always be there for her.
Inedoye also recites her vows to Made Kuti, promising to love him forever and to be the best wife and mother she can be.
The couple then exchanges rings and kisses, sealing their love for each other.
Fans and friends of Made Kuti have taken to social media to congratulate him on his wedding.
They have also wished him and Inedoye a lifetime of happiness.
Made Kuti is one of the most popular Afrobeat singers in Nigeria.
He is known for his energetic live performances and his catchy songs. Inedoye is a private person and not much is known about her.
Congratulations to Made Kuti and Inedoye on their wedding day!
The post Video: Made Kuti Ties The Knot With Partner, Inedoye appeared first on Jomog.