DR. BENNETT OMALU: CELEBRATING ONE OF NIGERIA'S GREATEST EXPORTS TO THE WORLD ON HIS 55TH BIRTHDAY
Dr. Ifekandu Bennett Omalu is a native Of Urunnebo Village, Enugwu Ukwu In Njikoka Local Government Area Of Anambra State.
Born on September 1st, 1968. He attended both primary and secondary schools in Nigeria. And for his tertiary education he proceeded to the University of Nigeria Nsukka, where he acquired MBBS degree in Medicine and Surgery.
He is currently a Professor of medical pathology and laboratory science at the University of California.
Subsequently he acquired his MPH from the University of Pittsburgh and his MBA from Carnegie Mellon University. He is the first person in the world to discover and publish findings of Chronic Traumatic Encephalopathy in American football players while working at the Allegheny County Coroner's Office. He's now the Chief Medical Examiner for San Joaquin County, California. And a professor at UC-Davis.
Dr. Bennet Omalu came to the United States in the 1990's at the age of 26, to finish his Medical Residency. Through hard work that is just the nature of his Igbo race, he is today, one of the foremost Nero pathologists in the world and is best known for discovering and studying CTE, a degenerative brain condition affecting American football players.
This doctor from Anambra, Nigeria changed the perspective about the safety of some sports through his research into the lives of former N.F.L players. Later a study in Sweden confirmed him absolutely right by revealing that if your child suffers from one concussion they are more likely to die before the age of 42 and more likely to develop psychiatric issues. The Sweden research discovered that N.F.L players were dying or killing themselves less than 20yrs after retirement-which is in their 30's usually. Exactly something Dr. Omalu confirmed years back.
Worried by the sad fate of some retired NFL players, Dr. Omalu went into research to find out why. In his research, he discovered that "Concussion" was the reason. Amazingly the facts where denied by NFL who felt threatened that his research will destroy their multi billion dollar industry. They fought back to make sure that his research was hidden for years. Dr. Omalu didn't give up out of fear, getting the truth across to the world was far more important to him than his life. As a result of the Igbo courageous blood in him, that makes the average Igbo person to survive and succeed against all odds, without respect to the hearse and hardest environment, Dr Omalu fought through threats and verbal abuse to get the great scientific discovery to world.
When his research went through, it became so popular and celebrated to the extend that Mr Will Smith, the iconic American actor had to portray him in a movie titled "Concussion". Where he is credited with finding out the harsh repercussions of contact sports on children and adults. The movie Concussion starring Will Smith playing Dr Omalu the founder of the disease CTE that causes something he found out that messes a lot of football players heads up really bad from so much brain rocking contact was a worldwide hit.
Dr. Bennet Omalu is equally the author of the book, Truth Doesn't Have A Side: My Alarming Discovery About The Danger Of Contact Sports. Dr. Omalu wrote this book, to help parents answer the question 'Do I love football more than I love my child ?'
It is our hope that sooner or later Dr Omalu will be awarded the Nobel prize in medicine for his research that is saving lives all over the globe.
Happy Birthday to this globally acclaimed Enugwu Ukwu-Born, Award Winning Pathologist, Dr Bennett Omalu.
The post DR. BENNETT OMALU: CELEBRATING ONE OF NIGERIA'S GREATEST EXPORTS TO THE WORLD ON HIS 55TH BIRTHDAY appeared first on Jomog.
AUDU BAKO COLLEGE OF AGRICULTURE, DAMBATTA ANNOUNCE SALES OF ADMISSION FORM FOR THE 2023/2024 ACADEMIC SESSION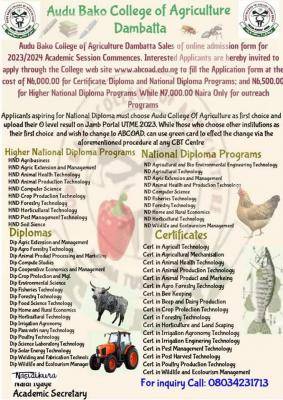 Audu Bako College of Agriculture Dambatta Sales of online admission form for 2023/2024 Academic Session Commences. Applicants aspiring for National Diploma must choose Audu College Of Agriculture as first choice and upload their O level result on Jamb Portal UTME 2023, While those who choose other institutions as their first choice and wish to change to ABCOAD, can use green card to effect the change via the aforementioned procedure at any CBT Centre.
Interested Applicants are hereby invited to apply through the College web site www.abcoad.edu.ng to fill the Application form at the cost of N6,000.00 for Certificate, Diploma and National Diploma Programs; and N6,500.00 for Higher National Diploma While N7,000.00 Naira Only for outreach Programs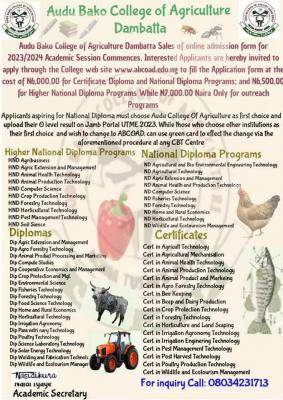 AMERICAN COLLEGE OF HEALTH SCIENCE AND TECHNOLOGY, BOMA RELEASES 1ST BATCH ADMISSION LIST FOR THE 2023/2024 ACADEMIC SESSION
It is our pleasure to announce the first shortlist of candidates selected for admission to the academic year 2023/2024. We received an overwhelming response to our admission process, and the selection committee had a difficult time making their final decisions.
However, we are pleased to inform you that the first batch of shortlisted candidates has been finalized and the names are available in the school. These students have demonstrated exceptional academic performance, leadership skills, and a commitment to personal growth, and we believe they will thrive in our vibrant and diverse community.
We know that this news will bring delight and excitement to the students and families who have been selected. We congratulate them on their achievements, and we look forward to welcoming them into our community.
We want to extend our appreciation to all the applicants who took the time to submit their applications and to participate in the admissions process. The competition was fierce, and we commend each student for their hard work and dedication.
To those who have not been selected, we encourage you to keep striving towards your goals and aspirations. We wish you all the best for your future endeavors, and we hope that you continue to seek out opportunities for growth and learning.
We will continue to keep you updated on the next stages of the admissions process, and we look forward to keeping in touch with you.
Congratulations once again to all those who have been shortlisted, and best wishes for a bright and successful future.
Sincerely,
Admission Committee, Academic Year 2023/2024.
UNIVERSITY OF MAIDUGURI BUSINESS SCHOOL (UMBS) ANNOUNCES SALES OF ADMISSION FORM FOR THE 2023/2024 ACADEMIC SESSION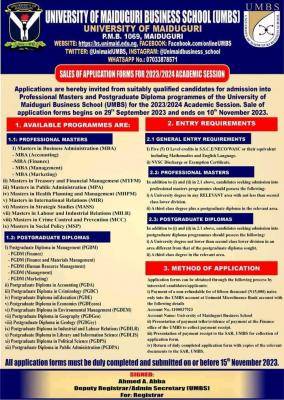 Applications are hereby invited from suitably qualified candidates for admission into Professional Masters and Postgraduate Diploma programmes of the University of Maiduguri Business School (UMBS) for the 2023/2024 Academic Session. Sale of application forms begins on 29th September 2023 and ends on 10th November 2023.
1. AVAILABLE PROGRAMMES ARE: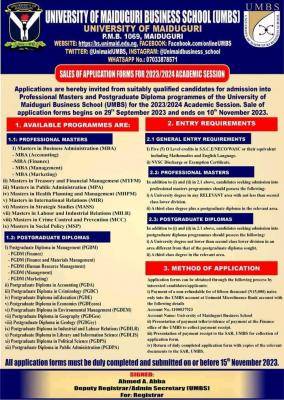 1.1: PROFESSIONAL MASTERS
1) Masters in Business Administration (MBA)
-MBA (Accounting)
-MBA (Finance) -MBA (Management)
-MBA (Marketing)
ii) Masters in Treasury and Financial Management (MTFM)
iii) Masters in Public Administration (MPA)
iv) Masters in Health Planning and Management (MHPM)
v) Masters in International Relations (MIR)
vi) Masters in Strategic Studies (MASS)
vii) Masters in Labour and Industrial Relations (MILR)
viii) Masters in Crime Control and Prevention (MCC)
ix) Masters in Social Policy (MSP)
1.2: POSTGRADUATE DIPLOMAS
1) Postgraduate Diploma in Management (PGDM) -PGDM (Finance)
-PGDM (Finance and Materials Management)
-PGDM (Human Resource Management)
-PGDM (Management)
-PGDM (Marketing)
ii) Postgraduate Diploma in Accounting (PGDA)
iii) Postgraduate Diploma in Criminology (PGDC)
iv) Postgraduate Diploma inEducation (PGDE)
v) Postgraduate Diploma in Economics (PGDEcons)
vi) Postgraduate Diploma in Environmental Management (PGDEM)
vii) Postgraduate Diploma in Geography (PGDGeo)
viii) Postgraduate Diploma in Geology (PGDGey)
ix) Postgraduate Diploma in Industrial and Labour Relations (PGDILR)
x) Postgraduate Diploma in Library and Information Science (PGDLIS)
xi) Postgraduate Diploma in Political Science (PGDPS)
xii) Postgraduate Diploma in Public Administration (PGDPA)
2. ENTRY REQUIREMENTS
2.1 GENERAL ENTRY REQUIREMENTS
i) Five (5) 0 Level credits in S.S.C.E/NECO/WASC or their equivalent including Mathematics and English Language.
ii) NYSC Discharge or Exemption Certificate.
2.2: PROFESSIONAL MASTERS
In addition to (i) and (ii) in 2.1 above, candidates seeking admission into professional masters programmes should possess the following:
i) A University degree in any RELEVANT area with not less than second class lower division.
ii) A third class degree plus a postgraduate diploma in the relevant area.
2.3: POSTGRADUATE DIPLOMAS
In addition to (i) and (ii) in 2.1 above, candidates seeking admission into postgraduate diploma programmes should possess the following:
i) A University degree not lower than second class lower division in an area different from that of the postgraduate diploma sought.
ii) A third class degree in the relevant area
3. METHOD OF APPLICATION
Application forms can be obtained through the following process by interested candidates/applicants:
i) Payment of a non-refundable fee of fifteen thousand (N15,000) naira only into the UMBS account at Unimaid Microfinance Bank account with the following details
Account Name: University of Maiduguri Business School
ii) Presentation of payment teller/evidence of payment at the Finance office of the UMBS to collect payment receipt.
iii) Presentation of payment receipt to the SAR, UMBS for collection of application form.
iv) Return of duly completed application form with copies of the relevant documents to the SAR. UMBS
All application forms must be duly completed and submitted on or before 15″ November 2023.