Contradicting Video Evidence Of Sam Larry In Nigeria On August 26th Emerges
Since Sam Larry return to Nigeria, the entertainment world has been buzzing with questions and speculations. Contrary to his press release that he had not been in Nigeria since August 20th, video evidence has emerged that appears to contradict Sam Larry's claim this.
This has raised eyebrows and casting doubt on his earlier statements.
Recall that in the wake of the artist's untimely death, a viral video surfaced, seemingly implicating Sam Larry in a physical altercation with Mohbad.
This disturbing footage led to Sam Larry being the first suspect linked to the tragic passing of Mohbad.
In an attempt to clear his name and address the mounting allegations, Sam Larry had issued a press release. In this statement, he revealed that he had left Nigeria on August 20th, effectively distancing himself from any involvement in Mohbad's death.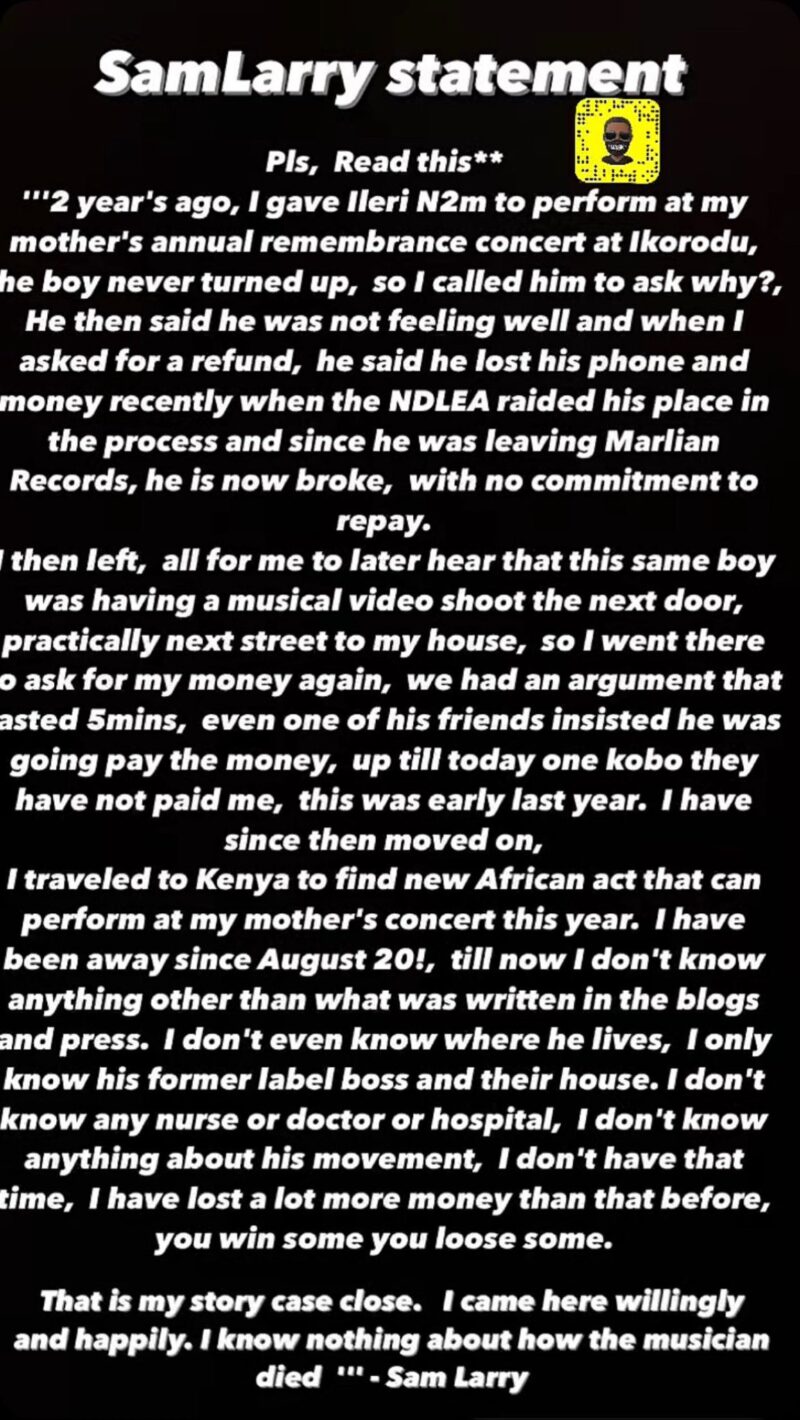 He vehemently denied any wrongdoing, stating that he had no part in the unfortunate events surrounding the young artist's passing.
However, things got interesting this afternoon when a piece of evidence emerged in the form of a party flyer. Popular public personality, iamdre, had shared this flyer on social media, tagging the Nigerian police force for attention. It was a promotional flyer for Zinolesky beach party and it was dated August 26th.
This event took place just days after Sam Larry claimed to have left Nigeria on August 20th. The flyer seemed to challenge Sam Larry's timeline and raised questions about the accuracy of his statements regarding his whereabouts.
Watch Video Below:
This new video evidence has left both fans and the media in a state of confusion arousing even more suspicion.
Netizens can't help but wonder if Sam Larry was truly out of Nigeria on August 20th, as he had stated. If he was, why did he feel he need to lie? These questions linger in the air, waiting for answers that could reshape the course of the ongoing investigation.
The post Contradicting Video Evidence Of Sam Larry In Nigeria On August 26th Emerges appeared first on Jomog.
Understanding the Phenomenon of Death Hoax Syndrome in the Nigerian Celebrity Scene
With the proliferation of instant information and the pervasive influence of social media, the Nigerian celebrity landscape has increasingly become a hotbed for sensationalism, with rumors often taking precedence. One noteworthy trend that has gripped the industry is the emergence of what is being referred to as the "Death Hoax Syndrome." This phenomenon recently garnered attention in relation to Nigerian musicians Skales and Oladips.
Skales, a prominent figure in the Afrobeat genre, was embroiled in a death hoax that sent shockwaves through the music community. Speculation ran rampant on various social media platforms, leaving fans anxious and seeking confirmation. It was alleged that Skales himself may have been behind the rumors of his own demise, possibly for the purpose of gaining traction on social media platforms.
Similarly, Oladips also found himself entangled in a similar encounter with the Death Hoax Syndrome. Rumors about his passing circulated widely across platforms soon after his official Instagram page made an announcement about his demise, occurring just a day before the release of his latest album. This caused considerable distress among his fan base. However, Oladips took proactive measures by directly addressing the rumors through a "Proof of life" video, reassuring his fans of his well-being.
Following these episodes, there has been considerable backlash from social media users, with some criticizing the decisions made by the artists in response to the rumors, while others have continued to express support for Oladips, albeit in a somewhat unconventional manner. They have pointed out the practice of people predominantly showing support for up-and-coming artists after their demise, exemplified by the case of Mohbad.
Oladips prank Nigerians went extreme with his de*ath cause he no know say na only dead body people Dey mostly support. Oya make una support am o! His new album is out. #SuperheroAdugbo Album out now pic.twitter.com/HCvBc5u89n

— Samklef (@SAMKLEF) November 16, 2023
It is worth noting that in Nigeria, there is a prevalent phenomenon where public support for celebrities experiences a significant surge following their demise. This trend can be attributed to a combination of cultural, social, and psychological factors. Death tends to evoke introspection and nostalgia, prompting people to reflect on the positive aspects of the deceased individual's life and accomplishments. In the case of celebrities, this retrospection often serves to highlight their contributions to the arts, entertainment, or society, fostering a collective appreciation for their impact. Additionally, death can act as a unifying force, bringing together diverse communities in mourning and celebration of the individual's legacy.
The media plays a pivotal role in shaping public perceptions, and the coverage of a celebrity's life and achievements tends to escalate considerably following their demise. This heightened media attention can contribute to the perception that the individual was underappreciated or undervalued during their lifetime, thereby leading to an upsurge in posthumous support. Social media also plays a crucial role in amplifying these sentiments, as users share memories, tributes, and expressions of grief, creating a virtual community of supporters. The desire to pay homage to a deceased celebrity may be driven by a sense of regret for not fully recognizing their talents or contributions while they were alive.
Consequently, the prevalence of death hoaxes within the Nigerian celebrity scene sheds light on a darker side of celebrity culture. Whether stemming from malicious intent, mischief, or misinformation, these rumors undeniably have tangible effects on both the artists and their fan base. The emotional toll and potential damage to reputations highlight the importance for celebrities to navigate these challenges astutely.
The post Understanding the Phenomenon of Death Hoax Syndrome in the Nigerian Celebrity Scene appeared first on NewsNow Nigeria.
Amid Isreal DMW's marital saga, Davido shares a cryptic message about the value of words
Davido, the music star, has responded to the marital drama involving his logistics manager, Isreal DMW.
Prior reports from NewsNow revealed that Isreal had opened up about his marital crisis, recounting how he met his wife, elevated her status, and provided for her and her family.
Regrettably, their marriage didn't last long as the situation deteriorated when his wife tried to change him to meet her standards and often shamed him for being broke.
Ultimately, she left the marriage and went to live with a friend in Abuja, whom Isreal labeled as a prost!tute. Isreal denied allegations of physically assaulting her, called out his mother-in-law, and directed curses at Sheila.
In another post, he disclosed his struggle with depression but expressed gratitude for Davido, who consistently checked on him.
In what appears to be a response, Davido posted on his Twitter page, emphasizing the importance of speaking only when necessary because words hold significant value.
"Speak when necessary. The words carry more value then".
Israel and Sheila got married on Thursday, October 20, 2022, in a traditional ceremony held in Benin City, followed by their white wedding two days later.
Less than a year after their lavish wedding, the couple parted ways after NewsNow, a controversial Instagram blogger, revealed details about their separation.
The blog alleged that the 02 performing artist and his wife ended their marriage due to domestic violence allegations, and Sheila returned her bride price.
The couple later confirmed the news after Sheila publicly criticized the 002 performing artist for sharing a photo of them from their traditional marriage and referring to her as his wife.
The post Amid Isreal DMW's marital saga, Davido shares a cryptic message about the value of words appeared first on NewsNow Nigeria.
Davido warms up stage for 🇨🇲petit pays in a sold out concert in Douala Cameroon.
on the 24 th of November 2023 , a concert organized by Orange saw petit pays as the headline artist alongside Davido.
over 30,000 people turned up at the Bepanda stadium Douala to watch and enjoy this concert and everywhere was full of vibes.
Davido gave an impressive performance with some of his old and new songs and warmed up the stage for music legend petit pays who closed the concert.
Petit Pays made a spectacular entrance and kept everyone on a choke hold , Petit pays who has been on the music scene for decades was still able to excite fans like it was just yesterday, he performed some of his African hit songs and the crowd went "bonkas" hyping and singing word for word.