ASUU, ASUP EXPRESS DOUBTS OVER STUDENT LOAN
President Bola Tinubu, on Monday, in Abuja, signed the Student Loan Bill into law.
The signing of the bill was in "fulfilment of one of his campaign promises to liberalise funding of education," a member of the Presidential Strategic Team, Dele Alake, told State House Correspondents on Monday evening.
The Students Loan Act becomes Tinubu's second piece of legislation signed since he assumed office two weeks ago.
The bill will enable indigent students to access loans at interest-free rates.
The PUNCH reported that the piece of legislation, sponsored by the Speaker of the 9th House of Representatives, Femi Gbajabiamila, passed the third reading at the House on May 25, 2023.
According to Alake, who was accompanied by other members of the media team, including Tunde Rahman and Abdulaziz Abdulaziz, and the Permanent Secretary, Ministry of Education, David Adejoh, the new law mandates prospective beneficiaries to show proof of their origins.
"We're very happy to announce to you that today the President, His Excellency, Bola Tinubu, signed into law the Student Loans Bill.
NEW: Click "HERE" to join our WhatsApp group and receive Entertainment updates directly on your WhatsApp!
This is a promise made during the presidential campaign by the then candidate, His Excellency Bola Tinubu, that he will bring back the student loans issue onto the front burner.
"And today, that promise he made has been kept. He has just signed that bill into law, which henceforth would allow or enable our indigent students to access Federal Government's loans to fund the educational pursuit or career," Alake said.
The presidential aide said the move was in sync with standard practice in developed climes globally and would ease access to education.
"This is how it's done in other developed climes. So this is a boost to our youths and students nationwide.
NEW: Click "HERE" to join our WhatsApp group and receive Entertainment updates directly on your WhatsApp!
"Of course, there are prescribed qualification parameters. And that is the proof of indigenship of whoever is to be a beneficiary.
Of course, there are committees to be set up. The members of committees will be drawn from various bodies to superintend over the efficient and proficient disbursement of this facility," he added.
NEW: Click "HERE" to join our WhatsApp group and receive Entertainment updates directly on your WhatsApp!
Also said although the bill takes effect immediately, the procedures for application will be worked out by the committees to superintend the process.
On his part, the Permanent Secretary, Ministry of Education, Adejoh, said by implication, the current scholarship board of the Federal Government will become a loan board capable of offering educational credit facilities to qualified applicants.
Today, what the President has done goes beyond the symbolism. It is a demonstration of intent in terms of how he wants to handle education as he progresses in his presidency. Once the bill has been signed, that is the most important thing. A bill tells you what should be done. The how is what we are going  to put together.
"What we have now is that nobody shall say money did not allow him to go to school," he added.
Reacting, the Academic Staff Union of Universities described the loan bill as discriminatory between the children of the rich and the poor.
National President, ASUU, Prof. Emmanuel Osodeke, in an interview with The PUNCH, said, "The union will react soon but everyone knows our position on student loans because you will end up encumbering the children of the poor with loans and debt after graduating. This is discriminatory. If what I read online is correct, it said it is only for children whose parents earn at least N500,000 per annum. That means if your father earns more, you won't benefit."
Similarly, the National President, Academic Staff Union of Polytechnics, Mr Anderson Ezeibe, said, "I have not studied the bill and we don't want to react on the surface. But I have seen one area that will not be practicable.
"It says that students should refund the money two years after NYSC. But what is the provision for someone who is not working after NYSC?  And will they all get jobs immediately after NYSC?"
However, the National Association  of Nigerian Students described the student loan bill as a "way forward" in the country's education system.
In a statement made available to The PUNCH on Monday, the Cordinator,  NAN, Zone D, Adejuwon Emmanuel, however, faulted the repayment terms.
Without saying much, student loan bill is a way forward to the educational system in Nigeria, because it will assist student whose parent cannot afford to pay tuition fee to be able to pay with the loan.
But as good as this is, there are some questions that need to be answered by the government. The ultimatum for repayment is not feasible. As we all know that there is no work anywhere and most graduates don't  get work immediately, how will they pay back? How will it work when most of our graduates do not get jobs. Is there any plan or opportunity for those that have no work two years after NYSC?"
A former Deputy Vice-Chancellor at the University of Uyo, Prof Ini Uko, in an interview with our correspondent, lauded the initiative.
Uko said, "Well, this means that tuition fees will go up. The subsidy on tertiary education will be removed. Vice-chancellors will now be able to introduce tuition fees. This is a good initiative. I am a beneficiary of a student loan and, of course, the people who benefit from it will have to pay back.
The truth is that we have to stop pretending that the government alone can continue to fund tertiary education. It is not possible."
OLABISI ONABANJO UNIVERSITY (OOU) RELEASES FIRST BATCH UTME ADMISSION LIST FOR THE 2023/2024 ACADEMIC SESSION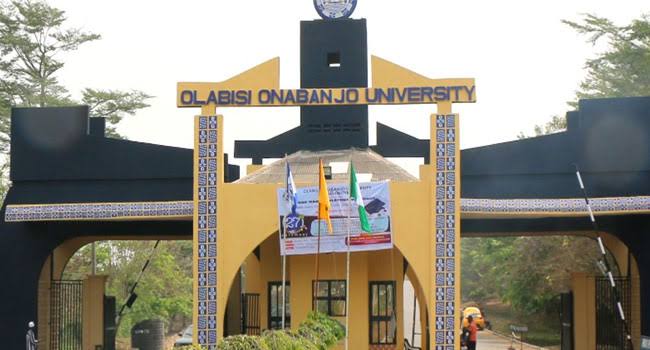 The Management of the Olabisi Onabanjo University has released the 2023/2024 First Batch (UME) Admissions List All Candidates who applied to the University should please log in to the University Portal : https://portal.oouagoiwoye.edu.ng/admission/login.php
 to check their Admission Status.
Successful Candidates are advised to please adhere strictly to the information displayed on their Portals and take further action immediately. Candidates offered Admission who do not comply with the Instructions on their Portals by Thursday, 23rd November, 2023 will be deemed as having forfeited the Offer.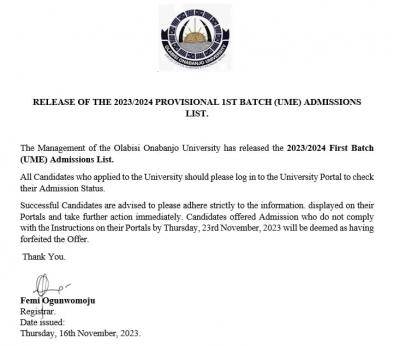 Candidates are also to proceed to JAMB CAPS and accept their admission offer.
PRESIDENT TINUBU CANCELS 40% IGR DEDUCTION FROM NIGERIAN UNIVERSITIES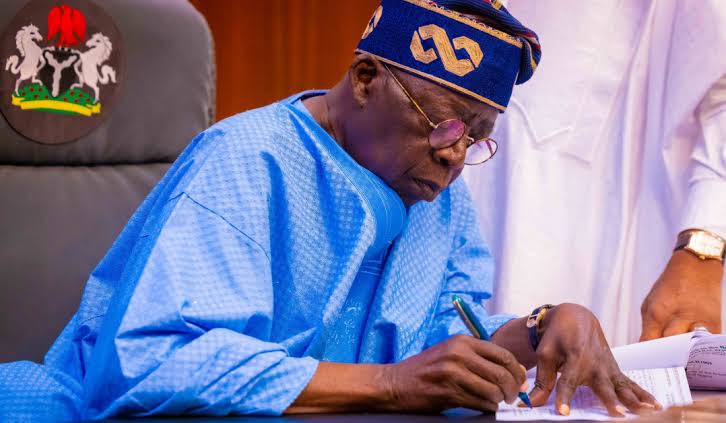 President Bola Tinubu has cancelled the controversial deduction of 40 per cent of Internally Generated Revenues from federal universities across the country.
The President who was represented by the Minister of Education, Tahir Mamman, spoke on Friday at the 75th Founder's Day ceremony of the University of Ibadan and described the policy implementation as "ill-timed".
He also maintained that it was not the best time for such a policy since our universities are struggling.
In his speech as a Visitor to the university, Tinubu pledged his commitment to the reform of the nation's education sector as the bedrock for national development.
He said, "The 40 per cent IGR automatic deduction policy stands cancelled. This is not the best time for such a policy since our universities are struggling."
FEDERAL UNIVERSITY OF TRANSPORTATION, DUARA ROLL OUT 2023/2024 ADMISSION LIST ON JAMB CAPS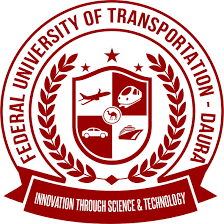 Federal University of Transportation, Daura Admission list for the 2023/2024 academic session has been released. This is to inform all candidates who participated in the 2023/2024 Admission Screening Exercise that they can proceed to check if their names are on the Provisional Admission list of successful candidates .
The list of admitted candidates have been uploaded online via JAMB CAPS. Candidates are to follow the procedure below to check;
How To Check the Admission Status on JAMB CAPS
•Visit:https://www.jamb.gov.ng/Efacility and login with your registered email address and password to access your dashboard
•Click on 'Check Admission Status,
•Click on 'Access my CAPS' Click on 'Admission Status' to see if you have been offered admission.
Candidates who have been offered admission are to proceed to click"ACCEPT" or "REJECT" to indicate acceptance or rejection of the admission offer. For those whose status is showing "Admission Still in Progress" or "Not Admitted", you are advised to keep checking as the status may change anytime soon. Congratulations to the admitted ones!!!