Agbara: Residents Count Losses As Flood Wreaks Havoc In Ogun Estate
Residents and property owners in Agbara, an industrial community in Ado-Odo/Ota Local Government Area of Ogun State, are counting losses after perennial flooding wreaked havoc in the area.
Worst hit are residents of Area 8, OPIC Estate, in Agbara, as they lamented that ceaseless rainfalls of the past few days had exposed them to flooding, which affected buildings and other belongings.
Many properties have been submerged by water, leaving many with no other option than to relocate to a safe haven.
In a letter to Governor Dapo Abiodun, the victims described their situation as an 'impending disaster'.
The letter, which was co-signed by the Estate Chairman, Adebowale Odunayo, and the Assistant Secretary, Iziokhai Ohioze, called the attention of government to "the ravaging effect of incessant flooding that our community has been experiencing over time."
According to them, the incident had been "formally reported to OPIC Management on several occasions but each visit ended with promises, which remain unfulfilled, leaving residents to the vagaries of nature."
They said the frequency and intensity of flooding in Area 8 have increased substantially over the past few years.
They said non-existence of drainage systems is worsening the situation during downpours, "resulting in water entering our homes and causing damage to the foundations, walls, and interiors of our buildings."
The disaster, they added, has not only led to financial losses, but also it compromised the structural integrity of the houses.
"Your Excellency Sir, please kindly come to our rescue. Our lives and properties are being challenged negatively. Our safety and in particular that of our children as well as aged amongst us is being put in jeopardy.
"Sir, we solicit your approval for an immediate upgrade of the entire drainage architecture of the area. We equally crave the indulgence of Your Excellency for rehabilitation of the road within the OPIC Estate, particularly Roads 411, 800, 808, 81 which we believe if tarred, would complement the drainage system," they pleaded.
The post Agbara: Residents Count Losses As Flood Wreaks Havoc In Ogun Estate appeared first on Jomog.
AUDU BAKO COLLEGE OF AGRICULTURE, DAMBATTA ANNOUNCE SALES OF ADMISSION FORM FOR THE 2023/2024 ACADEMIC SESSION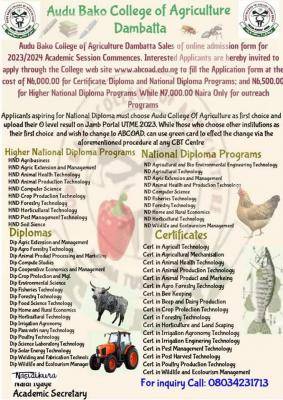 Audu Bako College of Agriculture Dambatta Sales of online admission form for 2023/2024 Academic Session Commences. Applicants aspiring for National Diploma must choose Audu College Of Agriculture as first choice and upload their O level result on Jamb Portal UTME 2023, While those who choose other institutions as their first choice and wish to change to ABCOAD, can use green card to effect the change via the aforementioned procedure at any CBT Centre.
Interested Applicants are hereby invited to apply through the College web site www.abcoad.edu.ng to fill the Application form at the cost of N6,000.00 for Certificate, Diploma and National Diploma Programs; and N6,500.00 for Higher National Diploma While N7,000.00 Naira Only for outreach Programs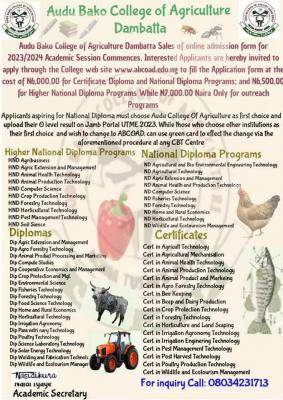 AMERICAN COLLEGE OF HEALTH SCIENCE AND TECHNOLOGY, BOMA RELEASES 1ST BATCH ADMISSION LIST FOR THE 2023/2024 ACADEMIC SESSION
It is our pleasure to announce the first shortlist of candidates selected for admission to the academic year 2023/2024. We received an overwhelming response to our admission process, and the selection committee had a difficult time making their final decisions.
However, we are pleased to inform you that the first batch of shortlisted candidates has been finalized and the names are available in the school. These students have demonstrated exceptional academic performance, leadership skills, and a commitment to personal growth, and we believe they will thrive in our vibrant and diverse community.
We know that this news will bring delight and excitement to the students and families who have been selected. We congratulate them on their achievements, and we look forward to welcoming them into our community.
We want to extend our appreciation to all the applicants who took the time to submit their applications and to participate in the admissions process. The competition was fierce, and we commend each student for their hard work and dedication.
To those who have not been selected, we encourage you to keep striving towards your goals and aspirations. We wish you all the best for your future endeavors, and we hope that you continue to seek out opportunities for growth and learning.
We will continue to keep you updated on the next stages of the admissions process, and we look forward to keeping in touch with you.
Congratulations once again to all those who have been shortlisted, and best wishes for a bright and successful future.
Sincerely,
Admission Committee, Academic Year 2023/2024.
UNIVERSITY OF MAIDUGURI BUSINESS SCHOOL (UMBS) ANNOUNCES SALES OF ADMISSION FORM FOR THE 2023/2024 ACADEMIC SESSION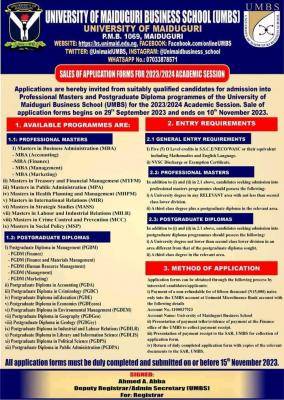 Applications are hereby invited from suitably qualified candidates for admission into Professional Masters and Postgraduate Diploma programmes of the University of Maiduguri Business School (UMBS) for the 2023/2024 Academic Session. Sale of application forms begins on 29th September 2023 and ends on 10th November 2023.
1. AVAILABLE PROGRAMMES ARE: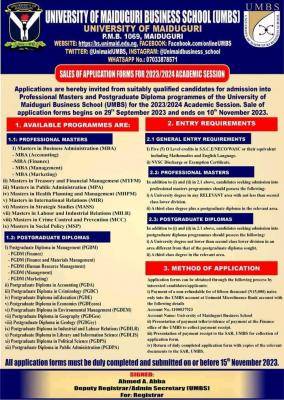 1.1: PROFESSIONAL MASTERS
1) Masters in Business Administration (MBA)
-MBA (Accounting)
-MBA (Finance) -MBA (Management)
-MBA (Marketing)
ii) Masters in Treasury and Financial Management (MTFM)
iii) Masters in Public Administration (MPA)
iv) Masters in Health Planning and Management (MHPM)
v) Masters in International Relations (MIR)
vi) Masters in Strategic Studies (MASS)
vii) Masters in Labour and Industrial Relations (MILR)
viii) Masters in Crime Control and Prevention (MCC)
ix) Masters in Social Policy (MSP)
1.2: POSTGRADUATE DIPLOMAS
1) Postgraduate Diploma in Management (PGDM) -PGDM (Finance)
-PGDM (Finance and Materials Management)
-PGDM (Human Resource Management)
-PGDM (Management)
-PGDM (Marketing)
ii) Postgraduate Diploma in Accounting (PGDA)
iii) Postgraduate Diploma in Criminology (PGDC)
iv) Postgraduate Diploma inEducation (PGDE)
v) Postgraduate Diploma in Economics (PGDEcons)
vi) Postgraduate Diploma in Environmental Management (PGDEM)
vii) Postgraduate Diploma in Geography (PGDGeo)
viii) Postgraduate Diploma in Geology (PGDGey)
ix) Postgraduate Diploma in Industrial and Labour Relations (PGDILR)
x) Postgraduate Diploma in Library and Information Science (PGDLIS)
xi) Postgraduate Diploma in Political Science (PGDPS)
xii) Postgraduate Diploma in Public Administration (PGDPA)
2. ENTRY REQUIREMENTS
2.1 GENERAL ENTRY REQUIREMENTS
i) Five (5) 0 Level credits in S.S.C.E/NECO/WASC or their equivalent including Mathematics and English Language.
ii) NYSC Discharge or Exemption Certificate.
2.2: PROFESSIONAL MASTERS
In addition to (i) and (ii) in 2.1 above, candidates seeking admission into professional masters programmes should possess the following:
i) A University degree in any RELEVANT area with not less than second class lower division.
ii) A third class degree plus a postgraduate diploma in the relevant area.
2.3: POSTGRADUATE DIPLOMAS
In addition to (i) and (ii) in 2.1 above, candidates seeking admission into postgraduate diploma programmes should possess the following:
i) A University degree not lower than second class lower division in an area different from that of the postgraduate diploma sought.
ii) A third class degree in the relevant area
3. METHOD OF APPLICATION
Application forms can be obtained through the following process by interested candidates/applicants:
i) Payment of a non-refundable fee of fifteen thousand (N15,000) naira only into the UMBS account at Unimaid Microfinance Bank account with the following details
Account Name: University of Maiduguri Business School
ii) Presentation of payment teller/evidence of payment at the Finance office of the UMBS to collect payment receipt.
iii) Presentation of payment receipt to the SAR, UMBS for collection of application form.
iv) Return of duly completed application form with copies of the relevant documents to the SAR. UMBS
All application forms must be duly completed and submitted on or before 15″ November 2023.