80-Year-Old Woman Dies In Lagos Building Collapse
Tragedy struck on Thursday morning when a yet-to-be-identified woman said to be 80 years old died as the staircase of a storey building caved in at number 34 Oloto Street, Borno Way, off Freeman Street, Oyingbo, Lagos Mainland Local Government Area of the state.
The yet-to-be-identified woman died on the spot as a result of the impact suffered when the building collapsed on her.
The Lagos State Building Control Agency while condoling with the victims of the collapsed building blamed the non-compliance on the vacation notice on the part of occupants of the building.
A source in the area said the building was an old building and needed to be vacated for repairs.
The source in the neighbourhood said the incident  happened at about 8: am on Thursday.
"It was really bound to happen. The building is old. The occupants needed to vacate the building to allow renovation. Maybe, this may not have happened," the source said.
"It was unfortunate. Everyone was scared when the incident happened. We were running helter-skelter hoping that more people were not affected," the eyewitness added.
Meanwhile, the Permanent Secretary of Lagos State Emergency Management Authority, LASEMA, Dr Femi Oke-Osanyitolu, confirmed the casualty, saying no record of further injury in the unfortunate incident.
According to him, "Further information gathered at the incident scene revealed that an internal suspended beam in a room collapsed at about 7:45 am due to the ageing and lack of maintenance of the structure.
"Unfortunately, an old woman died from the impact of the partial collapse."
Meanwhile, as of press time,10. am, a search and rescue operation was ongoing by the joint rescue team, while the scene has been cordoned off.
Officials of the LASEMA Response Team, LRU, paramedics, Lagos State Fire and Rescue Service and Lagos Ambulance Service, LASAMBUS, are on the ground to ensure safety and sanity.
"The building has been cordoned off and LABCA has been contacted for further action," Oke-Osanyintolu stated.
The post 80-Year-Old Woman Dies In Lagos Building Collapse appeared first on Jomog.
Video: Mikel Obi Speaks About Entitlement Mentality In Africa
Mikel Obi has spoken about the entitlement mentality displayed by family members in Africa once a member of the family makes money.
During a chat with former footballer Rio Ferdinand, Obi revealed that family members become so greedy that they sometimes threaten to go to the press to tarnish your image if you don't continue to offer financial assistance.
Using his own experience as an example, he said, "You get threatened by your own blood. Your own brothers and sisters."
He continued: "When you come from Africa, when you make money, it's not your money. You have all these relatives, cousins, whatever you call it.
"And your sisters, they go off and they get married to some guy who just wants to get married into John Obi Mikel's family because then 'my life is sorted'. And then you start looking after this guy. Before you know it… they keep having so many kids and so many kids. And you look at it, OK, 'You're having this much kids, who's going to look after them?' It's you. For them you owe them that.
"So sometimes you have to be strong and say, you know what guys, 'enough is enough. I don't care'.
"They give you this thing whereby, 'if you don't do it, were going to go to the press'."
His listeners were shocked and asked, "What? Did you have that conversation?"
Mikel replied, "Yeah, yeah."
Watch the video below.
The post Video: Mikel Obi Speaks About Entitlement Mentality In Africa appeared first on Jomog.
Lagos Assembly Congratulates Sanwo-Olu
…..as lawmakers suggest ways to improve future elections
Members of the Lagos State House of Assembly on Thursday congratulated Governor Babajide Sanwo-Olu and his Deputy, Dr. Obafemi Hamzat, over the affirmation of their victory in the March 18 governorship election by the Court of Appeal.
The lawmakers also said there was a need for the National Assembly's electoral committee to work on issues of delay in voters registration as well as the high number of election cases handled by the Courts of Appeal.
This position of the lawmakers followed a letter read by the Clerk of the House, Barrister Olalekan Onafeko, informing the House that the National Assembly Committee on Electoral Act would have a three-day retreat in Lagos.
The Deputy Speaker, Hon. Mojisola Lasbat-Meranda, who presided over plenary on behalf of Speaker Mudashiru Obasa, agreed that registration of voters should be a continuous exercise in order to accommodate more eligible voters.
Lasbat-Meranda suggested that the Independent National Electoral Commission (INEC) can start requesting for means of identification in the course of registering voters to ascertain an electorate's actual places of residence.
The Chairman, House Committee on Judiciary, Human Rights, Public Petition and LASIEC, Hon. Ajomale Oladipo, had earlier identified delay in voters registration and post-election legal matters as two challenges that the committee should tackle.
The lawmaker said that after general elections, Appeal Courts face the hurdle of attending to many cases leading to delayed judgements.
He added that the Electoral Act should accommodate state High Courts to handle some of the cases.
The Majority Leader of the House, Hon. Noheem Adams, said it was necessary for the National Assembly to create more awareness about the electoral review exercise while Hon. Sanni Okanlawon, representing Kosofe 1, suggested that the Electoral Act should accommodate diaspora voting.
On his part, Hon. Gbolahan Yishawu, representing Eti-Osa Constituency 2, urged the electoral committee to look into situations where people are mobilised to vote in areas where they are not resident.
"They occupy hotels during elections to sleep and leave for their states of residence after voting. Something should be done to address this," he said.
The post Lagos Assembly Congratulates Sanwo-Olu appeared first on Jomog.
EDO STATE UNIVERSITY CALL FOR APPLICATION FOR SCHOLARSHIP AWARDS, 2023/2024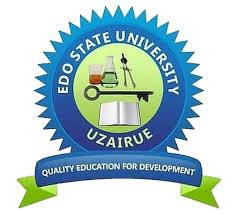 Edo State University, a World Class Institution located in Uzairue, Edo State is owned by the Edo State Government and upholds quality and excellence in teaching and research, with state-of-the-art facilities. Consequent on the approval of the State Governor, Mr. Godwin Nogheghase Obaseki, the University is desirous of awarding full scholarships to deserving students who scored a minimum of 260 in UTME and partial scholarships to deserving indigent students of Edo State origin who scored a minimum of 180 in UTME.
A. Undergraduate Full Scholarship Award: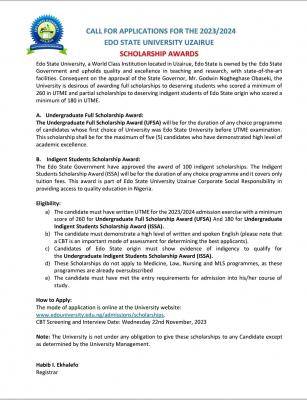 The Undergraduate Full Scholarship Award (UFSA) will be for the duration of any choice programme of candidates whose first choice of University was Edo State University before UTME examination. This scholarship shall be for the maximum of five (5) candidates who have demonstrated high level of academic excellence.
B. Indigent Students Scholarship Award:
The Edo State Government have approved the award of 100 indigent scholarships. The Indigent Students Scholarship Award (ISSA) will be for the duration of any choice programme and it covers only tuition fees. This award is part of Edo State University Uzairue Corporate Social Responsibility in providing access to quality education in Nigeria.
Eligibility:
a) The candidate must have written UTME for the 2023/2024 admission exercise with a minimum score of 260 for Undergraduate Full Scholarship Award (UFSA) And 180 for Undergraduate Indigent Students Scholarship Award (ISSA).
b) The candidate must demonstrate a high level of written and spoken English (please note that a CBT is an important mode of assessment for determining the best applicants).
c) Candidates of Edo State origin must show evidence of indigency to qualify for the Undergraduate Indigent Students Scholarship Award (ISSA).
d) These Scholarships do not apply to Medicine, Law, Nursing and MLS programmes, as these programmes are already oversubscribed
e) The candidate must have met the entry requirements for admission into his/her course of study.
How to Apply:
The mode of application is online at the University website:
www.edouniversity.edu.ng/admissions/scholarships
CBT Screening and Interview Date: Wednesday 22nd November, 2023
Note: The University is not under any obligation to give these scholarships to any Candidate except as determined by the University Management.