Video: Lawyers Stage Walkout From NBA Concert During Portable's Performance
The performance of singer Portable at the 'Unbarred' concert, organised by the Nigerian Bar Association, has caused a stir on social media.
During an NBA concert for lawyers in Abuja, Portable was called to perform on stage and the reaction that greeted his arrival was everything but welcoming.
The lawyers who were seated for the event immediately took to their heels when he started performing. A lot of them wore expressions of disdain as they left with many stating that he was not the appropriate artist for such a prestigious event.
His performance also caused a lot of ruckus in the event area, disrupting the earlier organization of the concert. Portable is yet to make a statement on the people's obvious disapproval of him and his performance.
Below are some reactions of netizens concerning his performance;
One berniceben1985 had this to say,
"They did the right thing, you can imagine an artiste like Portable performing there, if they make pim, my guy go change am for them. Everybody cannot be mad at the same time.
"Why una sef go carry portable come lawyers gathering 2 …when no be Eyo festival .".
One dammy Jay had this to say,
"Dem don dey run for portable again 3) Shey he dey smell niks)"
One sir walteromoruyi had this to say
"If the organizers are not st*pid. Of all the artists in Nigeria is portable they could afford. It's a big shame on NBA"
One Michelle had this to say,
"Dem dey fear make the guy no pounce on them…anything can happen"
One focus.231 had this to say,
"Why reasonable human being will be listening to portable song…… They're educated now & le i never use my subscription download any portable useless song"
One the elm hell had this to say,
Lawyers dey do something.. dem no con see any artists call but Portable? Dem gan sef
"He hasn't sent money for his son in over 4 months" Portable's second baby mama, Honey Berry cries out
An X user, bearded_lawyah said, "I just want to see the genius at the Planning Committee meeting that thought it'd be a good idea to bring Portable to #Unbarred because if they aren't high on Odogwu Bitters then they must be charge and bail lawyers because this thing no dey make sense no matter how you look am!"
Another user, marcel_great said, "As #NigBarAssoc has decided to embarrass the bar with their choice of artiste for the unbarred concert, let it be known that we will visit the issue during the next year's election. What business does NBA have with Portable? #afamosigwe we will remind you."
However, Metro Lawyer reports that though some lawyers walked out of the event on seeing Portable, others stayed behind to watch the singer perform.
Reacting to a purported video showing the alleged walkout by lawyers, @ndm01 said on Instagram, "I was here yesterday. This wasn't about Portable. It was a breakout session on the 'Rule of Law and the Military'… The Army General that anchored the Session denied 'ENDSARS' massacre and it was at that point that Lawyers in attendance staged this walkout."
The Unbarred Concert is a live entertainment session organised for lawyers as part of the annual NBA conference.
It is the grand conference closing party and is held a day before the association's annual general meeting.
2baba, Wande Coal, Teni, Bez, Brymo, Nini, Falz, Olamide and Ruger had performed at previous editions.
The post Video: Lawyers Stage Walkout From NBA Concert During Portable's Performance appeared first on Jomog.
Ilebaye Wins Big Brother Naija All Stars, ₦120m Grand Prize
Ilebaye, has been crowned the winner of the Big Brother Naija All Stars season. The 22-year-old won the ₦120 million grand prize ahead of Mercy Eke and emerged as the ultimate queen of the reality show.
The show host, Ebuka Obi Uchendu, announced her as the winner during the show finale on Sunday
She won the N120 million cash prize and other prizes from the sponsors of the show.
Recall Ilebaye competed in the Season 7 'Level Up' edition but was evicted after a few weeks.
The'Gen-Z baddie' made a stunning return a year after her first show and managed to capture the nation's heart throughout the BBNaija All Stars show.
Despite enduring some harsh experiences within the house, her authenticity resonated with viewers and she dominated conversation on social media.
From several altercations to winning wager games and then the ultimate HOH immunity, she served viewers with a plethora of highlights.
Ilebaye competed in the toughest HOH game to claim the ultimate immunity card. After going head-to-head with eight other All Stars housemates she won the challenging game of balancing on a platform for over two hours.
Ilebaye was sadly at the forefront of the receiving end of Ike's meanest schemes, who littered her clothes on the bathroom floor while on the show.
She came in as the youngest housemate and ever since has had fans and viewers with the constant thought of whether or not her controversial moments was a strategic ploy.
She survived the challenging moments and has now been crowned winner of the ₦120 million grand prize.
The post Ilebaye Wins Big Brother Naija All Stars, ₦120m Grand Prize appeared first on Jomog.
Contradicting Video Evidence Of Sam Larry In Nigeria On August 26th Emerges
Since Sam Larry return to Nigeria, the entertainment world has been buzzing with questions and speculations. Contrary to his press release that he had not been in Nigeria since August 20th, video evidence has emerged that appears to contradict Sam Larry's claim this.
This has raised eyebrows and casting doubt on his earlier statements.
Recall that in the wake of the artist's untimely death, a viral video surfaced, seemingly implicating Sam Larry in a physical altercation with Mohbad.
This disturbing footage led to Sam Larry being the first suspect linked to the tragic passing of Mohbad.
In an attempt to clear his name and address the mounting allegations, Sam Larry had issued a press release. In this statement, he revealed that he had left Nigeria on August 20th, effectively distancing himself from any involvement in Mohbad's death.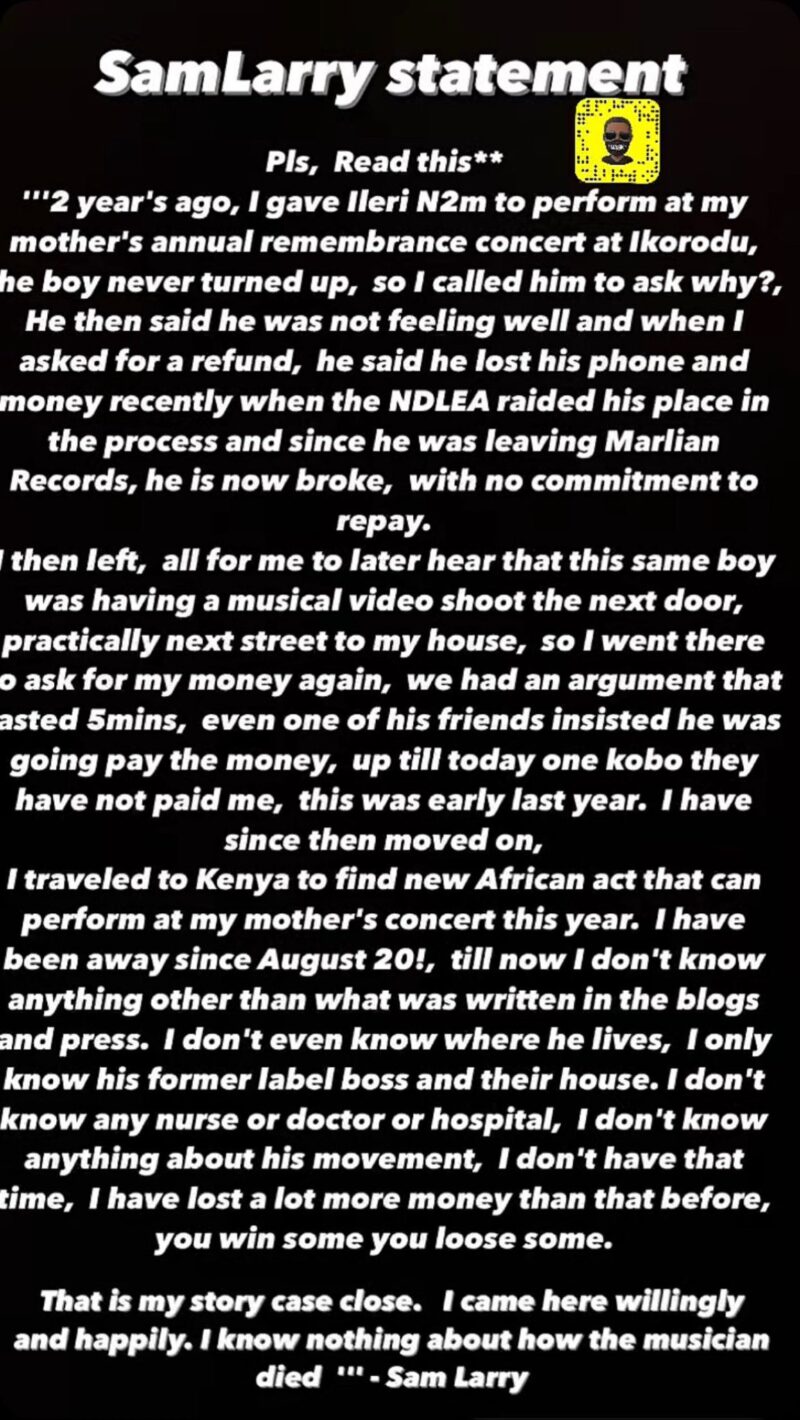 He vehemently denied any wrongdoing, stating that he had no part in the unfortunate events surrounding the young artist's passing.
However, things got interesting this afternoon when a piece of evidence emerged in the form of a party flyer. Popular public personality, iamdre, had shared this flyer on social media, tagging the Nigerian police force for attention. It was a promotional flyer for Zinolesky beach party and it was dated August 26th.
This event took place just days after Sam Larry claimed to have left Nigeria on August 20th. The flyer seemed to challenge Sam Larry's timeline and raised questions about the accuracy of his statements regarding his whereabouts.
Watch Video Below:
This new video evidence has left both fans and the media in a state of confusion arousing even more suspicion.
Netizens can't help but wonder if Sam Larry was truly out of Nigeria on August 20th, as he had stated. If he was, why did he feel he need to lie? These questions linger in the air, waiting for answers that could reshape the course of the ongoing investigation.
The post Contradicting Video Evidence Of Sam Larry In Nigeria On August 26th Emerges appeared first on Jomog.
"Fashion Is Pain" Toyin Abraham Admits After Struggling To Breathe In Red Corset Dress
Actress Toyin Abraham has finally admitted that wearing a corset dress was a struggle for her, after facing heavy online mocking for her choice of outfit at the movie premiere of her senior colleague, Funke Akindele, on Wednesday, September 27th.
In a captured video, Toyin Abraham was seen struggling to breathe while posing for the camera and interacting with colleagues, due to the tight-fitting nature of the corset dress.
A corset is a "stiff supporting so constricting undergarment for the waist, worn chiefly by women to shape the figure and hide their big tummy.
It is a support garment commonly worn to hold and train the torso into a desired shape, traditionally a smaller waist or larger bottom, for aesthetic or medical purposes (either for the duration of wearing it or with a more lasting effect), or to support the breasts.
Sadly after Toyin Abraham rocked her corset dress, she struggled to breathe in it.
After receiving mockery online and calls for her to fire her stylist, Toyin Abraham responded by sharing new photos of herself along with hilarious hashtags that read "I can't breathe well, you all say Fashion is pain, this corset wants to kill me."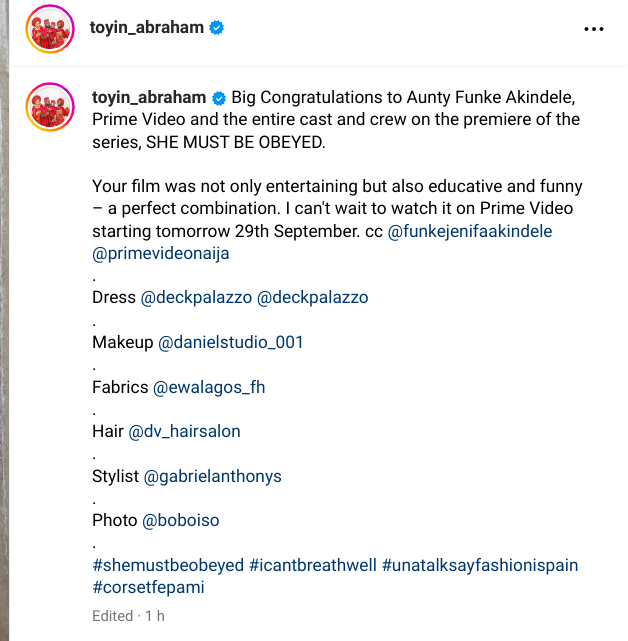 Congratulating Funke Akindele on the movie premiere, Toyin Abraham said, "Big congratulations to Aunty Funke Akindele, Prime Video, and the entire cast and crew on the premiere of the series, SHE MUST BE OBEYED.
Your film was not only entertaining but also educative and funny – a perfect combination. I can't wait to watch it on Prime Video starting tomorrow, September 29th."
The post "Fashion Is Pain" Toyin Abraham Admits After Struggling To Breathe In Red Corset Dress appeared first on Jomog.