UNIOSUN ANNOUNCE SALES OF ADMISSION FORM INTO NEWLY APPROVED UNDERGRADUATE PROGRAMMES FOR THE 2022/2023 ACADEMIC SESSION
Notice is hereby given that the registration for the 2022/2023 Post Unified Tertiary Matriculation Examination (UTME) screening exercise has been extended for candidates who chose Osun State University as their First Choice or those willing to change their institution and make UNIOSUN their First Choice, with a minimum score of 160 marks.
However, candidates can no longer register for the following programmes: Nursing, Medicine, Law, Common and Islamic Law, Medical Laboratory Science, Computer Science, English and International Studies, Linguistics and Communication Studies, Theatre Arts, Public Health, Pharmacology, Radiography and Radiation Science, Accounting, Business Administration, Political Science and International Relations, Biochemistry, Civil Engineering, Electrical Electronics Engineering, Microbiology and Mechanical Engineering.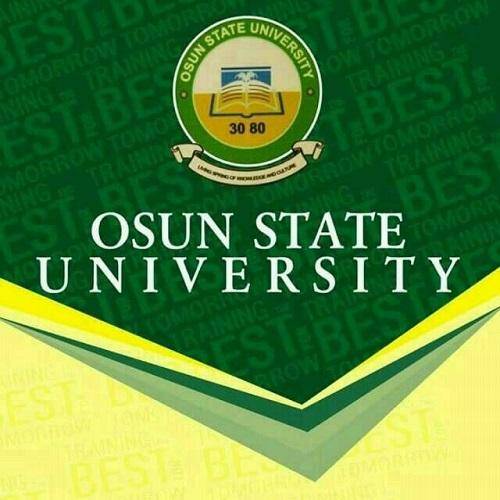 In line with the extant national policy, any candidate who will be less than Sixteen (16) years of age as at 31st December, 2022 needs not apply.
NEWLY APPROVED PROGRAMMES
In addition to the existing programmes, the following are the newly approved programmes:
B.Sc. Cyber Security
B.Sc. Software Engineering
B.Sc. Information Technology
B.Sc. Information Science
B.Sc. Criminology and Security Studies
B. Sc. Peace and Conflict Studies
B.Sc. International Relations and Diplomacy
BLIS. Library and Information Science
B.Sc. (Ed) Business Education
B.Sc. (Ed) Environmental Education
B.Ed. Adult Education
B.Sc. Cooperative and Rural Development
B.Sc. Public Administration
B.Sc. Psychology
B.Sc. Demography and Social Statistics
B.Sc. Social Works
B.Sc. Science Laboratory Technology
B.Sc. Biotechnology
Candidates are to register on-line by accessing the University website: https://www.uniosun.edu.ng or https://admissions.uniosun.edu.ng to complete and submit an application. They are expected to print two (2) copies of the application form after submission.
ELIGIBILITY
UNIOSUN will admit only candidates who made at least five (5) Credit Passes in SSCE/NECO/NABTEB in the relevant subjects at not more than two sittings except for Medicine, Nursing and Law, where candidates are expected to have at least five (5) credit passes in SSCE/NECO in the relevant subjects at one sitting. The University also accepts a minimum of Lower credit for Direct Entry candidates.
Candidates should meticulously provide their details on the University Portal. Any candidate that supplies wrong information would be prosecuted by law enforcement agencies and the admission of such candidates withdrawn once discovered. Candidates awaiting results should supply it within one week of release.
Any candidate who fails to participate in the screening exercise will not be considered for admission.
CHANGE OF INSTITUTION
Candidates who are willing to change from other Institutions to make Osun State University as their first choice are also eligible to register for the Post-UTME Screening exercise.
However, candidates who made UNIOSUN as their first choice but could not find their names on the FIRST CHOICE list should use the "OTHER CHOICE" option for their screening registration and supply their correct information which will be verified accordingly.
CENTRAL ADMISSION PROCESSING SYSTEM (CAPS)
The 2022/2023 admissions exercise will be based on Central Admission Processing System (CAPS), a system designed by Joint Admissions and Matriculation Board (JAMB) to automate the admissions process to tertiary institutions. All candidates are advised to upload their O'Level results to the JAMB CAPS portal as a pre-condition for admission.
ACCESS TO THE REGISTRATION PORTAL
Visit the UNIOSUN Post UTME Portal via https://admissions.uniosun.edu.ng. This will take you to the online Application Platform. Ensure you read all registration guidelines and instructions carefully before proceeding to register.
Payment of N2,000.00 (two thousand Naira) only for the Post UTME Screening is through the Interswitch Web PAY platform using your ATM cards (Master Card, Verve card and Interswitch enabled Cards.)
CLOSING DATE: Submission of forms closes at 12.00 noon on Friday 28th October, 2022
For further information, please contact the Admissions Office, Osun State University, Osogbo on Tel: 080-35799424, 08107976419
Signed
G.A.A. Shittu
Registrar
OLUSEGUN AGAGU UNIVERSITY OF SCIENCE AND TECHNOLOGY, OKITIPUPA DISCLAIMER NOTICE ON FAKE POST REGARDING NURSING PROGRAMME
The attention of the Management of Olusegun Agagu University of Science and Technology, Okitipupa, has been drawn to a fraudulent and fake post in the social media requesting admission seekers into the Nursing programme of the University to pay the sum of ten thousand Naira (N10,000.00) to an Opay Account for admission form.
The Management hereby informs admission seekers, their parents, guardians and the general public, that the information should be disregarded for it is fake, it does not emanate from the University neither does it emanate from the Office of the Registrar.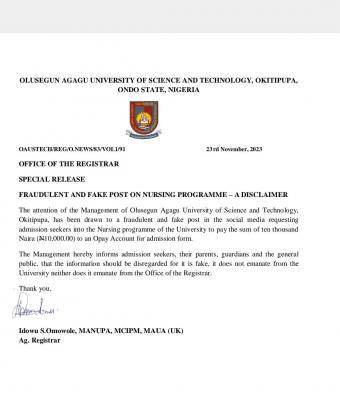 Thank you.
EMMANUEL ALAYANDE UNIVERSITY OF EDUCATION GETS NUC APPROVAL FOR 50 FULL-TIME COURSES, 2023/2024
The Emmanuel Alayande University of Education has received NUCs approval for 50 of its full time programmes. This was contained in a letter signed by the Executive Secretary of NUC.
The letter reads, "The Vice-Chancellor is please invited to recall that a resource verification visit was carried out by panels of experts to the proposed academic programme in Emmanuel Alayande University of Education Oyo State with a view to assessing the human and material resources available for its establishment.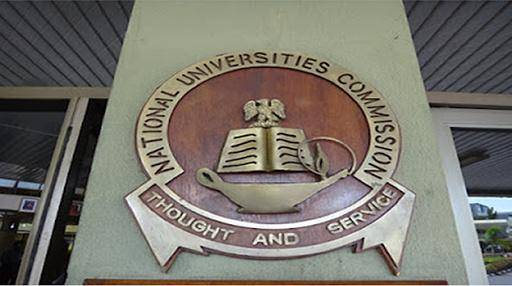 I am directed to inform the Vice-Chancellor that the Ag. Executive Secretary has considered and approved the establishment of the full-time mode of the following undergraduate programmes, to be run in the Main Campus of the University with effect from 2023/2024 academic session:
1. B.Sc. (Ed) Biology Education
2. B.Sc. Biology
3. B.Sc. (Ed) Integrated Science
4. B.Sc. (Ed) Chemistry Education
5. B.Sc. Chemistry
6. B.Sc. (Ed) Mathematics Education
7. B.Sc. (Ed) Computer Science Education
8. B.Sc. Computer Science
9. B.Sc. (Ed)Physics Education
10. B.Sc. (Ed) Health Education
11. B.Sc. (Ed) Human Kinetics/Physical Education
12. B.Sc. (Ed) Economics Education
13. B.Sc. Economics
14. B.Sc. (Ed) Environmental Education
15. B.Sc. (Ed) Geography Education
16. B.Sc. (Ed) Educational Management
17. B.Ed. Educational Technology
18. B.Tech (Ed) Building Technology Education
19. B. Tech (Ed) Metal Work Technology Education
20. B.Tech (Ed) Automobile Technology Education
21. B.Tech (Ed) Woodwork Technology Education
22. B.Tech (Ed) Electrical/Electronics Education
23. B.A. Ed. History and International Studies
24. B.A. (Ed) English/Literature in English
25. B.A. English Language and Literary Studies
26. B.LIS. Library and Information Science
27. B.A. (Ed) French
28. B.A. (Ed)Yoruba
29. B.A. (Ed) Hausa
30. B.Sc. (Ed) Political Science Education
31. B.Sc. Political Science
32. B.Sc. (Ed) Social Work
33. B.Sc. (Ed) Social Studies and Civic Education
34. B.Sc. (Ed) Special Education
35. B.Ed. Guidance and Counselling
36. B.Ed. Adult and Continuing Education
37. B.Ed. Early Childhood Education
38. B.Ed. Primary Education
39. B.A. (Ed) Arabic Education
40. B.A. (Ed) Christian Religious Studies
41. B.A. (Ed) Islamic Studies
42. B.A. (Ed) Creative Arts Education
43. B.A. (Ed) Music
44. B.A. (Ed) Fine and Applied Arts
45. B.A. (Ed)Theatre Arts
46. B.Sc. (Ed) Agricultural Science Education
47. B.Sc. (Ed) Home Economics Education
48. B.Sc. (Ed) Business Education
49. B.Sc. (Ed) Entrepreneurship Education
50. B.Sc. Accounting
I am to add that the approval does not cover the part-time mode of delivery of the programmes.
The programmes shall bear only the approved title and nomenclature and any change will require the approval of the Commission. The University is enjoined to provide adequate human and material resources for the development and growth of the approved programmes.
Please, accept the assurances of the Ag. Executive Secretary's highest regards."
UYO CITY POLYTECHNIC NOTICE TO STUDENTS
This is to inform all the students of Uyo City Polytechnic that the management has issue some important notice. Please note the following as decided by the management:
1. Mid-semester examination: There shall be a week-long mid-semester examination across all the Departments in the school.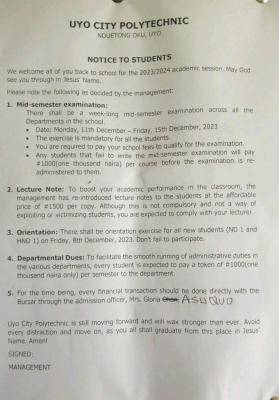 Date: Monday, 11th December – Friday, 15th December, 2023
The exercise is mandatory for all the students.
You are required to pay your school fees to qualify for the examination.
Any students that fail to write the mid-semester examination will pay #1000(one thousand naira) per course before the examination is re- administered to them.
2.Lecture Note: To boost your academic performance in the classroom, the management has re-introduced lecture notes to the students at the affordable price of #1500 per copy. Although this is not compulsory and not a way of exploiting or victimizing students, you are expected to comply with your lecturer.
3. Orientation: There shall be orientation exercise for all new students (ND 1 and HND 1) on Friday, 8th December, 2023. Don't fail to participate.
4. Departmental Dues: To facilitate the smooth running of administrative duties in the various departments, every student is expected to pay a token of #1000(one thousand naira only) per semester to the department.
5. For the time being, every financial transaction should be done directly with the Bursar through the admission officer, Mrs. Gloria eken ASU QUO
Uyo City Polytechnic is still moving forward and will wax stronger than ever. Avoid every distraction and move on, as you all shall graduate from this place in Jesus' Name. Amen!