IMO STATE UNIVERSITY POST-UTME SCREENING SCHEDULE FOR THE 2022/2023 SESSION
This to inform the general public the prestigious Imo state university (IMSU), Owerri has fixed the date for her Post UTME computer based test (CBT) for 2022/2023 for candidates seeking admission into various programmes in the institution.
Only candidates who choose IMSU as their first choice and have purchased the Post UTME Screening form are eligible for the test. Candidates are to check the table below for their screening schedule. You are expected to come along with the reprinted IMSU Post-UTME Screening Slip.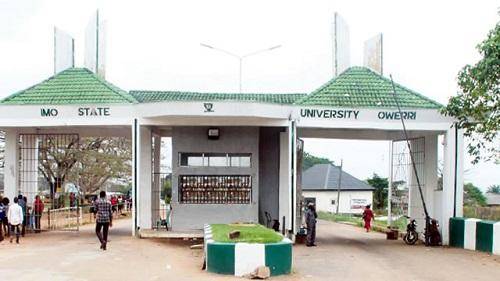 Dates scheduled for the test are shown below for various programmes:
DAY 1: Tuesday, 1st November, 2022
English and Literature studies
• Mass Communication
• Psychology
• Religion
• Sociology
• Accountancy
• Banking & Finance
• Hospitality & Tourism Management
• Marketing
DAY 2: Wednesday, 2nd ​​​​November, 2022
• English Education
• French Education
• Government Education
• History Education
• Accountancy Education
• Religion Education
• Igbo Education
• Economics Education
• Fine & Applied Arts Education
• French
• History & International studies
• Law
• Library science
• Linguistics/Igbo
• Philosophy
• Political science
• Public Administration
• Theatre Arts
• Insurance
• Fine & Applied Arts
DAY 3: Thursday, 3rd November, 2022
• Nursing
DAY 4: Friday, 4th November, 2022
• Economics
DAY 5: Saturday, 5th November, 2022
• Agric Economics
• Agric Engineering
• Animal & Environmental Biology
• Animal Science
• Architecture
• Biochemistry
• Building
• Chemical Engineering
• Chemistry
• Civil Engineering
• Computer Science
• Crop Science
• Agric Education
• Chemistry Education
• Biology Education
• Mathematics Education
• Physics Education
• Electrical/Electronic Engineering
• Estate Management
• Food Science & Technology
• Geography
• Guidance & Counseling
• Human Anatomy
• Mechanical Engineering
• Nutrition & Dietetics
• Petroleum Engineering
• Physics
• Soil Science
• Statistics
• Surveying & Geo-Informatics
• Urban & Religional Planning
DAY 6: Tuesday, 8th November, 2022
• Medical Laboratory Science
• Microbiology
• Physiology
• Plant Biology & Biotechnology
• Public Health
• Quantity Survey
TIME: The test starts by 8:00am each day at the Imo State University CBT centre.
REQUIRED DOCUMENT: Candidates are required to come along with their JAMB slips as well as IMSU post UTME application forms
Please note the test is for both UTME and DE candidates.
UMARU MUSA YAR'ADUA UNIVERSITY (UMYU) IMPORTANT NOTICE TO ALL STUDENTS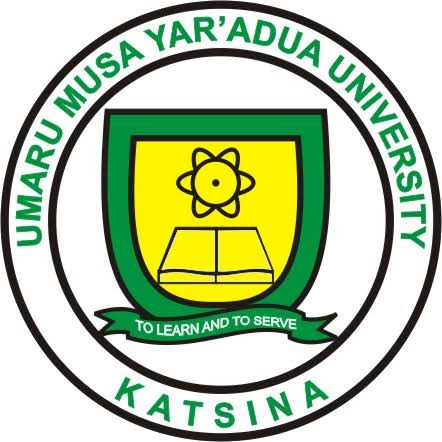 The Management of Umaru Musa Yar'adua University, Katsina, is informing all candidates who were offered admission by the institution that they are required to:
1) Visit any JAMB office or approved CBT Centre to upload their O'level/A'level results (if they have not done so before)
2) Accept the admission on both the University and JAMB portals, print the admission letter and proceed to do the online registration.
All Candidates who were offered courses other than the ones they applied for, are directed to, first of all, change their courses to the new ones they are offered, otherwise, the university cannot further process their admission for the approval of JAMB. The Management strongly advised all candidates to take note of the foregoing and comply accordingly. Thank you!
SOCIAL MEDIA DIGEST SUMMIT 2023 ESSAY COMPETITION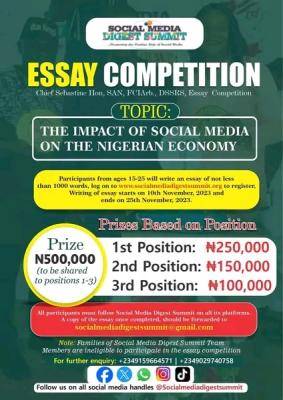 The Social Media Digest Summit invites applications to this year's essay competition. The topic for this edition is: "THE IMPACT OF SOCIAL MEDIA ON THE NIGERIAN ECONOMY."
Prizes:
1st position – #250,000
Second position – #150,000
Third position – #100,000.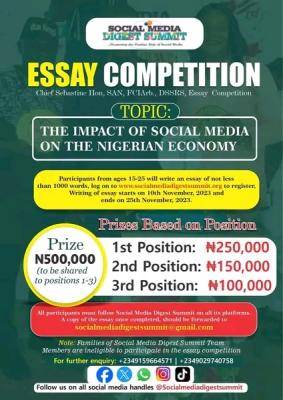 Eligibility 
 1. Applicants must be aged 15 to 25 years. 
2. The essay must not be less than 1000 words. 
Deadline :
The closing date is 25th November, 2023. 
To submit the application – send it to socialmediadigestsummit@gmail.com 
Note – families of social media digest summit teams members are ineligible to participate in the essay competition. 
UNIVERSITY OF ILORIN (UNILORIN) DISCLAIM OWNERSHIP OF TV STATION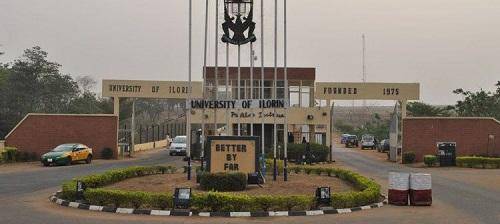 The attention of the University of Ilorin management has been drawn to a trending news item purportedly originating from a phantom 'UnilorinTv @TvPromax'. For the avoidance of doubt, the University of Ilorin does not operate a television station and we are amazed that this fake outlet carries the Unilorin logo on its masthead.
We, therefore, dissociate ourselves from this fake TV station, which, to all intents and purposes, is the creation of mischief makers or scammers or both.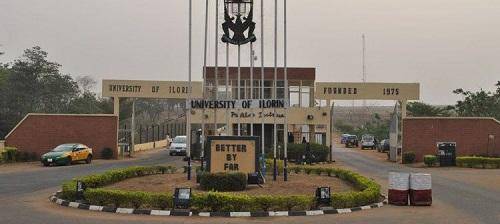 Also, the University of Ilorin does not have anything to do with the content of the trending story on the so-called TV station in which the Nigerian High Commission in London is being accused of shady deals in Passport renewal/replacement.