Government Declares 3 Days Public Holiday To Mourn Queen Elizabeth II
The government has declared three (3) days of public holiday to mourn Queen Elizabeth II.
fedpolygist reports that President Uhuru Kenyatta of Kenya has declared three days of national mourning in memory of Her Majesty Queen Elizabeth II starting today September 9, till sunset on Mondy September 12.
This online news platform understands that the Kenyan government has also directed that the national flag be flown at half-mast at State House and all Kenyan Diplomatic Missions, Public Buildings and Public Grounds, all Military Bases, Posts, and Stations, on all Naval Vessels of the Republic of Kenya, and however elsewhere throughout the Republic of Kenya from dawn on today until sunset on Monday.
The government said the flag shall also be flown at half-mast for the same length of time at all High Commissions, Embassies, Consulates, Diplomatic Offices, and other facilities of the Republic of Kenya abroad.
fedpolygist had reported earlier that the United Kingdom's longest-serving monarch, Queen Elizabeth II died on September 8, 2022, at the age of 96, at Balmoral.
Kenya is one of 36 Commonwealth countries for whom the Queen has served as a symbolic figurehead.
Ogun Community: Former Lawmaker Ignored Us, Leaving Us in Darkness for Three Years
Residents of the Ikoto community in Odogbolu Local Government Area of Ogun State said they have remained without electricity for over three years.
The residents said they were thrown into total blackout following the collapse of their transformer with no help to get a new one.
The head of Ikoto community, Chief Olugbenga Adebanjo while speaking on behalf of other residents of the area, explained that "many 'save our soul' letters were written to the government and the former legislator representing Odogbolu, Atinuke Bello, but no positive result."
According to Adebanjo, economic activities in the community were affected as many small business owners now rely on petrol-powered generators.
He added that artisans now face a lot of difficulties due to the hike in fuel price occasioned by the removal of fuel subsidy.
The community leader spoke on Wednesday while receiving a 500KVA transformer from the Minority Leader of the Ogun State House of Assembly, Lukmon Adeleye.
He emphasised that the three years of no transformer had cut off the community from the national grid, seeking help to get the Adeleye's transformer energised and to reconnect Ikoto to the national grid.
Reacting, the Ogun Assembly Minority Leader, who is the new lawmaker representing Odogbolu said "Our societies would become better if we all strive to meet the needs of the people."
Adeleye admitted that the challenges in the Odogbolu constituency were enormous, saying, however, that he would continue to do his best to serve the people.
He expressed optimism that the community would be restored to the national grid
"I am always sad each time I visit the community because of the total darkness, which usually pervades the area."
The post Ogun Community: Former Lawmaker Ignored Us, Leaving Us in Darkness for Three Years appeared first on Jomog.
"Fashion Is Pain" Toyin Abraham Admits After Struggling To Breathe In Red Corset Dress
Actress Toyin Abraham has finally admitted that wearing a corset dress was a struggle for her, after facing heavy online mocking for her choice of outfit at the movie premiere of her senior colleague, Funke Akindele, on Wednesday, September 27th.
In a captured video, Toyin Abraham was seen struggling to breathe while posing for the camera and interacting with colleagues, due to the tight-fitting nature of the corset dress.
A corset is a "stiff supporting so constricting undergarment for the waist, worn chiefly by women to shape the figure and hide their big tummy.
It is a support garment commonly worn to hold and train the torso into a desired shape, traditionally a smaller waist or larger bottom, for aesthetic or medical purposes (either for the duration of wearing it or with a more lasting effect), or to support the breasts.
Sadly after Toyin Abraham rocked her corset dress, she struggled to breathe in it.
After receiving mockery online and calls for her to fire her stylist, Toyin Abraham responded by sharing new photos of herself along with hilarious hashtags that read "I can't breathe well, you all say Fashion is pain, this corset wants to kill me."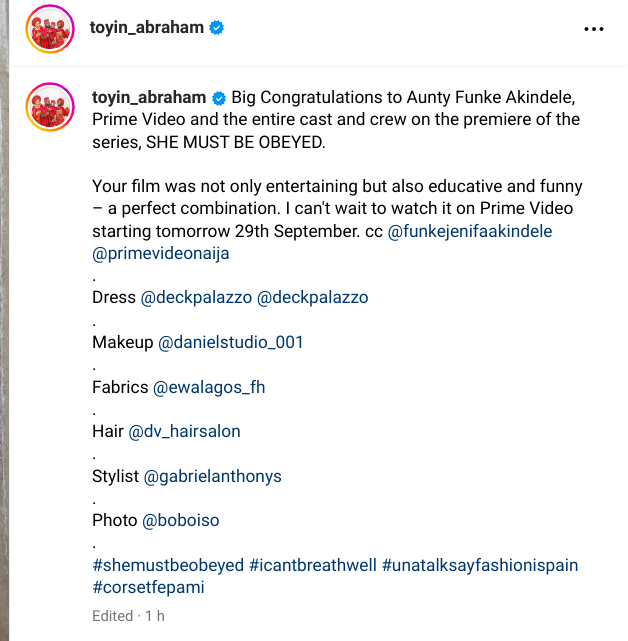 Congratulating Funke Akindele on the movie premiere, Toyin Abraham said, "Big congratulations to Aunty Funke Akindele, Prime Video, and the entire cast and crew on the premiere of the series, SHE MUST BE OBEYED.
Your film was not only entertaining but also educative and funny – a perfect combination. I can't wait to watch it on Prime Video starting tomorrow, September 29th."
The post "Fashion Is Pain" Toyin Abraham Admits After Struggling To Breathe In Red Corset Dress appeared first on Jomog.
Edo2024: Osunbor Begs Oba Of Benin For Another Chance Over Gubernatorial Bid
A former governor of Edo State, Prof. Oserheimen Osunbor has disclosed his interest in running for the upcoming 2024 governorship election.
Osunbor revealed his intention during a visit to the Oba of Benin, His Royal Majesty, Omo N'Oba N'Edo Uku Akpolokpolo, Oba Ewuare 11, in his palace in Benin City on Tuesday evening.
He pleaded with the monarch to support his endeavour.
Osunbor stated that he was a governor of the state for a short period of time and he desired to come back and complete his mission.
He disclosed that he is imbued with traits of excellence and that his slogan while campaigning to govern the state in 2007 was 'Edo for Excellence'.
According to him, "I know it is in the interest of Your Royal Majesty that whoever is coming to govern the state should be somebody who has the interest of the state and must be prepared to do what is required to be able to elevate Edo State to an enviable level."
Going further into his background, he disclosed that he scored a first class in his Law programme the first Nigerian to achieve that feat at the University of Nigeria.
"I proceeded to the Law School and emerged as the best student in the Nigeria Bar examination in 1976. Without doing a Masters, I proceeded to do a Ph.D and in three years completed my Ph.D and started lecturing. In just eight years I applied for a position of Professor and I was appointed a Professor with just eight years teaching experience. This is very rare," Osunbor said.
Receiving Professor Osunbor and his entourage of All Progressives Congress (APC) bigwigs, Omo N'Oba stated that the capability of the ex-governor was never in doubt. The monarch went down memory lane to recall how his guest then a Senator went the extra length to make him comfortable during the process of his screening in the Senate chambers as an ambassador designate.
The post Edo2024: Osunbor Begs Oba Of Benin For Another Chance Over Gubernatorial Bid appeared first on Jomog.