Female banker jailed 7 years for stealing customer's money
News reaching us at our agency is that one Blessing Bassey, a banker, has been sentenced to seven years in prison by an Ebute Meta Chief Magistrates' Court in Lagos State for stealing N2.68 million from a bank.
Bassey changed her plea from not guilty to guilty, and Chief Magistrate F.M. Kayode-Alamu sentenced her as a result, according to the News Agency of Nigeria (NAN).
In violation of Section 287(9) of the Lagos State 2015 Criminal Law, Bassey, a worker at one of the old generation banks, stole the money from her employer from April 15 to April 20 at Iddo, Ebute Meta.
Bassey Blessing had initially pleaded not guilty to a count charge of stealing on her first court arraignment on April 22.
As a result of that, the court granted her bail in the sum of ₦500,000 with two sureties in like sum, but she was unable to meet her bail condition.
Thus, she was remanded at the Ikoyi Correctional Centre for months.
After several adjournments, she finally decided to change her plea from not guilty to guilty. 
The court consequently reviewed the facts of the case and sentenced her.
The court, however, gave her an option to pay back the sum she stole within a year and serve four years sentence instead of original seven years initially sentenced. 
SHE SOARS SCHOLARSHIP PROGRAMME FOR FEMALE STUDENTS, 2023/2024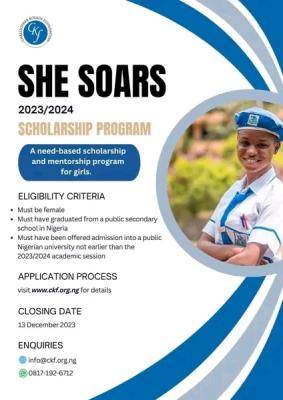 The Christopher Kolade Foundation SHE Soars Scholarship Program aims to provide need-based financial sponsorship and mentorship to female graduates of public secondary schools in Nigeria who have secured admission into a Nigerian public university. Launched in 2019, SHE Soars has empowered numerous scholars to pursue their higher education dreams.
Current Impact:
From its inception with five scholars, the program has grown to support 24 Soars Scholars across 14 universities nationwide. These scholarships are awarded based on exceptional academic performance and the economic background of applicants. Scholars are pursuing diverse fields such as Medicine and Surgery, Mechatronics Engineering, Physiotherapy, Aeronautics and Astronautic Engineering, Agricultural Extension, Psychology, Law, and Accounting. The sponsorship comes from women in the financial, legal, SME sectors, and other industries.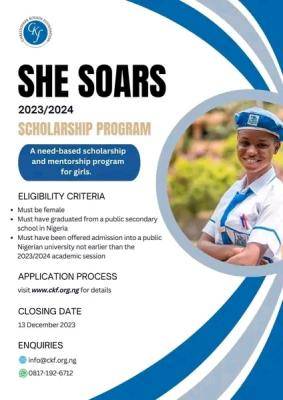 Mentorship Focus:
To foster a meaningful mentorship relationship, the Foundation actively matches scholars with sponsors whose careers align with their courses of study.
Educational Investment:
The scholarship, valued at N200,000 per annum, is designed to cover tuition, books, and a modest monthly living stipend. The sponsorship duration spans the student's entire course of study, estimated to be 4-6 years depending on the chosen field.
Eligibility Criteria:
Female graduates of Nigerian public secondary schools with verifiable proof of admission into a Nigerian public tertiary institution are eligible to apply.
Application Details:
The application for the 2023/2024 academic session is now open. Interested applicants can click here to visit the official website. The application period closes on December 13, 2023.
Contact Information:
For more information, please reach out to:
– Email: info@ckf.org.ng
– Phone: 0817 192 6712
Invest in the future of female education. Apply now for SHE SOARS and embark on a transformative journey of academic and personal growth.
DELTA STATE UNIVERSITY, ABRAKA APPLICATION FOR 2023/2024 INDIGENT STUDENTS SCHOLARSHIP PROGRAMME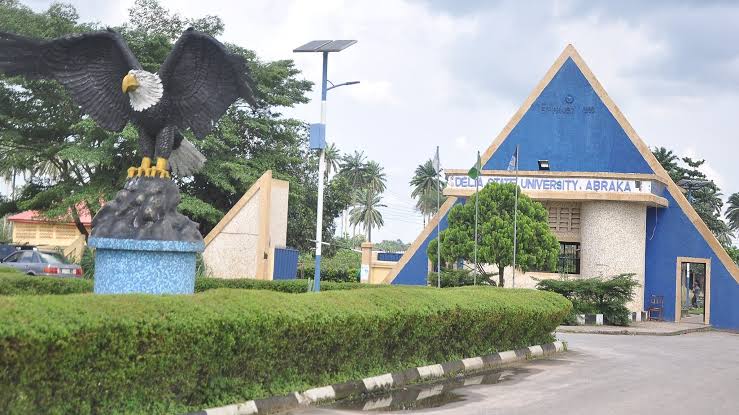 Delta State University, Abraka, under the leadership of the Vice-Chancellor, Prof. Andy Ogochukwu Egwunyenga, is delighted to invite eligible undergraduate students of Delta State University and of Delta State Origin to apply for the DELSU Indigent Students Scholarship Programme. This Programme is part of Delta State University's Corporate Social Responsibility aimed at providing access to quality education to Deltans.
ELIGIBILITY CRITERIA:
(a) Candidates for DELSU-ISSP must be indegent and show evidence of Indigence (e.g a history of withdrawal from studies for lack of resources to pay school fees in the past)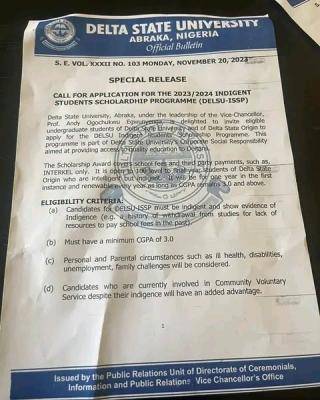 (b) Must have a minimum of CGPA of 3.0
(c) Personal and Parental circumstances such as ill health, disabilities, unemployment, family challenges will be considered
(d) Candidates who are currently involved in Community Voluntary Service despite their indegence will have an added advantage
(e) Students who are currently enjoying Scholarship from the state of other sources are not eligible to apply
(f) 100 Level applicants must have chosen Delta State University, Abraka as first choice in JAMB and scored a minimum weighed average of 52 in POST-UTME
HOW TO APPLY:
The mode of application is online at the University website/portal-  www.delsu.edu.ng/Scholarship
(a) Complete and submit the application form online at www.delsu.edu.ng/Scholarship
(b) Download a PDF of your completed form, print and submit printed (hard copy) with all the attachments to the Office of the Deputy Vice-Chancellor, Administration in Site II
(c) Applications must reach the Deputy Vice-Chancellor Administration, not later than two (2) weeks from the date of this Official Bulletin Publication.
KAREEM ALAO EDUCATIONAL 2023 SCHOLARSHIP FOR OKE OGUN ORIGIN UNDERGRADUATES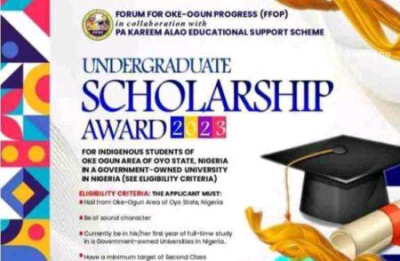 The eagerly awaited 2023 Pa Kareem Alao Educational Scholarship is here for undergraduate students! Sponsored by the Forum for Oke Ogun Progress in collaboration with the Pa Kareem Alao Educational Support Scheme, this scholarship is dedicated to indigenous students of Oke-Ogun origin pursuing their education in Nigerian universities.
Kareem Alao Educational Scholarship Details: Valued at N50,000.00, the Kareem Alao Educational Scholarship provides substantial educational support for successful applicants.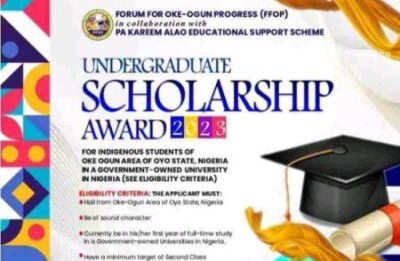 Requirements for Kareem Alao Educational Scholarship:
To be considered for this scholarship, applicants must:
– Hail from the Oke-Ogun Area of Oyo State, Nigeria. – Possess a sound character.
– Be currently in their first year of full-time study at a Government-owned University in Nigeria.
– Maintain a minimum target of Second Class Upper Credit (3.5 CGPA) and above.
– Belong to the Department of Accounting, Economics, Law, Pharmacy, Medicine & Surgery, Computer, Civil, Mechanical, Chemical, or Electrical & Electronic Engineering.
Application Process:
The application process for the Kareem Alao Educational Scholarship is straightforward. Eligible candidates are required to provide personal details, evidence of Oke Ogun origin (Local Government Identification), and a valid ID number (NIN, Voter's ID, or Passport Number). Additionally, applicants are expected to submit an essay as part of their application.
Click here to apply
Application Deadline:
Act swiftly! The deadline for applying for the 2023 Kareem Alao Educational Scholarship is December 3rd, 2023. Given its significance as an opportunity for financial support and educational advancement, eligible students are strongly encouraged to submit their applications before the specified deadline. Don't miss out on this chance to enhance your education and future prospects.