FEDERAL POLYTECHNIC BIDA ROLL OUT 1ST BATCH ND ADMISSION LIST FOR THE 2022/2023 ACADEMIC SESSION
This is to inform the general public and prospective candidates who applied for admission into the Federal Polytechnic Bida through National Diploma, that the management of the institution have released her first batch ND admission list for the 2022/2023 academic session.
Candidates who applied for admission are therefore advised to visit the school's notice board to check out their names.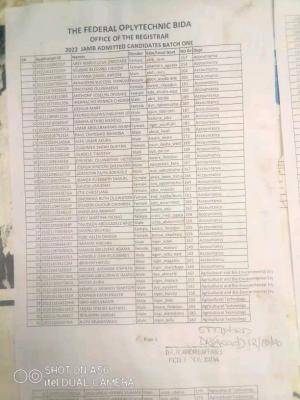 Congratulations to all the admitted applicants!!!
OLUSEGUN AGAGU UNIVERSITY OF SCIENCE AND TECHNOLOGY, OKITIPUPA DISCLAIMER NOTICE ON FAKE POST REGARDING NURSING PROGRAMME
The attention of the Management of Olusegun Agagu University of Science and Technology, Okitipupa, has been drawn to a fraudulent and fake post in the social media requesting admission seekers into the Nursing programme of the University to pay the sum of ten thousand Naira (N10,000.00) to an Opay Account for admission form.
The Management hereby informs admission seekers, their parents, guardians and the general public, that the information should be disregarded for it is fake, it does not emanate from the University neither does it emanate from the Office of the Registrar.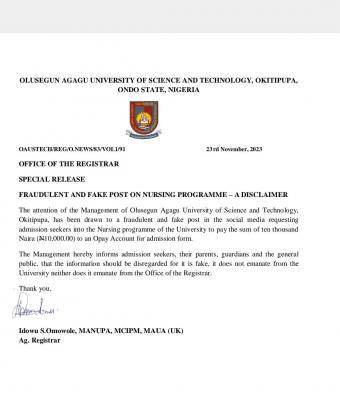 Thank you.
EMMANUEL ALAYANDE UNIVERSITY OF EDUCATION GETS NUC APPROVAL FOR 50 FULL-TIME COURSES, 2023/2024
The Emmanuel Alayande University of Education has received NUCs approval for 50 of its full time programmes. This was contained in a letter signed by the Executive Secretary of NUC.
The letter reads, "The Vice-Chancellor is please invited to recall that a resource verification visit was carried out by panels of experts to the proposed academic programme in Emmanuel Alayande University of Education Oyo State with a view to assessing the human and material resources available for its establishment.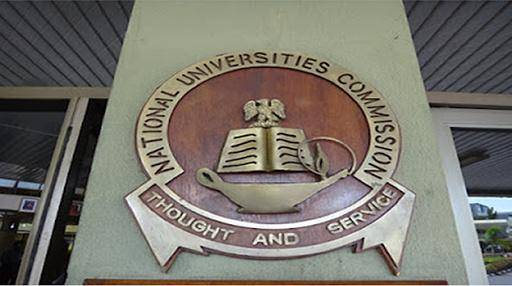 I am directed to inform the Vice-Chancellor that the Ag. Executive Secretary has considered and approved the establishment of the full-time mode of the following undergraduate programmes, to be run in the Main Campus of the University with effect from 2023/2024 academic session:
1. B.Sc. (Ed) Biology Education
2. B.Sc. Biology
3. B.Sc. (Ed) Integrated Science
4. B.Sc. (Ed) Chemistry Education
5. B.Sc. Chemistry
6. B.Sc. (Ed) Mathematics Education
7. B.Sc. (Ed) Computer Science Education
8. B.Sc. Computer Science
9. B.Sc. (Ed)Physics Education
10. B.Sc. (Ed) Health Education
11. B.Sc. (Ed) Human Kinetics/Physical Education
12. B.Sc. (Ed) Economics Education
13. B.Sc. Economics
14. B.Sc. (Ed) Environmental Education
15. B.Sc. (Ed) Geography Education
16. B.Sc. (Ed) Educational Management
17. B.Ed. Educational Technology
18. B.Tech (Ed) Building Technology Education
19. B. Tech (Ed) Metal Work Technology Education
20. B.Tech (Ed) Automobile Technology Education
21. B.Tech (Ed) Woodwork Technology Education
22. B.Tech (Ed) Electrical/Electronics Education
23. B.A. Ed. History and International Studies
24. B.A. (Ed) English/Literature in English
25. B.A. English Language and Literary Studies
26. B.LIS. Library and Information Science
27. B.A. (Ed) French
28. B.A. (Ed)Yoruba
29. B.A. (Ed) Hausa
30. B.Sc. (Ed) Political Science Education
31. B.Sc. Political Science
32. B.Sc. (Ed) Social Work
33. B.Sc. (Ed) Social Studies and Civic Education
34. B.Sc. (Ed) Special Education
35. B.Ed. Guidance and Counselling
36. B.Ed. Adult and Continuing Education
37. B.Ed. Early Childhood Education
38. B.Ed. Primary Education
39. B.A. (Ed) Arabic Education
40. B.A. (Ed) Christian Religious Studies
41. B.A. (Ed) Islamic Studies
42. B.A. (Ed) Creative Arts Education
43. B.A. (Ed) Music
44. B.A. (Ed) Fine and Applied Arts
45. B.A. (Ed)Theatre Arts
46. B.Sc. (Ed) Agricultural Science Education
47. B.Sc. (Ed) Home Economics Education
48. B.Sc. (Ed) Business Education
49. B.Sc. (Ed) Entrepreneurship Education
50. B.Sc. Accounting
I am to add that the approval does not cover the part-time mode of delivery of the programmes.
The programmes shall bear only the approved title and nomenclature and any change will require the approval of the Commission. The University is enjoined to provide adequate human and material resources for the development and growth of the approved programmes.
Please, accept the assurances of the Ag. Executive Secretary's highest regards."
UYO CITY POLYTECHNIC NOTICE TO STUDENTS
This is to inform all the students of Uyo City Polytechnic that the management has issue some important notice. Please note the following as decided by the management:
1. Mid-semester examination: There shall be a week-long mid-semester examination across all the Departments in the school.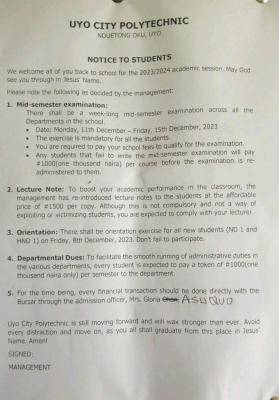 Date: Monday, 11th December – Friday, 15th December, 2023
The exercise is mandatory for all the students.
You are required to pay your school fees to qualify for the examination.
Any students that fail to write the mid-semester examination will pay #1000(one thousand naira) per course before the examination is re- administered to them.
2.Lecture Note: To boost your academic performance in the classroom, the management has re-introduced lecture notes to the students at the affordable price of #1500 per copy. Although this is not compulsory and not a way of exploiting or victimizing students, you are expected to comply with your lecturer.
3. Orientation: There shall be orientation exercise for all new students (ND 1 and HND 1) on Friday, 8th December, 2023. Don't fail to participate.
4. Departmental Dues: To facilitate the smooth running of administrative duties in the various departments, every student is expected to pay a token of #1000(one thousand naira only) per semester to the department.
5. For the time being, every financial transaction should be done directly with the Bursar through the admission officer, Mrs. Gloria eken ASU QUO
Uyo City Polytechnic is still moving forward and will wax stronger than ever. Avoid every distraction and move on, as you all shall graduate from this place in Jesus' Name. Amen!