The attention of Management has been drawn to series of enquiries from Students over the date of Resumption and commencement of 2022/2023 Academic Session.
Consequently, and in line with the Academic Board approved calendar for the 202212023 Academic Session, all students are hereby enjoined to note the following very important dates in the Calendar.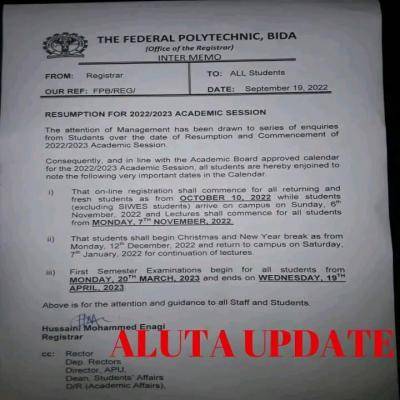 i. That on-line Registration shall Commence for all returning and fresh students as from October 10,2022 while students(excluding SIWES) arrive on campus from 6th November ,2022 and lecture shall commence for all students from Monday 7th November,2022
ii. That students shall begin christmas and New Year break as from Monday, 12th December, 2022 and return to campus on Saturday,7th January, 2022 for continuation of lectures.
iii. First Semester Examinations begin for all students, from Monday 20th March ,2022 and ends on Wednesday, 19th April, 2023
Above is for the attention and guidance for all Staff and Students.
Hussaini Mohammed Enagi
Registrar