FEDERAL COLLEGE EDUCATION (TECHNICAL) GOMBE NOTICE ON CLOSURE OF REGISTRATION
This is to inform all NCE III and Spill over students who are yet to register for their school fees and course registration to make sure they do so before the following date:
i. NCE III and spill over School Fees registration will be closed on Wednesday 28/09/2022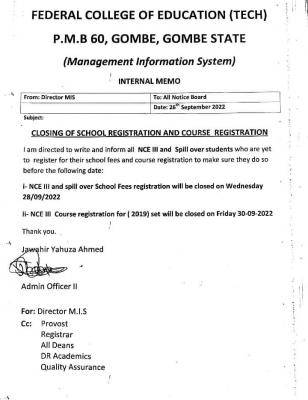 ii. NCE III Course registration for (2019) set will be closed on Friday 30-09-2022
Thank you..
CHUKWUEMEKA ODUMEGWU OJUKWU UNIVERSITY (COOU) APPOINTS PROF. KATE OMENUGHA AS ACTING VICE CHANCELLOR
Anambra State Governor, Professor Chukwuma Charles Soludo, CFR, has approved the appointment of Professor Kate Azuka OMENUGHA as Acting Vice-Chancellor, Chukwuemeka Odumegwu Ojukwu University (COOU). 
Professor Omenugha as an acting Vice-Chancellor replaces Professor Greg C. Nwakoby following the expiration of his tenure as Vice-Chancellor of COOU.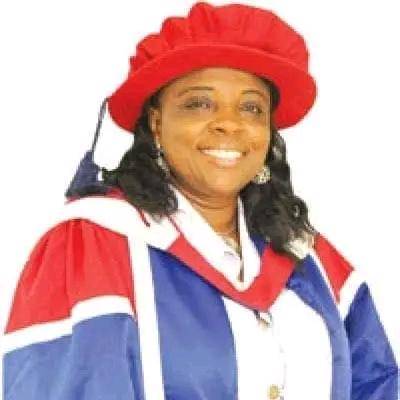 Congratulations, Prof! 
DELTA STATE UNIVERSITY OF OF SCIENCE AND TECHNOLOGY (DSUST) ISSUE GUIDELINES FOR REGISTRATION OF NEW STUDENTS
The Management of Delta State University of of Science and Technology (DSUST) wishes to issue the guidelines for successful and and hitch free registration of new students as follows;
1. Obtain Registration Materials from the University Bookshop
2. Proceed to the University Health Centre for medical test
3. Complete all forms and proceed to your Department for screening/clearance (No use of carbon papers while filling the forms)
4. Proceed to the Faculty for further directives.
Above is for the information of all new students of the University. Thank you!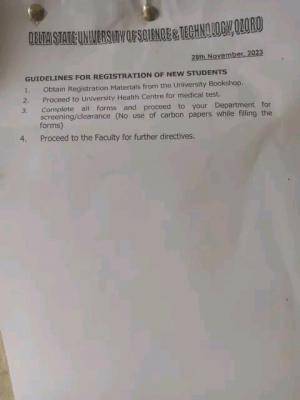 UNIVERSITY OF ILORIN (UNILORIN) RELEASES AMENDED APPROVED UNDERGRADUATE CHARGES FOR 2022/2023 SESSION
The Management of University of Ilorin (UNILORIN) in concern for the welfare of students and their parents has announced the new school charges for the the session.
The full amended approved undergraduate charges for students, 2022/2023 session can be accessed on the school's Facebook page via this link: UNILORIN Amended School fees schedule