BRAIN TEASER! WHO CAN SOLVE THESE RIDDLES
Tell us how you arrived at your answers.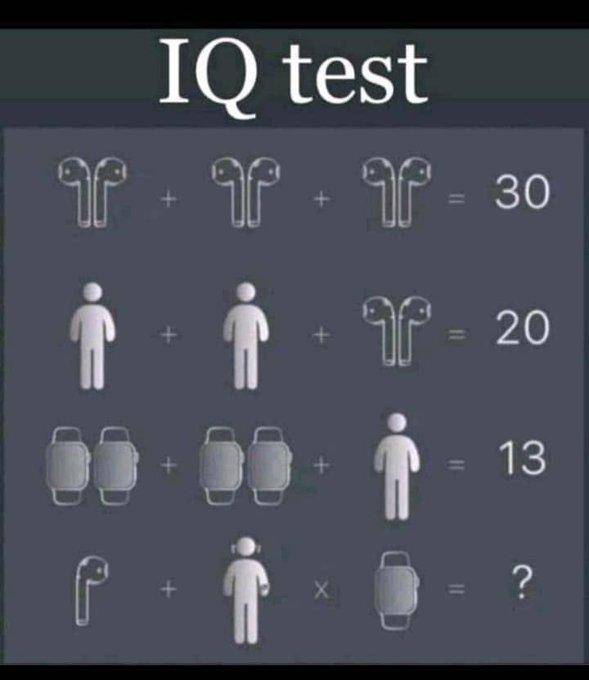 CHARKIN MARITIME ACADEMY (CMA) ANNOUNCE POST UTME SCREENING DATE FOR THE 2023/2024 ACADEMIC SESSION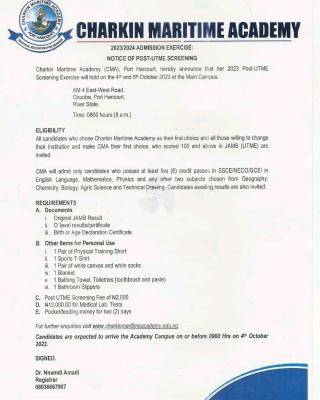 Charkin Maritime Academy (CMA), Port Harcourt, hereby announce that her 2023 Post-UTME Screening Exercise will hold on the 4th and 5th October 2023 at the Main Campus:
KM 4 East-West Road,
Ozuoba, Port Harcourt,
River State.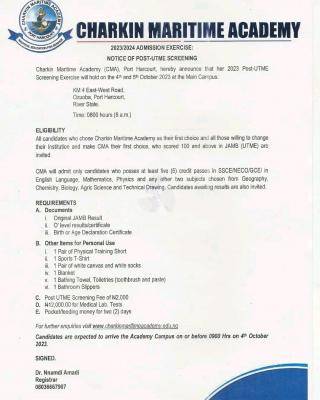 Time: 0800 hours (8 a.m.)
ELIGIBILITY
All candidates who chose Charkin Maritime Academy as their first choice and all those willing to change their Institution and make CMA their first choice, who scored 100 and above in JAMB (UTME) are invited.
CMA will admit only candidates who posses at least five (5) credit passes in SSCE/NECO/GCE/ in English Language, Mathematics, Physics and any other two subjects chosen from Geography, Chemistry, Biology, Agric Science and Technical Drawing, Candidates awaiting results are also invited.
REQUIREMENTS
A. Documents
i. Original JAMB Result
ii. O' level results/certificate
iii. Birth or Age Declaration Certificate
B. Other Items for Personal Use
i 1 Pair of Physical Training
ii. 1 Sports T-Shirt Short
iii. 1 Pair of white canvas and white socks
iv. 1 Blanket
v. Bathing Towel, Toiletries (toothbrush and paste)
vi. 1 Bathroom Slippers
C. Post UTME Screening Fee of N2,000
D. N12,000.00 for Medical Lab. Tests
E. Pocket/feeding money for two (2) days
For further enquiries visit www.charkinmaritimeacademy.edu.ng
Candidates are expected to arrive the Academy Campus on or before 0900 Hrs on 4th October 2023
KADUNA STATE UNIVERSITY (KASU) RELEASES POST UTME ADMISSION FORM FOR THE 2023/2024 ACADEMIC SESSION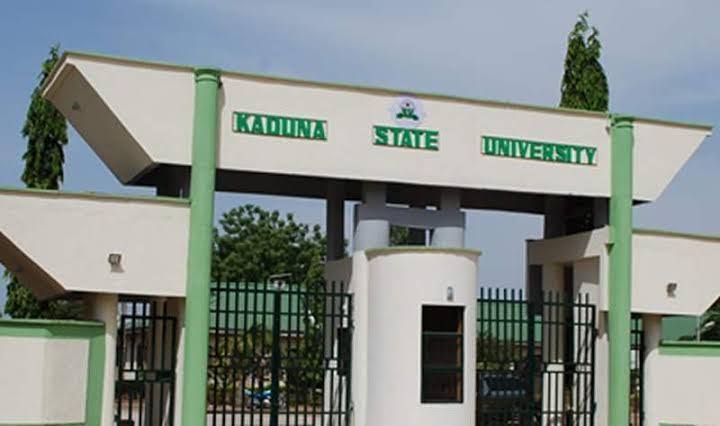 Kaduna State University (KASU) wishes to invite candidates who applied for admission into the University through UTME and DE (no examination for DE candidates) to register for POST UTME screening and examination through the University's PUTME Screening Portal (https://applicant.safapply.com/kasu
).
All candidates that scored an aggregate of 150 and above are eligible to register for the post UTME screening and examination. The registration exercise will commence on 1 October, 2023 and end on 16 October, 2023.
Prospective candidates must have a minimum of Five (5) relevant passes at Credit level in the Senior Secondary School Certificate Examination (SSCE) conducted by recognized Examination Bodies in not more than two (2) sittings, including a pass at credit level in English and Mathematics. Also, candidates must have sat for the UTME Examinations, chosen KASU as first choice, and scored an aggregate of 150 or higher in the relevant subjects. See the table below for information on programs and cut off marks
REGISTRATION GUIDELINES
STEP 1: Visit the official application portal (https://applicant.safapply.com/kasu) of Kaduna State University from your computer OR Mobile phone.
STEP 2: CREATING ACCOUNT
i. Enter your JAMB registration number to check your eligibility status in the space labeled JAMB Registration Number and click the Check Eligibility button.
ii. From the result of previous step displayed, click More Information Button.
iii. From the pop-up display, click the Apply button
iv. Click the Create New Account Button if applying for the first time, otherwise click Log into Your Account. Provide your basic details or simply register with your Google Mail Account.
NOTE:
a) All Eligible candidates MUST upload their O' Level Results on JAMB Central Admission Processing System (CAPS) at an approved JAMB CBT Centre before consideration for admission.
b) Kindly provide valid and unique email address and phone number (the email address and phone number provided will be used in subsequent communication with you).
STEP 3: PAYMENT
Verify and validate the information you provided and proceed to make payment. Eligible candidates are to pay the sum of 2,000.00 (excluding bank charges) for the screening and aptitude test through the payment options provided on the application portal.
STEP 4: UPLOADS
i. Provide details of your O-level result in NOT more than two (2) sittings if available.
ii. In addition to the above, DE applicants are expected to provide details of A-level results.
iii. You will be required to upload all copies of the above results and preferably the certificates if available. All other credentials are to be uploaded (Birth certificate, indigenization certificate, primary school certificate and UTME exam's result).
iv. Also, you will be required to upload your passport photograph and signature.
STEP 5: APPLICATION SUBMISSION
i. Declaration: select the agree option to accept that all information provided are valid and that any false information provide renders your application null for consideration of admission.
ii. Preview you application. Click the submit button.
NOTE
Kindly note the following:
1. The date, time and venue for the post UTME examination will be emailed to the email address provided during the application process within 24hrs of successful completion of registration.
ii. You are to be at the examination venue an hour to the commencement of the examination.
iii. You are to come along with the printed application (Application slip and Post UTME notification slip), JAMB registration slip, any other valid means of identification (NIN card, voter's card, driver's license, int'l passport).
iv. No ELECTRONIC GADGET (including calculators) would be allowed into the examination premises.
V. No unnecessary complaints for failure to attend the examination as scheduled will t entertained.
For any enquiries or complaints, please send an email to: putme@kasu.edu.ng and
support@kasu.edu.ng or SMS 07080942014.
NECO ANNOUNCES DATE FOR RELEASE OF 2023 RESULTS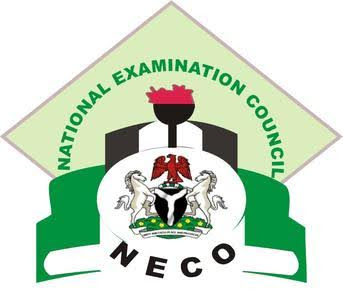 The National Examination Council (NECO) has officially announced that the 2023 Secondary School Certificate Examination (SSCE) results will be released on Thursday, 5th October, 2023.

NECO tokens/PINS/Result checkers are very much available at fast, reliable, and affordable rates. Join others who have booked ahead at a discounted price before the official release.
Send a DM now, via 09096411078